Super Bowl Food Fight: Indy Vs. Big Easy
Super Bowl Food Fight: Indy Vs. Big Easy
Football fans are looking forward to this Sunday's Super Bowl — and a day full of good food. But the menu doesn't have to be limited to pizza and nachos. We asked two chefs from the Colts' and Saints' hometowns about what they'd be cooking this weekend.
From New Orleans, Donald Link is chef and owner of the restaurants Herbsaint and Cochon. His Super Bowl party continues a tradition he inherited from his parents.
This year, the party will include sausage and salami from Link's butcher shop. But those are just for snacking, he told NPR's Linda Wertheimer. "The main dish that I always cook is the seafood gumbo," Link said — like the one featured in his cookbook, Real Cajun.
Link's party will be at his home, which he repaired after Hurricane Katrina. In those renovations, he said, he made sure to include clear sightlines from the kitchen to the TV.
"We actually stood where the stove was going to go and lined it up to where the TV would be, just to make sure that we had the broadest view of the TV," he said.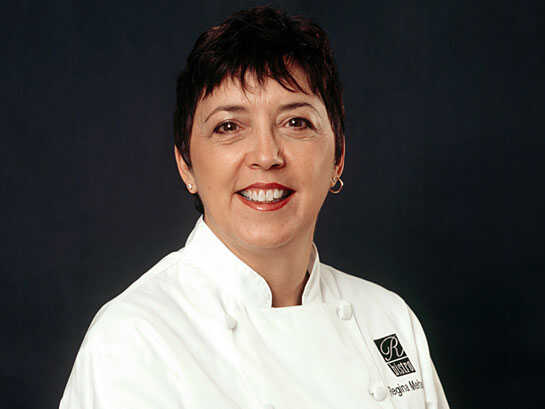 And from Indianapolis, Regina Mehallick is chef and owner of R Bistro. Her restaurant is decked out for the big game, she said, complete with blue flowers and cadet-blue napkins to match the Colts' uniforms.
Mehallick, author of Regina's Seasonal Table, also emphasizes locally grown produce and meats.
"We should definitely have blue popcorn," Mehallick said, "because corn is popular here in Indiana."
Her main dish will reflect another local favorite: a breaded pork tenderloin sandwich. The R Bistro version will be crusted in panko flakes. And since Indiana is a large producer of duck meat, Mehallick is considering serving duck wings — "done the classic way that chicken wings would be done," she said.
Both cities have been abuzz for nearly two weeks, as fans dream of an NFL title.
But Link says his Saints party will be a bit tamer than past versions — partly because he wants to be sure to have time to sit down and watch the game.
"I'm getting kind of chills, just about to say it," he said. "But with Mardi Gras this weekend and the Saints in the Super Bowl — I mean, this is a fantastic time to be here."
In Indianapolis, the lingering effects of the economic recession aren't putting a damper on the excitement, either.
The city has been a scene for pep rallies and parties — and people dressed in all blue and white, Mehallick said. She admitted to wearing a Colts jersey as she spoke to NPR.
"This is a big sports city," she said. "This is just a happy time, it's bringing people together. Lots of people on the street are saying hello — and go Colts."
The interview ended on a civil note — up to a point.
"Donald, good luck — but I hope we win," Mehallick said.
"Who dat?" Link replied.
Related NPR Stories
Regina's Seasonal Table
Recipes to Savor Throughout the Year
Paperback, 124 pages |
purchase
Buy Featured Book
Title

Regina's Seasonal Table

Subtitle

Recipes to Savor Throughout the Year

Author

Regina Mehallick
Your purchase helps support NPR programming. How?
Real Cajun
Rustic Home Cooking from Donald Link's Louisiana
Hardcover, 255 pages |
purchase
Buy Featured Book
Title

Real Cajun

Subtitle

Rustic Home Cooking from Donald Link's Louisiana

Author

Donald Link and Paula Disbrowe
Your purchase helps support NPR programming. How?
Fried Pork Loin Sandwich With Tarragon Mayonnaise
Tarragon Mayonnaise
1 cup mayonnaise
1/2 jar tarragon mustard
Fresh tarragon, chopped
Sandwich
4 ounces pork tenderloin — trimmed, portioned and pounded — per sandwich
Flour seasoned with salt and pepper
1 cup buttermilk
1 cup breadcrumbs plus 1 cup panko crumbs (combined)
1 hard roll, halved, brushed with olive oil and grilled
2 leaves of green lettuce
1 fennel bulb, thinly sliced or shaved
1 teaspoon adobo spice
Take pork through the flour, milk and breadcrumb process, and place on a lined sheet pan. Then, in hot oil, pan-fry or deep-fry the pork. Drain on paper towels.
Spread roll with mayo on both sides. Add the rest of the sandwich ingredients, starting on bottom of roll with lettuce and fennel; top with the pork; close and cut in half diagonally.
Super Bowl Sunday Seafood Gumbo
Ingredients
At least 6 cold beers for the chef
4 pounds medium (16-20 count) head-on shrimp
6 blue crabs
Salt
Seafood stock
1 small onion, coarsely chopped
1 celery stalk, coarsely chopped
2 cloves of garlic, smashed
2 tablespoons vegetable oil
2 teaspoons paprika
1 (4-in.) rosemary sprig, or 2 tbsp dried
13 bay leaves
9 quarts water
Gumbo
1 large onion
2 medium green bell peppers
3 celery stalks
2 jalapenos, stemmed, seeded, and finely chopped
3 cups vegetable oil
4 cups all-purpose flour
6 garlic cloves, minced
2 tablespoons salt
2 1/2 teaspoons paprika
2 teaspoons file powder
2 teaspoons chili powder
1 1/2 teaspoons ground black pepper
1 teaspoon cayenne pepper
1 teaspoon white pepper
1 teaspoon dried oregano
1/2 teaspoon red pepper flakes
1/2 teaspoon dried thyme
Several dashes of hot sauce
2 pints shucked oysters, liquor strained and reserved
1 pound crab claw meat, carefully picked over for shells
Serves 12 to 16
Peel the shrimp and set the shells and heads aside for stock. Bring a large pot of salted water to a boil. Add crabs and a generous amount of salt. Cover the pot, and boil for 5 to 7 minutes. Drain immediately and set the crabs aside to cool. (If you were going to cook them, it would be 10-15 minutes, but you want to leave their flavor in the crab for gumbo, and cook them just until you can take them apart.)
To make the seafood stock, put the chopped onion and celery and smashed garlic cloves in a medium mixing bowl and set aside. Peel the front flaps and tops off of the crabs and place in a large bowl with the shrimp heads and shells. Use your fingers to scoop out the orange back fat from the middle of the crab and set aside in a small bowl.
Heat the oil in a large pot over high heat. Add the reserved shrimp shells and heads and the crab shells. Cook, stirring until the shells turn pink, 3 to 4 minutes. Add the coarsely chopped vegetables, paprika, rosemary, bay leaves and 9 quarts of water, and bring to a boil. Reduce heat and simmer for 1 hour; strain.
For the gumbo vegetables, dice the onion, bell peppers and celery. Set aside with the jalapenos to add to the roux.
To make the roux, heat 3 cups vegetable oil in a large Dutch oven over medium-high heat. When the oil is hot but not smoking, whisk in the flour and reduce heat to medium. Cook, whisking constantly and slowly until the roux has thickened and is the color of a dark copper penny, 45 minutes to an hour. You'll want to reduce the heat gradually as you go. When the roux first begins to take on color, for instance, reduce the heat to medium.
Continue in this fashion, gradually lowering the heat as the color of the roux deepens. By the end of the cooking, when the roux is appropriately dark, the heat should be on low. It's essential to whisk constantly as it cooks (but not so vigorously that you splatter the roux and burn yourself!), because even if a small bit of flour sticks to the pot, it will become spotty, scorch quickly, and burn the entire roux.
Add the onion, bell pepper, celery, jalapenos and the reserved crab back fat, and stir until they are well-coated. Stir in garlic, salt, paprika, file powder, chili powder, black pepper, cayenne, white pepper, oregano, red pepper flakes, thyme and hot sauce, and continue to cook, stirring, for a few minutes. Add two-thirds of the strained stock and the oyster liquor, bring the mixture to a boil, then reduce the heat and simmer, stirring frequently and scraping the bottom of the pot to ensure nothing clumps and burns, until the mixture returns to a simmer.
Start skimming the oil from the top of the gumbo almost instantly (by the end of the cooking process, the gumbo will have released almost all of the oil form the roux). Continue to simmer and skim for about 1 hour. Taste the stock. If it still has a strong roux flavor, gradually add the remaining one-third stock (if it doesn't, freeze the remaining stock for another use) until the flavor tastes more like stock than roux.
When the flavor has developed and the stock is clearer (with fewer dots of oil), add the oysters and crab meat. Bring the gumbo back to a simmer, and simmer for 15 to 20 minutes. Skim once more, add the shrimp, and simmer for 1 more hour.
Adapted from Real Cajun: Rustic Home Cooking from Donald Link's Louisiana, by Donald Link (Clarkson Potter, 2009).