Vancouver Olympic Logo: A Smiling Marker Of Death?
Vancouver Olympic Logo: A Smiling Marker Of Death?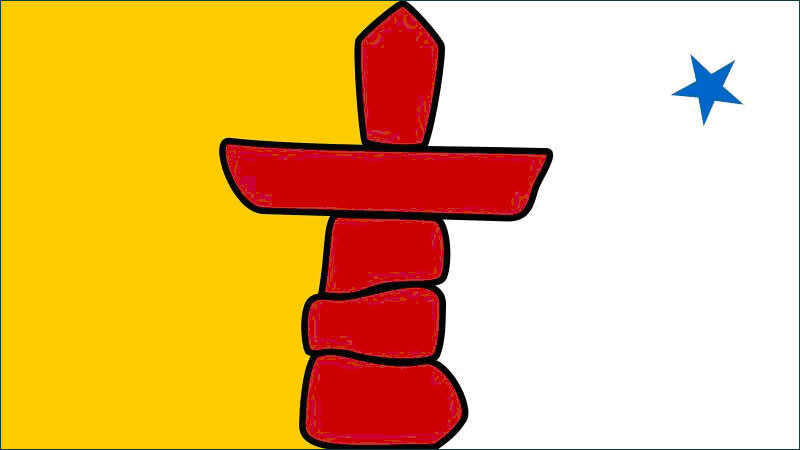 Attentive fans of the Winter Olympics may have noticed that the official logo of the 2010 games is a pile of rocks. It's a stylized version of an inukshuk, the stone cairns built by the Inuit people of the Canadian Arctic.
The logo is everywhere in Vancouver, paired with the Olympic rings, and it's inspiring imitators. On the rocky shore of False Creek, near the Olympic Village, dozens of impromptu inukshuks have cropped up, built by passersby. Tracy Niemeyer, of Maple Ridge, British Columbia, calls the urge to stack rocks "spiritual."
"It's almost a meditative practice to get them balanced — you can see some of the ones where you wonder how they got that to stand," she says.
Other tourists who stop to stack rocks offer their own theories about the meaning of inukshuks. One man says they're meant to help the spirits of the dead find their way to the afterlife.
But the man who may be the world's foremost expert on inukshuks is not amused.
"They're fake!" says Peter Irniq. A former commissioner of the Canadian Arctic territory of Nunavut, Irniq was born and raised in igloos, and has built many inukshuks over the years. More recently, he's built them for museums. Irniq says the meaning of the inukshuk is straightforward: It's a symbol of survival.
"[Inukshuks] have always been built in areas of good hunting for caribou, good hunting for seal and good fishing spots," he says. When he was younger and traveling in the Arctic, he says, the sight of an inukshuk was always reassuring, because it meant he was traveling in a place where others had found game.
Irniq is put off by the Olympic logo because of its human form. Its fat legs and outstretched arms make it look a little like a hockey goalie, and the head has a hint of a smile. Irniq says his people rarely stacked rocks to resemble humans.
"It's a symbol of the fact that someone may have, um, committed suicide or someone may have murdered somebody at that spot," he says.
If people are interested in looking at an example of an inukshuk that's not associated with death, he says, they should look at the flag of Nunavut, which features a more traditional inukshuk.
Related NPR Stories