SXSW 2010 Preview
Next week, NPR Music heads to Austin, Texas, to blog, broadcast and webcast nearly a dozen live concerts from this year's South by Southwest music festival. Spoon headlines NPR Music's opening-night showcase on March 17, with additional performances by Broken Bells, Sharon Jones and the Dap Kings, The Walkmen and Visqueen. Our live concert webcasts continue March 18, with Sleigh Bells, Surfer Blood, Local Natives, Brooklyn Rider, G-Side and Smith Westerns. But that's just the tip of a very large iceberg, as the NPR Music team spreads out across Austin in search of great musical discoveries.
To prepare for this year's SXSW, the crew at All Songs Considered listened to samples of more than 1,000 bands that will be performing in Austin. On this edition of the show, host Bob Boilen chats with NPR Monitor Mix blogger Carrie Brownstein, All Songs Considered producer Robin Hilton and NPR Music editor Stephen Thompson about some of the artists they discovered, including the metal group Black Cobra, dark folk artist Timber Timbre, rapper Rye Rye and much more.
About All Songs Considered
Download this show in the All Songs Considered podcast.
Sign up for the All Songs Considered newsletter and we'll tell you when new music features are available on the site.
Register with the NPR.org community to join in our discussions.
Contact us with your questions and comments.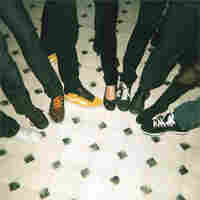 The Bewitched Hands On The Top Of Our Heads
Best Coast
Song: When I'm With You
from When I'm With You
Admiral Radley
Song: I Heart California
from I Heart California
Mickey
Song: She's So Crazy
from She's So Crazy
Peter Wolf Crier
Song: Crutch and Cane
from Inter-Be
Have You Ever Heard a Digital Accordion?
The Lovely Eggs
Song: Have You Ever Heard a Digital Accordion?
from If You Were Fruit
G.I.R.L.F.R.E.N. (You Know I've Got A)
Everybody Was in the French Resistance...Now!
Song: G.I.R.L.F.R.E.N. (You Know I've Got A)
from Fixin' the Charts, Vol. 1
San Saba County
Song: The Devil And Marie
from ...Though Cheating Was Never an Option
Rye Rye
Song: Hardcore Girls
from Hardcore Girls
Active Child
Song: Wilderness
from Wilderness
Camisama
Song: I Am Hitler
from I Am Hitler