Museum Guards 'Sw!pe' The Spotlight
Museum Guards 'Sw!pe' The Spotlight
There's a new art and literary magazine — one with a twist: Everyone connected with it — the artists, writers, editors and producers — are presently or were recently guards at the Metropolitan Museum of Art. The guards you see at museums may seem like ciphers standing silently in their blue uniforms, and only speaking when you ask a question or get too near that work of art. But the 35 artists showcased in this journal give the world a very different picture of themselves.
The magazine is called Sw!pe, and it's named for people who clock in and out of their jobs. Jason Eskenazi was a guard at the Met until last November. He says that one day, when he was standing around at his job feeling a bit bored, he thought, "You know, the guards really matter in this museum, and so I walked over to a co-worker, and I said, 'Dave, we should do a magazine called Guards Matter.' "
Dave agreed, but wondered where the apostrophe should fit into the title: before the "S" or after?
"Is it about, that the guards matter? Or is it about the matter of the guards?" Eskenazi says. "And we thought it's basically about both those things."
Sw!pe sells for $20, and is beautifully produced. It took about four months to collect the artwork after assembling a team of editors and writers. At the 25CPW, a gallery in New York City across Central Park from the museum, the artist-guards showed their work and celebrated the magazine's first issue.
The artists, writers and photographers who are in the magazine will have their works on display at 25CPW until April 4. Carlos Delgado, who has a BA in studio art, showed watercolor and ink silhouettes of World War I soldiers. He described his guard job as something like graduate school. "I look up names," he said. "I look up artists, I look up pieces, and then I go online and do my research. I feel privileged working there, to be honest with you. I feel happy. I am content."
Other guards say it's exhausting to stand for hours, but almost everyone says the museum has influenced them. Barry Steeley pointed to a self-portrait at the exhibition — a greenish tinted work in alkyd and oil that shows the bearded Steeley staring out from in front of a painting of fish — and noted that in many religious paintings there is often a panel behind Mary or Jesus. He said he has spent a lot of time in the medieval section. And looking at his painting, he suddenly noticed, "This is very medieval-like, because the panel is here, and this luminous light is coming from behind, so perhaps it did creep in because I spent so much time in that section."
Nora Hamilton is a writer who has published a number of stories. They are often very short, and while they could not be strictly classified within the horror genre, they have a bit of horror in them, she says. (Read Hamilton's story "Pedestrian," about a woman who sees a puzzling vision on the road as she drives to work each morning.) Hamilton doesn't spend her hours as a guard looking at the paintings. She watches the people.
"They're from all walks of life," Hamilton says.
"Sometimes you feel such hate," she says. "At the same time, you sometimes feel an attraction to certain people. It is a character study, it is a sociological study."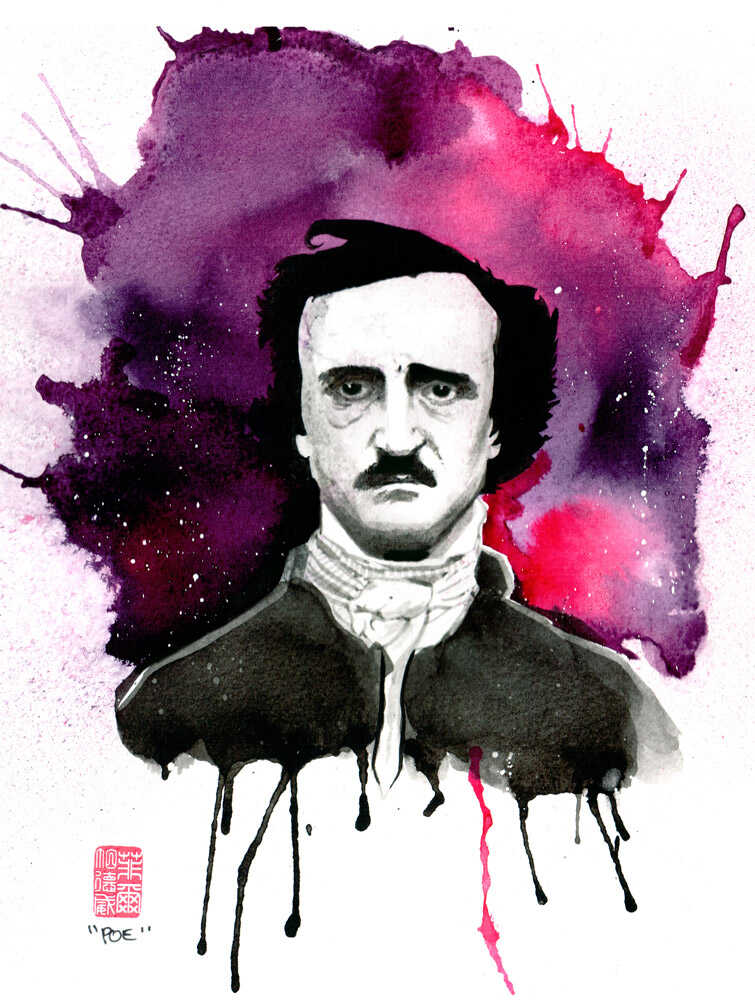 On one wall of the exhibition hang several portraits of well-known writers — Kerouac, for example, and Kurt Vonnegut. Philip Padwe, the creator of the portraits, has spent time as a graphic designer, but got his BA in poetry. He loves literature, and Vonnegut is a favorite. A guard for about 2 1/2 years, Padwe says if you are at an art museum for 40 hours a week, it's going to inform what you do. Yet this show is special, he says, because it reminds people of something that's been lost.
"It reminds me why so many people used to come to New York," Padwe says, "which was to carve out their names as writers, artists or poets. You don't get that anymore, New York has become — everyone says gentrified. But it's just become expensive, and you can't afford to create and work nonstop."
This wonderful show is one of a kind these days, Padwe says, and the kind of experience that displays the side of New York where artists worked during the day and came home to make wonderful art.
On Sw!pe's back cover is a copy of a letter written to The New York Times in 1915, talking about the "unnecessary cruelty" of making museum guards stand for hours during the day. It's something you don't usually notice when you visit a museum, but it will be hard for anyone, after looking at this art and this journal, not to notice it from now on.