Click! Polaroid Snaps Back On The Scene
Click! Polaroid Snaps Back On The Scene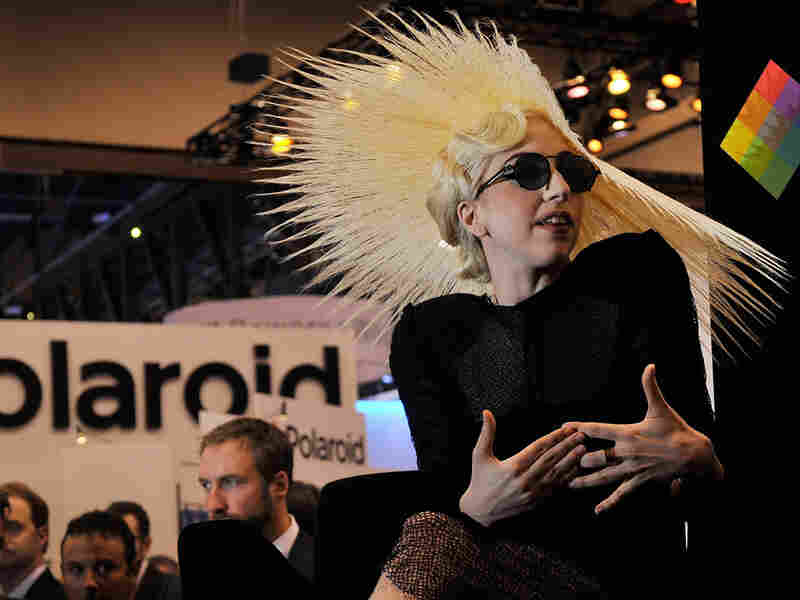 David Becker/Getty Images
One of the most famous names in photography is trying to make a comeback.
Polaroid, the company that popularized instant photography, has struggled in recent years and even announced it would stop making its famous instant film. But starting Thursday, a partner of Polaroid is selling instant film and Polaroid is selling a new image.
When it comes to image, it's hard to top Lady Gaga: singer, fashion maven and self-marketing dynamo. She's been recruited by Polaroid to helps spice things up.
A Polaroid instant camera makes a strategically placed cameo in Lady Gaga's latest music video for the song "Telephone"; Lady Gaga snaps a photo of Beyonce with it.
Earlier this year, Lady Gaga signed a deal to be a "creative director" for the company. She also reportedly has an equity share in the company. It's a good deal for both sides. Lady Gaga might get some money, and Polaroid gets a big boost in its effort to be cool again.
History Of Polaroid
In the 1960s and '70s Polaroid was the height of cool. It was the Apple of its day. The company was known as a creative innovator and its founder, Edwin Land, is often compared to Apple's CEO Steve Jobs. When Land debuted his first instant camera in 1948, people thought it was a miracle.
"It completely changed the relationship between people and photography and cameras. The impact of something like that, I think, is difficult to understand today," says David Bushman of the Paley Center for Media in New York.
When digital photography came along, Polaroid struggled to keep up. It came up with its own digital camera, but the camera wasn't very good, according to Mark McClusky, a senior editor at Wired magazine.
"When you think about digital cameras you think about Canon and Nikon, and then you think Sony and Panasonic and Kodak. Polaroid sort of never enters the conversation. They aren't a player," he says.
In 2001 Polaroid went bankrupt. The company was sold only to go bankrupt again. The biggest blow to Polaroid fans came in 2008 when the company stopped making instant film. By then, Polaroid was little more than a name. But in business, names have value, and the right to that name was purchased by a holding company, which licenses the Polaroid name to manufacturers that make things like TVs, picture frames and digital cameras.
Polaroid Revival
But instant film was not dead yet. A group of Polaroid fans and ex-employees formed a company called "The Impossible Project." They took over an old Polaroid factory in the Netherlands and started making instant film again, using a different process because the original Polaroid chemicals were no longer available.
"I'm sure if you made a phone call to some of the old research people from Polaroid, they would assure you that we were mad," says Andre Bosman, who heads The Impossible Project.
New black-and-white film is now on sale, and color film is coming soon. Bosman says the new film is clearer and crisper than its original film. But that may not be what Polaroid enthusiasts want. Photo historian Claude Cookman says part of the appeal of the classic Polaroid film is its less-than-perfect images.
"The colors feel quite different," Cookman says. "They are not crisp and clear and [it] has a certain retro feel to it in terms of its color and its size. And I think this is a really important dimension of it."
Bushman of the Paley Center for Media agrees. He says in this day of HDTVs and digital photography, there's something quaint, otherworldly to traditional Polaroid film.
"It has a very nostalgic value to it for that reason," he says.
Eking Out A Market
Polaroid's Scott Hardy says there is a market for instant film — even if it's a small one. But the company's not banking on film alone. It sells other products, including a digital camera with a built-in instant printer. But McClusky is skeptical that Polaroid will become a household name again.
"It seems unlikely to me that Polaroid's going to regain that status in the marketplace. You know, stranger things have happened in this world but they have a long road ahead of them," he says.
Whatever happens with Polaroid, at least it's got Lady Gaga along for the ride.
What's A Picture Worth? Polaroid Auctions Photos
What's A Picture Worth? Polaroid Auctions Photos
Photographs from The Polaroid Collection

Chuck Close/Courtesy Pace/MacGill Gallery, New York/Photographs from The Polaroid Collection

Photographs from The Polaroid Collection

Photographs from The Polaroid Collection

Andy Warhol/Courtesy Pace/MacGill Gallery, New York/Photographs from The Polaroid Collection

Ansel Adams/Photographs from The Polaroid Collection

Robert Rauschenberg/Courtesy Pace/MacGill Gallery, New York/Photographs from The Polaroid Collection

Lucas Samaras/Courtesy Pace/MacGill Gallery, New York/Photographs from The Polaroid Collection

Harry Callahan/Courtesy Pace/MacGill Gallery, New York/Photographs from The Polaroid Collection

Ansel Adams/Photographs from The Polaroid Collection
More than 1,000 photographs from the Polaroid collection are being auctioned at Sotheby's in New York City as part of Polaroid's bankruptcy court order.
The auction includes images by legendary artists and photographers going back to the 1940s. Some artists are upset that the collection is being auctioned off, believing that they only lent their work to Polaroid.
Ansel Adams And Polaroid
In preparation for the auction, the entire Sotheby's building has been taken over by photographs. Many are Polaroids, but about a third are not.
There are several rooms devoted to the great landscape photographer Ansel Adams -- more than 400 images. Denise Bethel, the director of the photography department at Sotheby's, has been auctioning photographs for 30 years.
"We are lucky if we see one great mural by Adams every four or five years. We have, in this collection, 30," Bethel says.
Adams had an unusual relationship with Polaroid and its founder Edwin Land. They met in 1948, the year that the Polaroid camera was first marketed. Adams not only helped to develop Polaroid technology, but he also helped the company acquire photographs from artists like Andy Warhol, David Hockney, Imogen Cunningham and Harry Callahan, as well as photographers like Dorothea Lange and Edward Weston.
Related NPR Stories
We tend to think of Polaroids as having no negative. But Adams pioneered using Polaroid Type 55 positive/negative film. You can see many examples of small Polaroids and large murals made from the same image. Take, for example, Adams' photograph of Sugarpine Boughs and Lichen, Yosemite National Park. The large picture has almost as much detail as the small Polaroid.
There are also dozens of tiny 4-by-5 Polaroids taken with the same camera millions of Americans used, like two self portraits of Warhol sneezing. Bethel says that when Sotheby's appraised the collection, the small Polaroids were a revelation.
Lee Rosenbaum, who writes the blog CultureGrrl, says Adams took consumer cameras to the next level.
"You have a little deckle edge Ansel Adams Polaroid of a stream, the same deckle edge that we used to have on our photographs back when we did our snapshots, and yet he gets so much texture in that water, just as he does in his more polished, bigger scale productions," Rosenbaum says.
'Surreal And Phantasmagoric'
There are huge Polaroids by Chuck Close and Lucas Samaras. Samaras used every type of Polaroid camera, including the mammoth 40x80 camera that takes three or four people to operate. Many of his images are filled with brilliant yellows, greens and magentas. He also was incredibly inventive with the SX70 camera.
According to Christopher Mahoney of Sotheby's, there are a few minutes after a Polaroid slides out of the camera "when the emulsion is still soft. You can actually manipulate this emulsion, move it around, and he came up with these results, some of which are surreal, and phantasmagoric, and a lot of them are as much drawings as they are photographs."
Bankruptcy And Negotiation
Polaroid has gone through bankruptcy twice. A number of artists upset about the auction, wrote letters to the bankruptcy judge in Minnesota, who essentially said, "too late" and that the time to get the works out was when Polaroid first went bankrupt eight years ago. But some artists say back then few knew that Polaroid was going bankrupt. Some artists are still trying to negotiate for their works.
John Reuter feels some of his most stand-out work is part of the Polaroid collection, though his photographs are not part of the auction at Sotheby's. After working for Polaroid off-and-on for 30 years, Reuter is now the executive director of the 20 x 24 Studio and has 100 of his own photos in the larger Polaroid collection of some 16,000 images. He says he is more sad than angry about the auction.
"Having been through the dissolution of the company," he says, "not only is my work in the collection and I can't get it, and a lot of it was my best work, at certain periods of my life, but I also saw people who were incredible people who made this film and made Polaroid a great company, lose their jobs for no good reason really. So the auction is almost the funeral in a way, because it is the last act in the dissolution of Polaroid."