Photographer Captures Stark Portraits Of Hunger
Photographer Captures Stark Portraits Of Hunger
See More Photos
Read a Q&A with photographer Michael Nye and see more of his photos at NPR's Picture Show blog.
Countless people have experienced deep losses of their jobs, savings and homes — and often, along with these losses comes hunger. It's perhaps the least visible loss, but it's as powerfully felt.
Photographer Michael Nye has been documenting the faces and voices of hunger — those who are newly hungry, others who have experienced hunger all their lives, and some who have known it temporarily but unforgettably.
His new exhibition, "About Hunger & Resilience," is on display at San Antonio's Witte Museum.
The Tip Of The Iceberg
Nye spent almost five years traveling the U.S. to collect experiences of hunger. He's a lawyer turned fine-arts photographer who uses an old 8x10 view camera to take his black-and-white portraits. Nye says he's also part reporter, part anthropologist, and is both haunted and inspired by the stories of his subjects. And he's sensitive about them — Nye doesn't reveal their full names to preserve their anonymity.
"Hunger is a whole lot like an iceberg," Nye says. "The mass of it is underwater, invisible — I think nine-tenths of it. And I've heard so many people talk about the experience like a glass wall disconnecting them from the rest of the world."
Nye spends up to four days with each subject, documenting their stories and taking photographs. For the exhibit, he distills the encounter to a single image and a five-minute clip of sound. Nye says it's a slowly revealing process — like unwinding a ball of string.
"Once you start listening, you find that it's really about ourselves," Nye says. "That it's not about those people, but it's about humanity."
Stories Of Our Neighbors
Helen is an artist who was hit by a truck several years ago. Afterward, she was unable to work and ended up living in her car.
"I've had many times where I've had no food at all," Helen says in her recording at the exhibition. "I've had times when I've gone into the grocery with my purse and stole a bag of baloney. How do you explain that? Getting up the courage to walk in and do it? Being so hungry, it destroys your will. You look in the mirror, and you don't know who you are ..."
Nye calls these "the stories of our neighbors," of their aging or addiction or mental illness. Uncontrollable factors — like natural disasters, accidents or bad luck — can lead to hunger.
Other portraits in Nye's exhibit include a woman who experienced hunger while she was locked in a closet for days, an escapee of the Khmer Rouge in Cambodia, an incest survivor who stopped eating to try starving herself to death.
And then, Nye says, there are the stories of all the children who have no choice in the matter — and who go hungry on a daily basis.
"How do you explain to a 2-year-old or 4-year-old there's nothing to eat?" says Kathy, a homeless mother, in her recording at the exhibition.
"All they know is that they're hungry. And the pain in their stomach. And you try to sit there and say, 'Honey, I'm sorry. I don't have anything to cook you. I don't have nothing to give you. I have nothing.'"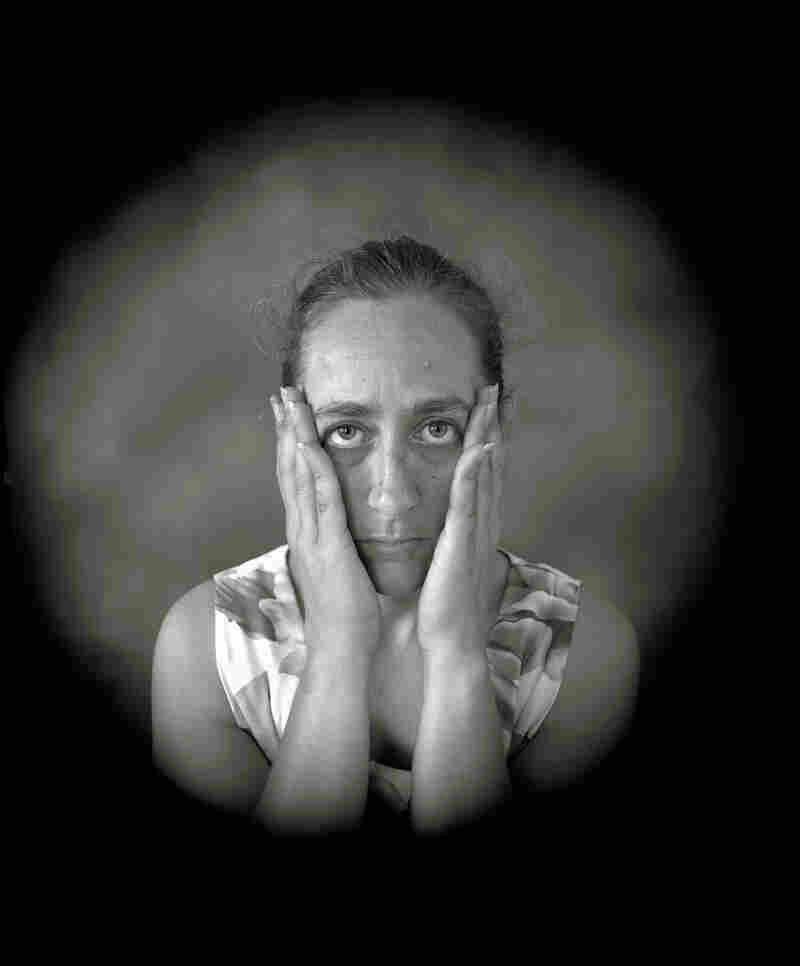 Nye's photograph of Kathy is a circle image of her face with her hands resting lightly on her cheeks. Her eyes are piercing, with an intensity and a resolve to break the spiral of hunger, Nye says.
In The Exhibit
The exhibit's galleries are dimly lit. Each portrait has its own spotlight and a pair of headphones. Nye says visitors often sit on the floor, lost in the stories behind the faces that hang above.
"One of the premises behind this project is a profound belief that everyone knows something that no one else knows — a wisdom about hunger," Nye says. "I hope that this exhibit is not just about making noise but about making things better, to see hunger as it is — without any illusion. And I think it's easier, then, to take it on and look for solutions."
Michael Nye's exhibit "About Hunger & Resilience" closes at the Witte Museum on April 4, and then will tour multiple cities around the country.