Reggie Jackson And Bob Gibson Talk Baseball
Reggie Jackson And Bob Gibson Talk Baseball
Otto Greule Jr./Getty Images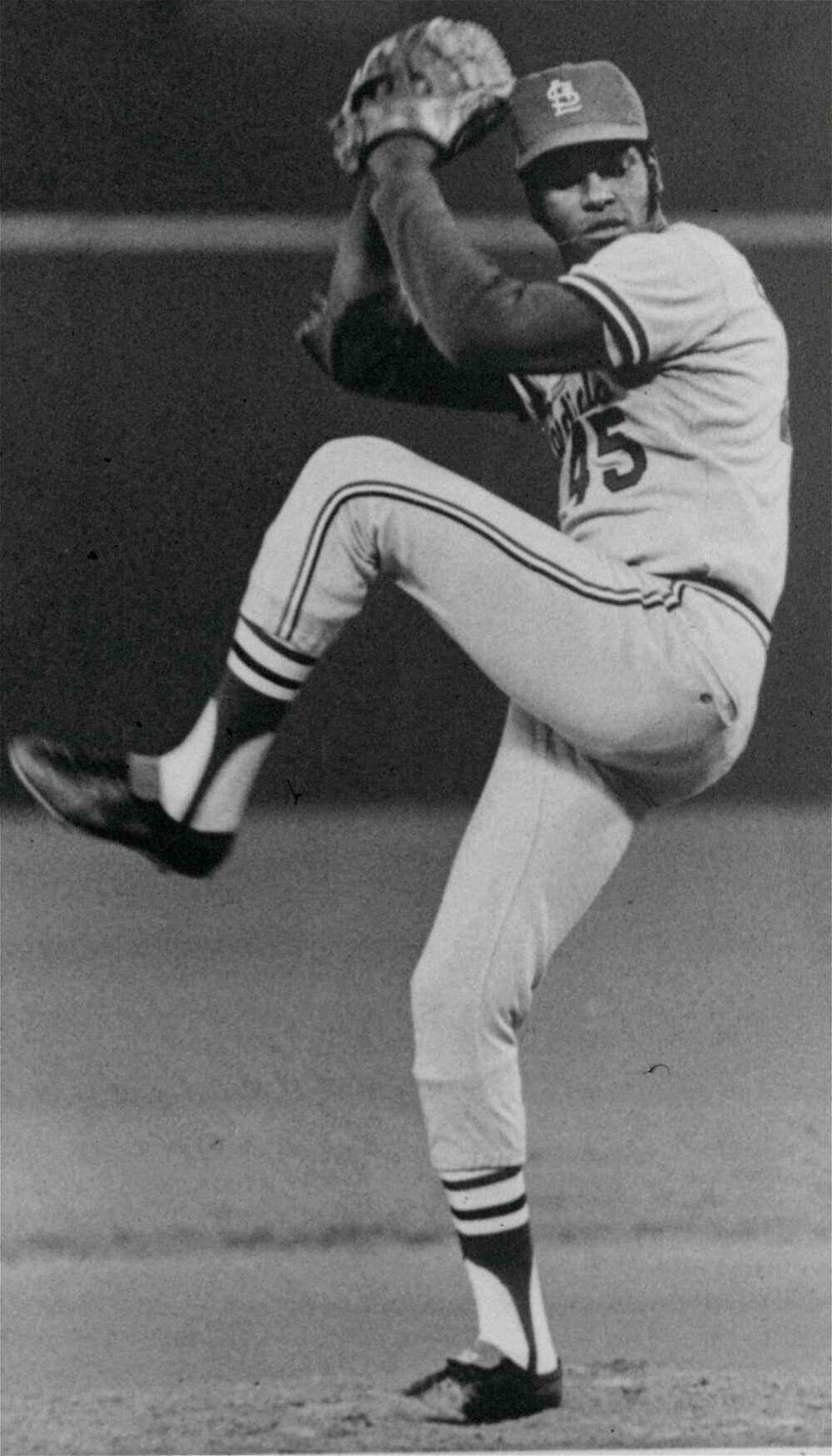 Few confrontations in sports are as personal and dramatic as a batter standing in against a pitcher with a baseball game on the line — and fewer understand that relationship better than baseball legends Reggie Jackson and Bob Gibson.
Jackson, a home run hitter who won five World Series rings with the Oakland Athletics and New York Yankees, and Gibson, an eight-time all-star who won two championships with the St. Louis Cardinals, collaborated with writer Lonnie Wheeler for a book called Sixty Feet, Six Inches. The book contains a series of conversations between the two Hall of Famers, where they touch on everything from playing in the World Series to modern controversies involving steroids and free agency.
Jackson explains to Dave Davies how he felt each time he went to bat in the World Series.
Sixty Feet, Six Inches: A Hall of Fame Pitcher & a Hall of Fame Hitter Talk about How the Game is Played
By Bob Gibson and Reggie Jackson with Lonnie Wheeler
Hardcover, 288 pages
Doubleday
List price: $26
"It was a battle between me and the guy on the mound. And I knew everything about who I was facing. Even in the other league, we had scouting reports. I paid attention to them. I watched. I learned. I understood. I felt prepared," he says. "And I really wanted the guy that I was facing to be at his best because then it made the thinking easy because you understood what a guy had, what was his best pitch. ... I may not be able to handle it, but the thinking gets simple."
Although Jackson and Gibson never faced each other on the field, Gibson — who pitched for 17 seasons with St. Louis — says he knows what he would have done had he faced Jackson at the plate.
"You know, Reggie's up there and Reggie's not going to get a hit every time he's up there, nor is he going to hit a home run every time he's up there," says Gibson. "But he's probably more capable of hitting one than the guy behind him, so why do a silly thing, especially if you're in a situation where he could win. ... You would pitch around him; that meaning, pitch to the next hitter, a guy that you know you can get out or you suspect you can get out a lot better than him. If I don't make a mistake on Reggie, I'm going to get him out. I don't know whether I'm going to make a mistake. If I do make a mistake, he's going to hit it. So let's try somebody else. And that's the way I looked at it."
This interview originally aired Oct. 12, 2009.
Sixty Feet, Six Inches
A Hall of Fame Pitcher & a Hall of Fame Hitter Talk About How the Game Is Played
Hardcover, 273 pages |
purchase
Buy Featured Book
Title

Sixty Feet, Six Inches

Subtitle

A Hall of Fame Pitcher & a Hall of Fame Hitter Talk About How the Game Is Played

Author

Bob Gibson, Reggie Jackson, et al
Your purchase helps support NPR programming. How?
Excerpt: 'Sixty Feet, Six Inches'
Chapter One--The Pitched Battle
Any Little Edge
Reggie Jackson: "When I stepped into the box, I felt the at-bat belonged to me. Everybody else was there for my convenience. The pitcher was there to throw me a ball to hit. The catcher was there to throw it back to him if he didn't give me what I wanted the first time. And the umpire was lucky that he was close enough to watch. Gibson was the same way. That's why people thought he was mean. And that's the attitude you've got to have. When I hit, I felt I was in control of the home-plate area, and it was important that I felt that way. If I let the pitcher control it, it would give him an advantage. There are at least three kinds of advantages that the pitcher and batter contest. There's the physical advantage, the strategic advantage, and also the psychological advantage. I didn't want two out of three. I wanted them all. The pitcher has the ball, and nothing happens until he lets go of it. So, as the batter, I felt I had to fight for any bit of control I could get. I expected the umpire, the catcher, and the pitcher to wait on me. I wanted to get ready on my time. I'd call time or pause or do something that wasn't too annoying but at least would get the pitcher off his pace. If I could disrupt his rhythm a little bit, just for a second or two, the advantage swung to me. But I didn't want to create an ire, some kind of anger to make him bear down harder. I didn't want a guy to step back and grit his teeth. Being a jerk about it just doesn't work. There's a fine line between annoying somebody just a little bit and angering him to the point where you may get drilled in the back."
Bob Gibson: "Him backing out of there all the time, that is annoying, because I liked to pitch in a hurry. But I never let it annoy me to the point that it distracted me. You don' t knock guys down for that kind of stuff. They give you plenty of other reasons to knock them down."
Reggie Jackson: "Against the great pitchers, in particular, I' d try to break that rhythm. They're going to try to pitch a fast game, under two hours if possible — although that hardly ever happens anymore. They want to get a flow going, throw strikes, get ahead, keep you off balance and on the defensive. They want you to get in the batter's box, because they're ready to pitch. If a pitcher stays in his groove, he's going to be comfortable. He's going to be on his game plan. So you have to get him out of that comfort zone any way you can. If I could do a little something to break that rhythm — make him say to the umpire, "Come on, get him in there, let's go, let's go!" — I might get a ball one. You want him thinking about something other than where he's putting this first pitch. So you might step out, adjust your helmet, tie your shoe or something; but you want to be careful. You don't want to get hit.
Bob Gibson: "I got a chuckle out of the comment that a pitcher wants to keep the game under two hours. After I'd get through warming up in the bullpen and was sitting waiting to go out there, I'd always say to the guys, 'Okay, an hour and fifty-seven minutes, let's go!" They play better behind you if you're working quickly.'
Reggie Jackson: "Ken Holtzman could pitch a game in ninety minutes. Wouldn't throw a breaking ball. And he had a great breaking ball.
Bob Gibson: "I did that once. Went a whole game without throwing a breaking ball — or threw two or three at the most. Got beat 2–1."
Reggie Jackson: "It's not just stepping out of the box or slowing things down. It's any little edge you can get. When I went to home plate in a game-tied situation or with a chance to do something and help the ballclub win one, I'd try to make eye contact with the pitcher. Now, you didn't do that with Hoot — that's what a lot of us like to call Gibson, after the old Hollywood cowboy — or a Mickey Lolich or a Jim Palmer or a Catfish Hunter. You weren't going to stare down those guys. But if a guy was a young player, I would wait to get into the box because I wanted him to look at me. If he wouldn't look at me, I felt I had him beat. If a guy did make eye contact, you could find out if you could intimidate him. Later in my career, when I had the weight of a reputation behind me, I did that a lot."
Bob Gibson: "Heck, I couldn't see if a guy was looking at me or not. I had enough trouble trying to see the signs back there. Tell you what I did, though. I used to look in and shake off signs just to mess with the hitters. Did that all the time. Tim McCarver would give me a sign and then give me another one that meant shake me off. The thing was, I didn't have that many pitches to shake off to. So I'm out there shaking my head, and the batter's thinking, "What the hell?"
Reggie Jackson: "When I was with the Yankees in 1978, we were playing Baltimore at Yankee Stadium and the score was 3–3 going into the bottom of the ninth inning. I led off against Tippy Martinez — a little left-hander who always gave me trouble — and the count went to three-and-oh. I had the green light in that situation, but instead of digging into the box I stepped out and looked down to the third-base coach for a sign. Then I glared over there like I was ticked off and shot a look into the dugout at our manager, Dick Howser, pretending that I was angry about getting a take sign. After all that, I stepped into the box, the pitch came floating right down the middle, and I hit a game-winning home run. In fact, that was the only home run I ever hit against Tippy Martinez.
Bob Gibson: "I got a lot of mileage out of looking angry. Sometimes it wasn't intentional — like when I was squinting in for the signs and the batters thought I was glowering at them — but the fact is, I was deliberately unfriendly to the opposition. I wouldn't even say hello to hitters on the other teams. I didn' t want them knowing me. I didn't want them knowing what I was like or what I was thinking. It was important to me that I retain an air of mystery. I never let the coaches put any kind of clock or gun on my pitches, because I didn't want that information to get out. I wouldn't talk to the team psychologist, because I didn't want anybody figuring me out. I even asked our manager, Red Schoendienst, to keep me out of spring training games against National League teams, if at all possible. In spring training, you're just working on stuff, not trying to get batters out all the time, and I thought that if they got up there and whacked me around a little bit it would only give them confidence. I didn't want them confident. I wanted them wary of me. Uncertain. Intimidated. The Pirates had a young outfielder named Gene Clines who came up to me before a game with a baseball and asked me to sign it. I took the ball and tossed it over my shoulder into left field. War Games"
Reggie Jackson: "Everybody in the league knew I had trouble with the inside pitch. I got away with it only because the great majority of pitchers were afraid of making a mistake in that spot. The threat of power is one of the best weapons you have in the batter's box. They were also concerned that if they missed inside, they'd hit me, put me on base. Now, for a guy like Gibson, that was okay. His attitude was, if I'm gonna miss, I'm gonna miss at you."
Bob Gibson: "What pitchers are really afraid of is their own control. They don't truly believe that they can get a pitch in there exactly where they want it — especially against a hitter as powerful as Reggie, who can put his team on the board at any moment. They know that if they miss in the wrong place, a power hitter will knock the crap out of it. But you can't go out there with the attitude that you're going to miss your spot. You can't go out there afraid of the hitter or afraid of yourself. You've got to respect the hitter, though — some more than others, of course — and you've got to respect yourself. Contrary to what people thought, I didn't make my living on the inside corner. My idea was to pitch away, pitch away, pitch away, come in, pitch away. I mostly worked the outside part of the plate; but you can't be scared to come in when the time or the hitter calls for it. The thing is, if I'm pitching a guy inside, I'm going to make sure I get it way in there. If you put the ball in the strike zone inside — especially against a guy who can hit the ball out of the ballpark — that's horrible. Left-handed or right-handed batter, it doesn't matter. Don't do that."
Excerpted from Sixty Feet, Six Inches by Bob Gibson & Reggie Jackson with Lonnie Wheeler Copyright 2009 by Bob Gibson. Excerpted by permission of Doubleday, a division of Random House, Inc. All rights reserved. No part of this excerpt may be reproduced or reprinted without permission in writing from the publisher.
Buy Featured Book
Title

Sixty Feet, Six Inches

Author

Bob Gibson and Reggie Jackson
Your purchase helps support NPR programming. How?