China Quakes Kill More Than 600, Injure Thousands
AP

AP

AP

AP

AP Photo

Wu Hong/Xinhua/AP

AP Photo

Ren Xiaogang/Xinhua/AP

Ren Xiaogang/Xinhua/AP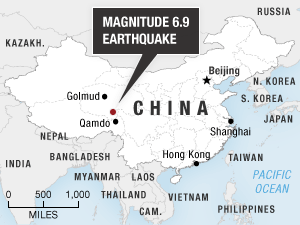 Rescue teams and supplies were making their way to a remote area of southwestern China after a strong earthquake and series of aftershocks in the Tibetan plateau killed more than 600 people and injured about 10,000 others Wednesday. Authorities said they feared that the death toll would rise because many people were trapped in collapsed houses and buildings.
The largest earthquake, recorded by the U.S. Geological Survey as magnitude 6.9, struck at 7:49 a.m. local time and was centered about 28 miles northwest of Yushu county in China's sparsely populated Qinghai province. The quake struck along the same fault line as the 2008 quake in Sichuan province, which killed tens of thousands of people.
The Two-Way Blog
Heard On Morning Edition
Asia
Earthquake In Western China Kills Hundreds
Earthquake In Western China Kills Hundreds
Panicked people, many bleeding from their wounds, flooded the streets as houses made of mud and wood crumbled.
"We've been hearing that 85 percent of the buildings collapsed in Yushu town," NPR correspondent Louisa Lim reported from Shanghai. "We've also been hearing that the wall of a reservoir near the town has cracked and workers are racing to try to let out water to release the pressure on the dam."
Lim said the local Red Cross reported at least 70 percent of the schools collapsed, with students buried inside several of them -- including at least one primary school and a four-story teachers college with 30 to 40 students inside.
NPR's Anthony Kuhn said China Radio International had reported 56 students killed so far. The 2008 quake in Sichuan, during which nearly 7,000 classrooms collapsed, highlighted shoddy school construction in the country. Kuhn said there would be scrutiny over the quality of construction in the area of Wednesday's quake.
Paramilitary police used shovels to dig through the rubble in the town, footage on state television showed. But a military official told state broadcaster CCTV that rescuers don't have enough excavators and that many are removing rubble with their bare hands in a desperate attempt to reach buried survivors.
"Nearly all the houses made of mud and wood collapsed. There was so much dust in the air, we couldn't see anything," said Ren Yu, general manager of Yushu Hotel in Jiegu. "There was a lot of panic. People were crying on the streets."
Zhang Hongshuan/AP Photo/Xinhua
The quake also triggered landslides, the official Xinhua news agency said.
Damage to roads leading from the airport was also hampering rescue efforts. By nightfall, however, the airport was operating with emergency power, and relief flights carrying medical workers and supplies were getting in, state media reported.
Kuhn said the airport did not have enough fuel, however. "So planes that should be carrying medical supplies in have to carry their own fuel in, too."
China's Vice Premier Hui Liangyu has been sent to the region to oversee rescue efforts. But the hard-to-reach area sits 12,000 feet above sea level, and poor weather -- including forecasts of sleet and strong winds -- is likely to hamper rescue efforts. Downed power lines and shaky communications systems were also complicating the process.
More than 5,000 soldiers, medical workers and other rescuers were mobilized, joining 700 soldiers already on the ground, Xinhua reported.
The Qinghai provincial government said it was rushing 5,000 tents and 100,000 coats and blankets to the mountainous region, where the average daily temperatures were around 43 degrees Fahrenheit. Nighttime temperatures plunge below freezing.
The USGS recorded six temblors in less than three hours, all but one registering 5.0 or higher. Qinghai averages more than five earthquakes a year of at least magnitude 5.0, according to Xinhua. They normally do not cause much damage in the sparsely populated province.
Related NPR Stories