The Viral Adventures of Bob The Baby Screech Owl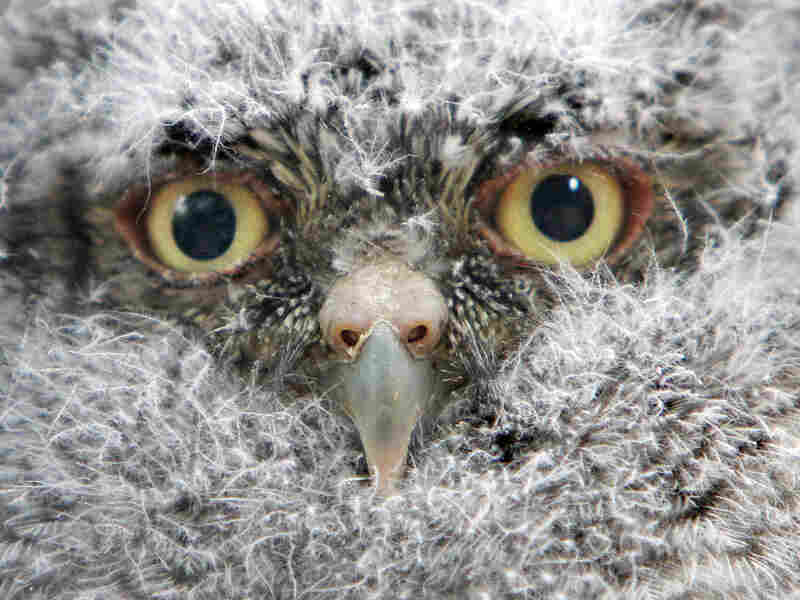 For a strange two weeks, a newspaper photographer in Miami was taking some pretty unique pictures. But they weren't coming from her day job; they were from her backyard.
At work, Emily Michot and her husband, Walt, are photojournalists for the Miami Herald. At home, they're parents with two sons: Michael's 8, and Ryan is 10. And their Miami Shores house can get a bit rowdy.
But a few weeks ago, when Walt Michot was picking up the boys from karate class, Emily Michot was home alone, and the house was uncommonly quiet.
Something's Living In The Mango Tree
"That's when I noticed that there was this — this odd noise," she says. "I can't even describe it. It was alive. I knew it was alive."
She wasn't going out there, though. When the kids got home, she sent them.
"They ran back in saying, 'That's an owl,' " she says. "And sure enough this little gray fuzzball was out in the tree."
A tiny baby screech owl was calling for its parents.
Eastern screech owls are good parents — they mate for life. The dad hunts and gathers, and the mom is a living food processor.
The baby owl in the mango tree seemed to be an only child, and the Michot boys named the little guy Bob.
"They call everything Bob," she says. "They found salamanders this summer, and they named all five of them Bob. They call their friends Bob. My youngest son wants to be renamed Bob."
Overnight Celebrity
Michot snapped a few photos of Bob and made a Facebook fan page. Within days Bob had about 450 fans and loads of comments.
Neighbors started showing up at the house unannounced, so the dishes piled up, and the boys' homework backed up.
Michot decided to live-stream video of Bob over the Internet. One of the first nights, she actually caught the mama owl feeding the little guy. People from California, New Hampshire and China were watching.
The next night, Michot went back outside. She noticed the screeching wasn't coming from the mango tree anymore. The owl had moved to Michots' fence.
It looked like Bob was trapped.
"Pandemonium ensued and everybody ran outside," Michot says. "I did a quick alert on the live stream and the Facebook that Bob had left the hole."
The message went up, and within minutes a neighbor showed up.
And users online were wondering — "Where's the mom?" Owl experts, PETA members were all weighing in.
"But we were still just kind of watching and trying to figure out — is it his time to go?" Michot says.
Was it just time for Bob to leave his nest?
Irreplaceable
Turns out Bob wasn't trapped; it just looked that way. So eventually, he jumped down from the fence, fluttered up to a papaya tree and then over to a green Adirondack chair next door.
And just like that, Bob was out of sight.
"For me, there won't be another Bob," Michot says. "This was our Bob. But the boys, I'm sure, the next thing that comes along, whether it be a lizard or a snake, it's probably going to end up being a Bob."
She says the boys are busy scribbling their birthday gift lists with toy guns at the top --they've moved on. But Michot hasn't.
At night, when Michael and Ryan are at karate, and the house is unusually quiet, she listens outside and gets sad. She really got used to those hungry little owl squeaks.