Love And Darkness At The Edge Of World War II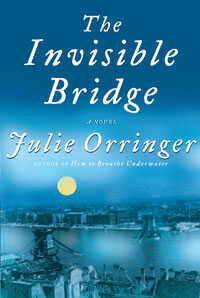 The Invisible Bridge: A Novel
By Julie Orringer
Hardcover, 624 pages
Knopf
List price: $26.95
Julie Orringer released her first book, How to Breathe Underwater, in 2003, and critics fell in love. Orringer quickly became a young literary celebrity, and her book, deservedly, found a home on several best-of-the-year lists. The nine short stories in the collection were all perfectly executed — poignant, sad and at times dryly funny, Orringer's characters were sometimes close to beaten down, but never stopped searching, even when they weren't sure what they were looking for.
Her readers have been waiting seven years for her follow-up, and her new novel, The Invisible Bridge, is almost everything that How to Breathe Underwater was not. While Orringer's stories, mostly set in contemporary America, were concentrated, subtle and microcosmic, her novel is both a love story writ large and an almost epic ride through the history of Europe just before World War II. It's a bold, ambitious move for an author writing a sophomore effort, but Orringer's fans won't be surprised to know that it pays off. The Invisible Bridge is as different as can be from its predecessor, but it's no less beautiful, breathtaking and vital.
The hero of The Invisible Bridge is Andras Levi, a young Jewish Hungarian who moves to Paris to study architecture in 1937. Andras is a scholarship student from a poor family, unsure of himself, shy. Despite some frightening encounters with anti-Semitic threats and violence, Andras dedicates himself to school, learning French and taking a job in a theater. He eventually meets Klara Morgenstern, an older Hungarian dance teacher living in Paris, and the two fall in love, quickly and breathlessly, despite Klara's doubts and her caginess about her past. As the Nazis start to gain power, Andras and Klara move back to Hungary, trying to find a safe harbor for their new family, even as the German army starts to close in.
Orringer's prose is unfaltering, and she shows remarkable skill in weaving together the two main sections of the novel — the first part, a coming-of-age story reminiscent of early parts of W. Somerset Maugham's Of Human Bondage; and the second part, a tense account of a family threatened with war and hatred, which recalls the heroic, romantic realism of Michael Chabon's The Amazing Adventures of Kavalier & Clay. The relationship between Andras and Klara is at the heart of this novel, of course, and Orringer has the rare gift of being able to write about love without being sentimental or unrealistic. Andras, early in their relationship, reflects on falling in love: "He knew that feeling, that powerful and frightening tidal pull: It was Klara, her draw upon him, her inevitability in his life."
The Invisible Bridge might not be the novel that Orringer's fans were expecting, but it's every bit as powerful and haunting as her debut. She's no longer just a writer to watch — she's a writer to follow, and one whose talent, daring and compassion are beginning to look boundless.
Excerpt: 'The Invisible Bridge'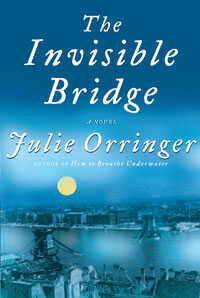 The Invisible Bridge: A Novel
By Julie Orringer
Hardcover, 624 pages
Knopf
List price: $26.95
Chapter Eleven
Winter Holiday
That year, in her studio on the rue de Sevigne, Claire Morgenstern had taught some ninety-five girls between the ages of eight and fourteen, three of the oldest of whom would soon depart for professional training with the Ballet Russe de Monte Carlo. She had been preparing the children for the Spectacle d'Hiver for two months now; the costumes were ready, the young dancers schooled in the ways of snowflakes, sugarplums, and swans, the winter-garden scenery in readiness. That week Andras's advertising poster appeared all over town: a snowflake child in silhouette against a starry winter sky, one leg extended in an arabesque, the words Spectacle d'Hiver trailing the upraised right hand like a comet tail. Every time he saw it -- on the way to school, on the wall opposite the Blue Dove, at the bakery -- he heard Madame Morgenstern saying You'll come, won't you?
By Wednesday, the evening of the dress rehearsal, he felt he couldn't wait another day to see her. He arrived at the Sarah-Bernhardt at his usual hour, carrying a large plum cake for the coffee table. The corridors backstage were thronged with girls in white and silver tulle; they surged around him, blizzardlike, as he slipped into the backstage corner where the coffee table was arranged. With his pocketknife he cut the plum cake into a raft of little pieces. A group of girls in snowflake costumes clustered at the edges of the curtain, waiting for their entrance. As they tiptoed in place, they cast interested glances at the coffee table and the cake. Andras could hear a stage manager calling for the next group of dancers. Madame Morgenstern -- Klara, as Madame Gerard called her -- was nowhere to be seen.
He watched from the wings as the little girls danced their snowflake dance. The girl whose father had come late was among that group of children; when she ran back into the wings after her dance, she called to Andras and showed him that she had a new pair of glasses, this one with flexible wire arms that curled around the backs of her ears. They wouldn't fall off while she danced, she explained. As she kicked into a pirouette to demonstrate, he heard Madame Morgenstern's laugh behind him.
"Ah," she said. "The new glasses."
Andras allowed himself a swift look at her. She was dressed in practice clothes, her dark hair twisted close against her head. "Ingenious," he said, trying to keep his voice steady. "They don't come off at all."
"They come off when I want them to," the girl said. "I take them off at night."
"Of course," Andras said. "I didn't mean to suggest you wore them always."
The girl rolled her eyes at Madame Morgenstern and raced to the coffee table, where the other snowflakes were devouring the plum cake.
"This is a surprise," Madame Morgenstern said. "I didn't expect to see you until tomorrow."
"I have a job here, in case you've forgotten," Andras said, and crossed his arms. "I'm responsible for the comfort and happiness of the performers."
"That cake is your doing, I suppose?"
"The girls don't seem to object."
"I object. I don't allow sweets backstage." But she gave him a wink, and went to the table to take a piece of plum cake herself. The cake was dense and golden, its top studded with halved mirabelles. "Oh," she said. "This is good. You shouldn't have. Take some for yourself, at least."
"I'm afraid it wouldn't be professional."
Madame Morgenstern laughed. "You've caught me at a rather busy time, I'm afraid. I've got to get the next group of girls onstage." She brushed a snow of gold crumbs from her hands, and he found himself imagining the taste of plum on her fingers.
"I'm sorry I disturbed you," he said. He was ready to say I'll be off now, ready to leave her to the rehearsal, but then he thought of his empty room, and the long hours that lay between that night and the next, and the blank expanse of time that stretched into the future beyond Thursday -- time when he'd have no excuse to see her. He raised his eyes to hers. "Have a drink with me tonight," he said.
She gave a little jolt. "Oh, no," she whispered. "I can't."
"Please, Klara," he said. "I can't bear it if you say no."
She rubbed the tops of her arms as if she'd gotten a chill. "Andras – " He mentioned a cafe, named a time. And before she could say no again, he turned and went down the backstage hallway and out into the white December evening.
* * *
The Cafe Bedouin was a dark place, its leather upholstery cracked, its blue velvet draperies lavendered with age. Behind the bar stood rows of dusty cut-glass bottles, relics of an earlier age of drinking. Andras arrived there an hour before the time he'd mentioned, already sick with impatience, disbelieving what he'd done. Had he really asked her to have a drink with him? Called her by her first name, in its intimate-seeming Hungarian form? Spoken to her as though his feelings might be acceptable, might even be returned? What did he expect would happen now? If she came, it would only be to confirm that he'd acted inappropriately, and perhaps to tell him she could no longer admit him to her house on Sunday afternoons. At the same time he was certain she'd known his feelings for weeks now, must have known since the day they'd gone skating in the Bois de Vincennes. It was time for them to be honest with each other; perhaps it was time for him to confess that he'd carried her mother's letter from Hungary. He stared at the door as if to will it off its hinges. Each time a woman entered he leapt from his chair. He shook his father's pocket watch to make sure nothing was loose, wound it again to make sure it was keeping time. Half an hour passed, then another. She was late. He looked into his empty whiskey glass and wondered how long he could sit in this bar without having to order a second drink. The waiters drifted by, throwing solicitous glances in his direction. He ordered another whiskey and drank it, hunched over his glass. He had never felt more desperate or more absurd. Then, finally, the door opened again and she was before him in her red hat and her close-fitting gray coat, out of breath, as if she'd run all the way from the theater. He leapt from his chair.
"I was afraid I'd miss you," she said, and gave a sigh of relief. She took off her hat and slid onto the banquette across from him. She wore a snug gabardine jacket, closed at the collar with a neat silver pin in the shape of a harp.
"You're late," Andras said, feeling the whiskey in his head like a swarm of bees.
"The rehearsal finished ten minutes ago! You ran out before I could tell you what time I could come."
"I was afraid you'd say you wouldn't see me at all."
"You're quite right. I shouldn't be here."
"Why did you come, then?" He reached across the table for her hand. Her fingers were freezing cold, but she wouldn't let him warm them. She slid her hand away, blushing into the collar of her jacket.
The waiter arrived to ask for their orders, hopeful that the young man would spend more money now that his friend had arrived. "I've been drinking whiskey," he said. "Have a whiskey with me. It's the drink of American movie stars."
"I'm not in the mood," she said. Instead she ordered a Brunelle and a glass of water. "I can't stay," she said, once the waiter had gone. "One drink, and then I'll go."
"I have something to tell you," Andras said. "That's why I wanted you to come."
"What is it?" she said.
"In Budapest, before I left, I met a woman named Elza Hasz."
Madame Morgenstern's face drained of color. "Yes?" she said.
"I went to her house on Benczur utca. She'd seen me exchanging pengo for francs at the bank, and wanted to send a box to her son in Paris. There was another woman there, an older woman, who asked me to carry something else. A letter to a certain C. Morgenstern on the rue de Sevigne. About whom I must not inquire."
Madame Morgenstern had gone so pale that Andras thought she might faint. When the waiter arrived a moment later with their drinks, she took up her Brunelle and emptied half the glass.
"I think you're Klara Hasz," he said, lowering his voice. "Or you were. And the woman I met was your mother."
Her mouth trembled, and she glanced toward the door. For a moment she looked as if she might flee. Then she sank back into her seat, a tense stillness coming over her body. "All right," she said. "Tell me what you know, and what you want." Her voice had thinned to a whisper; she sounded, more than anything, afraid.
"I don't know anything," he said, reaching for her hand again. "I don't want anything. I just wanted to tell you what happened. What a strange coincidence it was. And I wanted you to know I'd met your mother. I know you haven't seen her in years."
"And you carried a box for my nephew Jozsef ?" she said. "Have you spoken to him about this? About me?"
"No, not a word."
"Thank God," she said. "You can't, do you understand?"
"No," he said. "I don't understand. I don't know what any of this means. Your mother begged me not to speak to anyone about that letter, and I haven't. No one knows. Or almost no one -- I did show it to my brother when I came home from your mother's house. He thought it must be a love letter."
Klara gave a sad laugh. "A love letter! I suppose it was, in a way."
"I wish you'd tell me what this is all about."
"It's a private matter. I'm sorry you had to be involved. I can't make direct contact with my family in Budapest, and they can't send anything directly to me. Jozsef can't know I'm here. You're certain you haven't told him anything?"
"Nothing at all," Andras said. "Your mother mentioned that specifically."
"I'm sorry to make such a drama of it. But it's very important that you understand. Some terrible things happened in Budapest when I was a girl. I'm safe now, but only as long as no one knows I'm here, or who I was before I came here."
Andras repeated his vow. If his silence would protect her, he would keep silent. If she had asked him to sign his pledge in blood upon the gray marble of the cafe table, he would have taken a knife to his hand and done it. Instead she finished her drink, not speaking, not meeting his eyes. He watched the silver harp tremble at her throat.
Excerpted from The Invisible Bridge by Julie Orringer Copyright 2010 by Julie Orringer. Excerpted by permission of Knopf, a division of Random House Inc. All rights reserved. No part of this excerpt may be reproduced or reprinted without permission in writing from the publisher.
Books Featured In This Story
The Invisible Bridge
Paperback, 762 pages |
purchase
Buy Featured Book
Title

The Invisible Bridge

Author

Julie Orringer
Your purchase helps support NPR programming. How?