Doug Glanville: From The Ivy League To Center Field
Doug Glanville: From The Ivy League To Center Field
Jed Jacobsohn/Getty Images
The Game from Where I Stand: A Ballplayer's Inside View
By Doug Glanville
Hardcover, 304 pages
Times Books
List price: $25
When Doug Glanville played with the Chicago Cubs, his teammates called him the "rocket scientist."
Glanville, a major league center fielder for nine seasons (including two with the Cubs,) isn't a rocket scientist -- but he did take a different path to the majors than most of his teammates. Before he was drafted in 1996, he graduated from the University of Pennsylvania with a degree in systems engineering.
In an interview on Fresh Air with contributor Dave Davies, Glanville admits that once he got to the big leagues, his Ivy League diploma wasn't as much of an advantage as he had thought it would be.
"You realize fairly quickly, at the professional level, that you have to have moments where you sort of blank. You're not thinking. You're not calculating. You're just in a space where you have to perform and react and trust your instincts. Yes, you can use the engineering to prepare," he says. "But when it comes down to it, you have to react to that ball because you have a split second to make a decision."
Glanville spent most of his major league career with the Philadelphia Phillies, where he batted a career high .325 in 1999. He says he enjoyed playing the center field position because of the perspective it gave him on the game. It also allowed him to hear hecklers, who would lean over the outfield wall in Veteran's Stadium and yell their thoughts down to the players.
Baseball on Fresh Air
"My favorite comment was from a guy who ... realized I was an engineer who had written a paper about building a new stadium in Philadelphia," Glanville says. "So I was really struggling when I first came over to Philly in 1998, struggling and hitting like .190 so the guy yelled out 'Why don't you design a stadium you can hit in?'"
Glanville didn't have to worry: he finished his major league career with 1,100 hits and a career .277 batting average. His new book, The Game from Where I Stand, is an inside look at the culture of professional baseball -- from how to pack your bag after you've been cut from a roster to how to manage romantic relationships while traveling for half the year.
Glanville writes guest columns about baseball for The New York Times and is a baseball analyst for ESPN.
---
Interview Highlights
On feeling different as a baseball player who went to an Ivy League school
"Now the interesting thing [about feeling different] is that it started when I first got drafted. ... I think of the movie Bull Durham, where Crash Davis is talking to the main character who's played by Tim Robbins, and he says, 'You have fungus in your shower shoes. And in the minor leagues, you're a slob and in the big leagues, they can consider you colorful.' So I think the fact that I was different, with this academic background that's maybe not associated with professional athletes, that became something that was very much of a unique interest level for major league baseball. For minor league, you're the alien in the room more so -- but it was interesting how it changed over the years and became more and more something positive."
On why he was grateful to have spent five seasons in the minor leagues
"If I was drafted and went to major league baseball [right out of the draft,] very quickly I would have been an engineer right away. I feel like there are a lot of components to baseball -- you can master one aspect but then there are other aspects you have to conquer. You have to be a solid base runner. You have to play defense. You have to hit the curve ball. So there's so many elements of it, where you could excel and maybe be major-league caliber when drafted, but fairly soon -- as you climb the ladder and up the ranks -- you'll get exploited for other things you don't do, and that's the beauty of baseball. It's a day-to-day exchange."
On playing center field
"Center field was very personal to me. It was a marriage made in heaven. I always was an observer. I always had this panoramic view of everything. And center field affords you that opportunity. You're in the outfield. You're in the grass. You can roam free. You are the captain of the outfield but also you see everything going on in front of you, from where the catcher is setting up, where the shortstop's moving, where my Dad is sitting in the stands. You really have this perspective and see everything that the game affords."
On why he always entered the batting box with his head down
"It was a ritual. When you lead off a game, one of my teammates used to say 'You go, we go.' You are the spark. You start the engine. And you need to get into a sort of spiritual space to start off a great game, something that's watched and many people are about to participate in -- and that you're trying to win. So I used to do that as a sort of tone-setter to figure out 'OK. Where am I?' And get my mind clear and then get started."
On chatting with the other team while standing on the field
"I think it parallels how our country is run. You have sort of federal mandates and you have state mandates. State mandates are something like talking at first base, which is team by team. So some teams are like 'OK. You can talk a little bit.' Other teams are not that friendly with it. I know the Cubs, when I first came up, were not into fraternization. They didn't like it. So when you had to run in the outfield when you were warming up, you had to run out at an angle or towards the fence because they didn't want you to connect with the other team from the other foul line. Now, when it came to conversation -- what did we talk about at first? It was mostly idle chatter. If you got a hit, you're feeling pretty good, so you're looking for some sort of acknowledgment from the first baseman. But you don't have a lot of time over there at first base, especially if you're a base stealer, like myself, so you gotta get ready to take that bag, to steal that base. So you don't have time for too many pleasantries."
Excerpt: 'The Game From Where I Stand'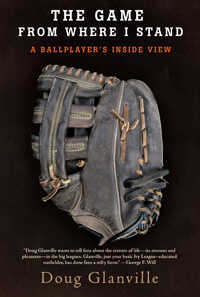 The Game from Where I Stand: A Ballplayer's Inside View
By Doug Glanville
Hardcover, 304 pages
Times Books
List price: $25
Introduction
"Now batting, the center fielder, number six, Doug Glanville."
For fifteen professional seasons, nine of them in the major leagues, those words (or some variation of them) began my workday. I heard them in tiny small-town ballparks and in triple -- decker urban stadiums that seated fifty thousand people or more. I heard them in spring training; I heard them in the playoffs; I may have even heard them in my sleep. The sound never got old.
I was a center fielder, and once I got a taste of what that meant, I never wanted to play any other position. There is no other place on the field with such uninhibited sight lines to take in all that baseball has to offer. My job as the center fielder was to run down everything hit in my direction, but it was also to lead, to make sure my fellow outfielders knew where to play before the ball was hit.
There is an immense beauty in standing in the center of the outfield and being able to see everything. From center field you can see where the catcher is setting up and, based on your knowledge of your team's pitching staff, know to a high degree of accuracy what is about to happen. You can watch a pickoff play about to develop and anticipate that the base runner is about to erase a potential run by being too jumpy. You can even see what is happening in the stands and note that your dad just got back to his seat after buying a big bag of popcorn.
A center fielder has to fully understand where the other players are relative to one another before every pitch. If I had a speedy right fielder playing alongside me, I could feel confident giving him more room. I had to know the abilities and range of everyone on the field to maximize our chance to record an out on any given play. If I was too close, I cut down our range as a team; if I was too far away, balls fell in safely. I had to be able to look at my teammates and keep our spacing constant, accounting for the count, the wind, the speed of my fellow outfielders, even my sore hamstring.
These calculations became second nature to me, because unlike most ballplayers, I am an engineer by training. When I was drafted by the Chicago Cubs in the first round of the 1991 amateur draft, I was a junior at the University of Pennsylvania, studying systems engineering. Not that many Ivy League student athletes are scouted by the pros, but the Cubs must have seen something they liked, because they picked me twelfth overall, one slot ahead of a high school phenom from New York City named Manny Ramirez. (Hmmm, wonder what ever happened to him.)
Once I signed on the dotted line accepting the Cubs' signing bonus offer, dream met reality and I began my journey to the big leagues.
As a first-round draft pick, all eyes are on you and there is no other place to be but center stage. In July 1991, I reported to the Geneva Cubs, who played in a college town in upstate New York. I lived on Main Street and remember hearing the light change from green to yellow to red. My rite of passage began.
In 1992, I made a stop in the Carolina League in Winston-Salem, complete with three roommates. We seemed to have a revolving door out front since every other day one of us was affected by a front-office move. Released, demoted, promoted.
After the season, the front-office executives who had drafted me were fired, and the new regime sent me back to the same level in 1993 with a promise of advancement midseason. True to their word, I was promoted to the Double-A Orlando Cubs. Welcome to the world of Disney.
I would play in Orlando for two seasons, and my once-promising career seemed to be stuck in neutral. But in the fall of 1994, I received an invitation to play in the Arizona Fall League. It was here where it all started to come together. A player-of-the-week award gave me optimism that I was seeing progress. I was performing well against the best the minor leagues had to offer.
When the final tallies were counted, my performance in the fall league solidified a spot for me on the Cubs' Triple-A team in Des Moines, Iowa. I did not know it at the time, but it was here that I would face an unexpected test. The manager of the Iowa Cubs, Ron Clark, and I did not get along. Our differences had begun the year before, when I was in Orlando. Clark was the minor league director of instruction at the time, and after one game he called me into the office to discuss a base-running decision I had made. Clark told me that I had made the wrong choice. I disagreed, but we didn't agree to disagree; we just fought for the last word. He would file this act of insubordination away.
In Iowa, every day was a battle. It was a year of constant badgering and a lot of tentative mistakes on the field, but one of the things that kept me going was the encouragement of our hitting coach, Glenn Adams. Keep working, keep your head up, he told me.
At season's end, my numbers were unimpressive. By now, I was twenty-five years old, which is ancient for a minor leaguer, and the Cubs asked me to play in the Instructional League that fall, an opportunity typically reserved for much younger players and a sign that my future had to be now. Fortunately, I met Tom Gamboa, a manager who would take me to Puerto Rico to play for his Mayaguez Indios in winter ball. It was there that I found my stride, winning an MVP trophy and, the next year, a championship.
To play so well after being buried in Triple-A was striking, even to the Cubs' front office. What was in the water in Puerto Rico? Part of the problem was that my Triple-A manager never took the time to know my story.
That story was one of determination. I chose to complete my college education after I was drafted, to fulfill a promise to my family. I had taken a leave of absence during the spring semester of my senior year to play for Winston-Salem, but when the fall came, it was my time to finish what I started and graduate.
My parents had set the tone for education. Growing up as the son of a math teacher and a practicing psychiatrist gave me a strong academic base.
My mom, who hailed from Rocky Mount, North Carolina, was the oldest of four children and a born teacher. She followed this knack for leadership right through the public school system in my hometown of Teaneck, New Jersey, where she taught for over twenty years. She thrust herself directly into Teaneck's commitment to introduce diverse groups of people to one another by organizing cottage parties and by participating in cross-cultural social events like "Friendship Day." She had the strength common to the most uncommon teachers: a sense for making her audience know that she was talking to each person individually.
My father left his homeland of Trinidad and Tobago at the age of thirty-one in the midst of a political shakeup in the school system, where he had served as an assistant headmaster. His journey would take him to Howard University in Washington, D.C., where he would attend medical school. His skill in critical thinking helped shape the way I evaluated situations and people. His vast array of responses to scenarios and his unwavering ability to disarm anyone with one cool phrase were transformational for me. Through genuine humility, he brought everyone into a common space.
He was also a true Renaissance man. His primary passion was writing poetry, and after his passing he left a collection of poems for everyone to continue to learn from and find joy in.
But it was my brother who was all about baseball. He laid out a plan for my baseball destiny by listing the steps to major league glory. He is still playing baseball today, at the age of forty-seven; he is the one member of our family who has always passionately followed his heart, whatever the expense.
My parents had many choices of where to build their life, but they chose Teaneck, a blossoming beacon of diversity in the homogeneous, wealthy suburbs of Bergen County.
No place shaped my perspective as much as Teaneck. In the 1960s Teaneck had been at the forefront of integration, bringing black and white students together to learn in the same space, setting the expectation that diversity would be embraced. Diplomacy became a huge part of my worldview as I witnessed people of all walks learning how to communicate with one another.
It was also this experience that made the major leagues feel like home once I got my first call-up to the Cubs on June 9, 1996. I was sent down once, but by September I would be back up for what would be the remainder of my career.
But I would not stay with the Cubs for long. They traded me on December 23, 1997, to the Philadelphia Phillies, which opened up my career. I would be going back to the East Coast, playing for my childhood favorite team, going back to my college town, and -- best of all -- starting. (Yes, the Phillies were my favorite team growing up. You would think that a northern New Jersey kid would love either the Mets or the Yankees, but my brother got me into sports so young that I chose my favorite team simply by the color of their uniform. Nothing could beat those powder blue road uniforms of the Phillies in the 1970s.)
My five seasons in Philadelphia embodied the complete major league experience. I came as the rising prospect, wise in years but still with much to prove. I left as the disgruntled and exhausted role player, whose role was mostly to teach my replacement how to play the game.
In between, I experienced all it is to be a major leaguer. I have been the disappointment, I have been the "can't miss," I have been the cornerstone, I have been the underpaid, I have been the overpaid, I have been the marginalized veteran, I have been the "lost a step," I have been the "traded for," I have been the day-to-day, I have been the comeback kid, I have been the free agent, but most of all, I have been a fan, friend, son, little brother, and hometown hero. There were good years and bad years, I was a hero and a goat, but through it all I was only human.
My life was turned upside down in 2000, when I received news on the last day of spring training that my father had suffered the first of a series of strokes. With a season about to start, I had no idea what to do. I played on, but with a heavy heart.
In August 2002, after many anxious times, things took a turn for the worse. With an already deadly cocktail of strokes, a lung cancer diagnosis, a previous heart attack, and diabetes, my father experienced yet another major stroke. When my mother spoke to me on the phone that morning, she was trying to stabilize him in the Hackensack Medical Center emergency room. She later told me that after my father had been declared "nonresponsive," he had recovered consciousness when, during her conversation with me, she said the word baseball. So, to me, his condition had gone from grave to horrible -- and that was progress. I was optimistic. I sensed he would still be with us when I got there.
I drove up from Philadelphia, essentially on autopilot the whole way. My dad was semicomatose when I entered his hospital room, but he straightened up and smiled -- and then went back into his coma. The doctor, a close family friend, spat out unrecognizable (to us) figures to explain my father's state that, when translated into layman's terms, basically told us that he was on borrowed time. Yet my father defiantly showed us that numbers were only for the emotionally conservative.
I hugged my mother, and I told her that I had to get back to the team. On the drive back to Philadelphia, I felt a renewed strength. I turned up the radio and cruised down the highway. Something told me that my father would be in my life for a little while longer. The numbers hadn't suggested that, but his spirit did. The music reached a crescendo, and I unwittingly blew past the speed limit. Sirens blared, and as I slowly pulled over, I thought, I have a pretty good excuse. But I didn't have time to give it. The officer, a Phillies fan at heart, recognized me and -- as he wrote me up -- started telling me, "You're having a tough year, but numbers are not important; your value to our community is priceless."
I never had been so thankful to receive a speeding ticket. It was a small price to pay for having someone remind me of what amazing blessings and gifts I'd had in my life. I had so much to smile about. After all, my father was still smiling.
From that point on, I proceeded to play the best baseball I had played in years. My paltry .200 batting average rose nearly fifty points, and by season's end I was two hits away from my 1,000th career hit. I sensed that I was going to be fine. When I arrived at Pro Player Stadium in Miami for the last game of the season, my name was penciled in atop the batting order. I wasted no time. I got a hit in my first at-bat for number 999, and in my next turn, I smoked a single into left for my 1,000th. I felt unstoppable that day, as if something bigger than me was swinging the bat on my behalf.
At 7:15 p.m., it was over; the Phillies had fallen short, but I had collected not only my 1,000th hit but my 1,001st as well. At that precise moment, my father passed away.
Maybe his work was done here; maybe he felt that peace within that all men long for but are afraid to court. Somehow, deep down, I knew it was a good thing. I also knew that he gave me the confidence and faith that when my turn came, I would embrace it, too.
I would leave Philadelphia that winter, signing as a free agent with the Texas Rangers. I thought it would be a new start, but I tore a hamstring in April, spent six weeks on the disabled list, and in late July, I found myself traded back to my first team, the Chicago Cubs. Though I was no longer a starter, the Cubs did give me an opportunity to play in the postseason that fall, and even though it ended badly (as it so often seems to for the Cubs), it was still an unforgettable experience.
I returned to the Phillies for the 2004 season, but I was now firmly entrenched as a bench player, which was not where I wanted to be. I figured that if I was going to be a reserve, I might as well play for a team with a chance to win a championship. So in February 2005 I reported to spring training with the New York Yankees, hoping to win a reserve outfield spot.
The Yankees ran me out there every day during the exhibition games. To combat any wearing down, I was in the gym at least twice a day working on my body.
I was playing fairly well, not lighting the world on fire, but steady. My competition for the last slot, Bubba Crosby, was battling leg problems, and I thought I might get a few points for staying healthy. But Crosby soon regained his health and came back on fire -- as I cooled off .
A week before Opening Day, we played the Phillies at their camp, and just as my career had begun with a base hit to left off the Phillies' Terry Mulholland at Veterans Stadium, on this day I smacked a base hit to left off the Phillies' Tim Worrell. After the game, the Yankees' general manager, Brian Cashman, and manager, Joe Torre, brought me into the office to tell me that I had been released. They were giving me a week's head start to catch on with another team. I didn't say much other than to thank them for the opportunity. I thought I was a good fit for the Yankees: a player who had been a starter, able to play all fields, and young enough to run out there a lot. But I was trumped.
I would no longer take my place in center field, at least not as a major leaguer, although I still believed I belonged there. Not because I was bitter about my rejection, but because the spirit of what makes center field so special is within me.
It was where I could make the best use of my skills, which is what my parents expected most from me. A center fielder is at once a player, a strategist, an observer, and a thinker -- good preparation for writing a book.
This book is my attempt to open up the hidden world of baseball players, to reveal the human side of the game and the human side of the men who play it. There is a richness to the experience of playing baseball that is not visible to fans or commentators, and by sharing it with you, I hope to bring you a greater appreciation of what happens on the field and off, and to give you a taste of what it's like to sit in the dugout, to relax in the clubhouse, to stand in the on-deck circle, to run the bases, to position yourself in the outfield.
The book is distilled from my observations, sentiments, assumptions, and reflections from standing at the heart of the diamond, to paint a complete picture of what a life in baseball is like. You'll meet the teammates, opponents, managers, coaches, girlfriends, buddies, and other people who populate a ballplayer's world, and you'll see the game from behind the scenes, a perspective that gets left out of most coverage of this sport. You'll get a better idea of what goes on inside a player's head as he digs in at the plate, stands ready in the field, or rides the bench. The stories I tell are every player's story and are testimonials to the human condition in all its glory and frailties, something not exclusive to baseball.
In fact, if I have done this great game justice, you will find that whether or not you have ever picked up a bat or thrown a ball, this book could be your story as well.
From the book The Game From Where I Stand: A Ballplayer's Inside View by Doug Glanville. Copyright 2010 by Doug Glanville. Reprinted by arrangement with Times Books, an imprint of Henry Holt and Company LLC.