Artie Shaw At 100: Celebrating A Swing Era Sensation
Artie Shaw At 100: Celebrating A Swing Era Sensation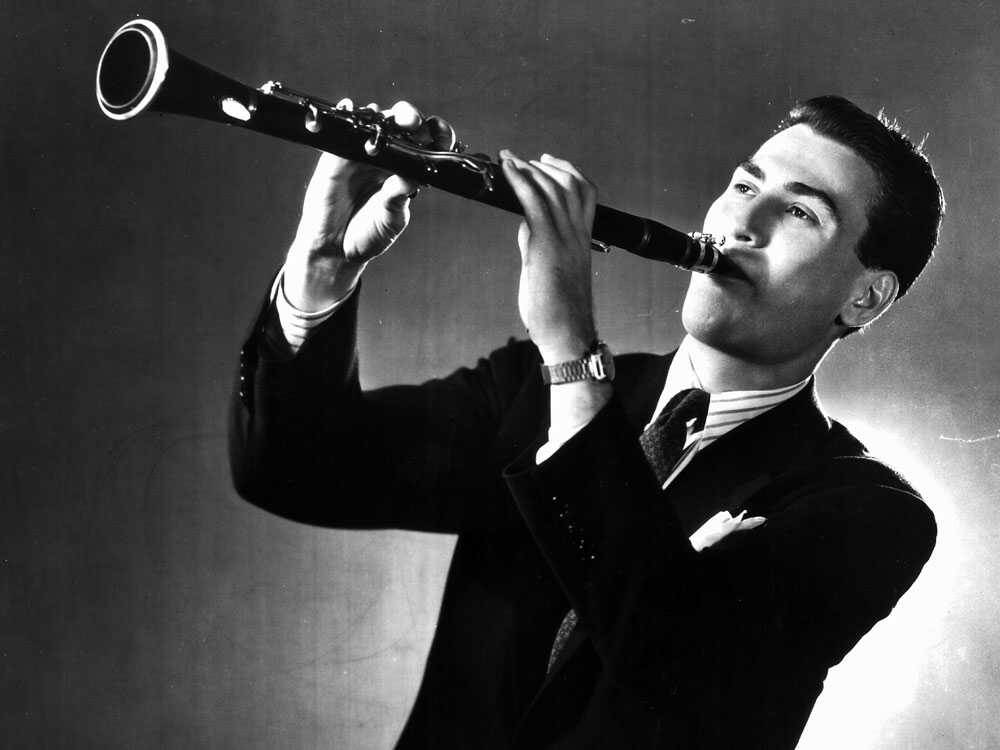 Michael Ochs Archives/Stringer/Getty Images
Artie Shaw was born 100 years ago Sunday. He was a Swing Era sensation, a bandleader who lit a fire under a generation of jitterbuggers. He was also an outspoken, self-taught clarinetist who became a media idol and whose personal life drew as much attention as his music.
For Shaw, it was always about the music -- how he could create something better and different from what had been done before. The other bands in the 1930s were playing jazz repertory that was already 10 years old, but Shaw felt that what the Broadway composers of his generation were writing was far more sophisticated.
With Cole Porter's "Begin the Beguine" in 1938, Shaw became an overnight sensation. The record sold millions of copies, and his music was in demand on radio programs and dance floors across the country.
"He was bigger than anyone had been up until then in that world," says Tom Nolan, author of a new biography of Artie Shaw called Three Chords for Beauty's Sake.
Nolan says Shaw wasn't blinded by the spotlight, which was remarkable given where he started out.
Arthur Jacob Arshawsky was born on May 23, 1910, to poor Jewish immigrants on New York's Lower East Side. The family moved to Connecticut when he was 7. His father left when he was 13.
"And all I know is I grew up very, very miserably," Shaw once said. "So as a kid, at 14, I heard a guy play an instrument. A saxophone, as it happened. Well, at the age of 15, I had one. I was making a living at it. And at the age of 16, I was gone forever from home."
Self-Taught Virtuoso
Shaw taught himself to play the C melody saxophone, then the alto saxophone, then the clarinet, Nolan says.
"He practiced as a kid until his mouth bled and his teeth ached," he says.
Nolan says Shaw was obsessed with making the best music. In 1938, he hired Billie Holiday, the first black singer to tour with a white swing band.
"When I hired her," Shaw said, "I hired her because she was sincerely for me -- a sincere attempt to get the best singer I could get."
But despite Holiday's obvious talent, it wasn't always easy.
"We went to the South. That was difficult," he said. "And they didn't take that too well. They would say, 'Have the n--- wench sing another song.' I couldn't believe my ears."
Holiday left Shaw's band after only a few months, and the clarinetist hired white singer Helen Forrest to replace her. Shaw wanted to play instrumental music, but bands were expected to have singers.
A Media Sensation
By the time he was 30, Shaw was reportedly earning $60,000 a week. This was 1940. Two of the most popular radio hosts of the era, George Burns and Gracie Allen, were making only $5,000 a week.
Shaw became almost as famous for his real-life romances as for his music. In 1940, he dated pin-up girl Betty Grable, then married 19-year-old actress Lana Turner -- on a whim, the night they met. The union lasted less than a year, and the media ate it up. In all, Shaw had eight wives, including Jerome Kern's daughter Betty and actress Ava Gardner. All the while, he continued to record hits.
Three weeks after the attack on Pearl Harbor, Artie Shaw enlisted in the Navy, where he performed in the Pacific for troops on bases and battleships. In Guadalcanal, Shaw lost part of his hearing in a bombing raid. He returned to the U.S. and continued to lead orchestras through the end of the decade, but the scene was changing. The Swing Era was over, and bebop and small-band jazz were taking hold. Shaw put together his own small group, The Gramercy Five.
Leaving Music Behind
Shaw went to Spain for five years. When he returned, he said he was astounded by what was passing for popular music on television. He said he didn't fit in anymore. In 1954, he walked away from the music business and never played another note on stage again. He was 44.
Shaw devoted the last half-century of his life to writing. He penned a memoir, several novels and a collection of short stories, but he'll be remembered for his music. That's how he wanted to be remembered, as he told a record-label interviewer when he was 91.
"I've done things that nobody has ever done before," Shaw said. "And if you think that's easy, try it."
Artie Shaw died in 2004 at the age of 94.