Get To Know Clarinetist Artie Shaw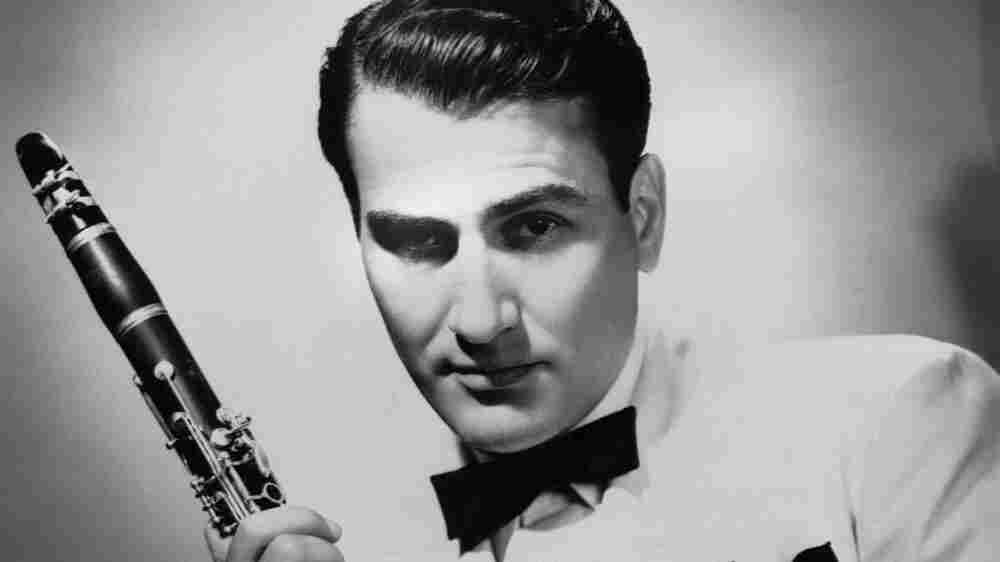 Sunday marks the centennial of Artie Shaw's birth. The late clarinetist displayed an impossibly round, mellow tone from the top to the bottom of the clarinet. He employed loop-de-loop breaks that were hard to finger, and equally hard to figure out.
A few clarinetists have had the chops to sort of imitate Artie Shaw. Some of the most capable studio musicians have been able to craft note-for-note renditions of his clarinet solos. But 80 years after the swinging Shaw perfected his art, no one has been able to play just like him.
The musicianship is of such a high order that there can be no wonder why Shaw's was among the top bands of the Swing Era — and no wonder why no one can quite make music like it today. At some point, even Shaw himself quit playing that way, and in fact quit playing altogether. He retired his clarinet in the mid-1950s. In a 1994 New York Times article, Shaw said, "I did all you can do with a clarinet... any more would have been less."
So let's explore Artie Shaw's boldly swinging musical persona of the late 1930s. He made incredible music for which there is no duplicate and no substitute.
Get To Know Clarinetist Artie Shaw
Streamline
from Self Portrait [Bluebird Anthology]
by Artie Shaw
In this recording of "Streamline," you get Shaw's impeccable clarinet, a string section and rhythm. It might not sound like a great recipe for hot music, but it was. Featuring commanding drumming by George Wettling and nuanced string accompaniment, this 1936 result couldn't be hotter.
If It's You
from The Complete Artie Shaw
by Artie Shaw
Shaw composed and recorded a surprising number of dance ballads, each of which featured a melody superior to most of its contemporaries. This 1940 recording of "If It's You" is highlighted by an Anita Boyer vocal. The song also was sung by Tony Martin in the 1941 Marx Brothers picture The Big Store.
Special Delivery Stomp
from Complete Gramercy Five Sessions
by Artie Shaw
Shaw's genius in incorporating a harpsichord into jazz should not go unnoticed here. He deserves credit for even thinking of such an outlandish idea. This 1940 recording of "Special Delivery Stomp" is a showcase for jazz talent, but it's also a delight for its unusual musical ideas. (And the pun in the title was fresh at the time.)
Back Bay Shuffle
from Self Portrait [Bluebird Anthology]
by Artie Shaw
This particularly fine rendition of the swinger "Back Bay Shuffle" comes from a live 1939 broadcast of the Old Gold "Melody and Madness" radio program. It features the driving drums of Buddy Rich, whose addition in late 1938 allowed the band to reach new heights.
A Room With A View
from The Complete Artie Shaw
by Artie Shaw
Most retrospectives of Artie Shaw ignore the contributions of Helen Forrest, his singer throughout his rise to popularity. Here, she sings a quality melody with fine support from the band. In the same month as this recording of "A Room With a View," Forrest registered two No. 1 hits with the Shaw band. Shaw usually made it a point to select and record excellent ballads, and to present them with great warmth and expressiveness.