Excerpt: 'Fun With Problems'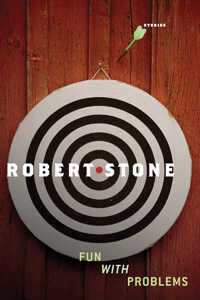 LANGUAGE ADVISORY: This excerpt contains language some might find offensive.
Fun With Problems
By Robert Stone
Hardcover, 208 pages
Houghton Mifflin Harcourt
List price: $24
Excerpted from the story "High Wire"
When she showed up in California again it was in San Francisco. I got a call from her up there and this time I didn't bother to erase it. Jennifer and I were in trouble. I had a bit of a drug problem. I was drinking a lot. I suspected her of having an affair with some washed up Bosnian ballet dancer she had hired down at UCSD. The fellow was supposed to be gay but I was suspicious. Jennifer was a well-bred, well-spoken East Texas hardass a couple of generations past sharecropping. Amazingly, the more I drank and used, the more she lost respect for me. At the same time I was selling scripts like crazy, rewriting them, sometimes going out on locations to work them through. Jennifer was largely unimpressed. Everything was stressful.
I was full of anger and junkie righteousness and I went up to see Lucy, hardly bothering to cover my tracks. She had rented an apartment there that belonged to her stockbroker sister, not a bad one at all though it was in the dreary Haight. I guess I had wanted a look at who Lucy's latest friends were.
Her live-in friend was Scott and she introduced us. I had expected a repellent creep. Scott surpassed my grisliest expectations. He had watery eyes, of a blue so pale that his irises seemed at the point of turning white. He had very thin trembly red lips that crawled up his teeth at one corner to form a kind of tentative sneer. He had what my mother would have called a weak chin, which she believed was characteristic of non-Anglo Saxons. There were no other features I recall.
Scott was under the impression he played the guitar. He plinked on one for us as we watched and waited. Lucy avoided eye contact with me. As Scott played his face assumed a kind of fanatical spirituality and he rolled his strange eyes. Watching him do it induced in the beholder something like motion sickness. In his transport he suggested the kind of Jehovah's Witness who would kill you with a hammer for rejecting his Watchtower.
When he had finished Lucy exclaimed: "Oh wow." By force of will I prevented us from applauding.
Scott's poison was methamphetamine. I was not yet familiar with the drug's attraction and this youth served as an exemplar. Having shot some, his expression shifted from visionary to scornful, paranoid and back. I had seen many druggy people over the years -- I knew I was one myself -- but Scott was a caution to cats. To compare his state with a mad Witness missionary was demeaning to believers. His transcendent expression, his transport, ecstasy, whatever, was centered on neurological sensation like a laboratory rat's. The mandala at the core of his universe was his own asshole. It was outrageous. However there we were, beautiful Lucy, cultivated me, livers of the examined life, in more or less the same maze. What did it make us?
When Scott had exhausted conversation by confusing himself beyond explication, he took a pair of sunglasses off the floor beside him, put them on and moved them up on his forehead.
"I invented this," he told us, "this pushing shades up on your head thing."
Weeks later Scott was removed from her apartment with the aid of many police officers, screaming about insects and imitating one. It was history repeating itself as farce, a particularly unfunny one. Lucy lost the place and the stockbroker sister was forced out. The upside was losing Scott as well.
Back home it was cold and Jennifer grew suspicious and discontent. When she was very angry her mild educated Anglo-Southern tones could tighten and faintly echo the speech of her remote sharecropping ancestors in the Dust Bowl. Sometimes her vowels would twist themselves into the sorrowful whine of pious stump farmers abandoned by Jesus in the bottomland. You had to listen very closely to hear it. I had never heard the word "honey" sound so leaden until Jennifer smacked me in the mouth with it. She could do the same thing with "dear." Dust Bowl, I thought was by then a useful summary of our married state.
I started going to bars. I listened to production assistants' stories about the new style dating services. I did not pursue these routes because I was no longer so young and beautiful and because I was bitter and depressed. I did have a few one- or two-nighters on locations. The best, carnally speaking, was with a stunt woman with a body like a Mexican comic book heroine who, it was said, had once beat an Arizona policeman half to death. Of course bodies like hers were not rare in movieland. Straight stunt girls were more fun, at least for me, than actresses. What they might lack in psychological dimension they made up for in contoured heft and feel and originality. They were sometimes otherwise limited unless you counted insanity as psychological dimension. Once I had a weeklong liaison with an unhappily married Las Vegas mounted policewoman who wanted to break into movies. As for the young woman once characterized as starlets -- they all knew the joke about the Polish ingénue, the one who slept with the writer.
I was not so obtuse that I failed to observe certain patterns in my own behavior -- not simply the greedy self-indulgence but all the actions that were coming to define me. This seemed at the time a misfortune because I didn't reflect on them with any satisfaction. There they were however, beginning to seem like a summary, coming up like old bar bills. As for root causes, I couldn't have cared less. There were limits even to my self-absorption. Also I worried about getting ever deeper into drugs.
I saw Lucy every few months. Jennifer and I finally had it out around that one. She accused me of infidelity and I told her plainly that yes I was sleeping around. Safe sex of course, I said, though I don't know how much that would have mattered since we had not made love for months. However, I told her truthfully that I had not been to bed with Lucy for years and not at all since we had married. I also challenged her own virtue.
"What about your supposed-to-be-faggot colleague down there at school. Fucking Boris." The high bounding lover was called Ivan Ivanic and I had hated him since the day Jennifer corrected my pronunciation of his name, which was I-van-ich. "He's not getting in your pants?"
She was furious, naturally. You can't use that kind of malicious language about gays to most dancers. But I saw something else in her reaction. She was shocked. She cried. I resisted the impulse to believe her.
I visited Lucy more frequently. One thing I went up for was dope. She had moved into a fairly respectable hotel just uphill from the Tenderloin and by then she was scoring regularly in the Mission. After numerous misadventures, ripoffs, and a near rape she had learned how to comport herself around the market. She had the added protection of being a reliable customer. Lucy was not yet penniless. Her television work was still in syndication and her residuals from SAG continued. But she was spending her money fast.
By the time I arrived from the airport -- this was still in the days of fifty-dollar flights -- Lucy would have done her marketing on Dolores and picked up her exchange spike at the Haight Free Clinic. My contribution to the picnic was the coke I had bought down south. Lucy kept her small room very neat. We would embrace. Sometimes we would hold each other, as chaste as Hansel and Gretel, to show we cared. We hoped we cared. Both of us were beginning to stop caring about much.
Excerpted from Fun With Problems by Robert Stone, copyright 2010. Reprinted with permission of Houghton Mifflin Harcourt Publishing Company. All rights reserved.
Fun with Problems
Hardcover, 195 pages |
purchase
Buy Featured Book
Title

Fun with Problems

Author

Robert Stone
Your purchase helps support NPR programming. How?