Pot Delivery Services Cropping Up Across California
Pot Delivery Services Cropping Up Across California
As communities across California crack down on medical marijuana dispensaries, a new business model has emerged: companies that will deliver pot directly to your doorstep.
At a one-room packaging facility east of San Francisco, a worker in latex gloves pulls four brilliant green pot buds from a vacuum-sealed bag. She delicately places them on a small scale as her boss looks on.
He's a local real estate developer who publicly uses the assumed name of Matthew Lawrence for his marijuana business. He says the pot will be shipped to customers around the state in unmarked packages.
"During the business week, any orders placed by 1 p.m. get there by midday the next day via courier," Lawrence says.
This might seem like an illegal drug den — but so far, California's medical marijuana laws don't cover this type of operation. And delivery is booming amid a backlash against storefront dispensaries. This week, hundreds of medical marijuana dispensaries in Los Angeles face a deadline to close or risk criminal charges. And hundreds of other cities and towns in California have banned dispensaries altogether.
No one's gone as far as Lawrence in trying to build a legal, statewide delivery network. He says his company — named c420 — has signed up 1,000 patients since April; some are seriously ill; others are what he calls "the suits."
"They have families, kids who know parents who know each other. They see each other in the baseball field, and they really don't want to be seen going into a dispensary just because they have migraines, and they like to smoke a little marijuana once in a while in order to alleviate that condition, or whatever the condition might be," Lawrence says.
There are hundreds of pot-delivery services now advertising on websites like BudTrader and WeedMaps. And not just in California. Delivery services are a growing alternative to brick-and-mortar storefronts in many of the states that have legalized medical marijuana, Lawrence says
Allen St. Pierre with the National Organization for the Reform of Marijuana Laws, says, "As these Main Street dispensaries raise the ire of law enforcement [and] local politicians, delivering patient-to-patient or business-to-patient would appear to be the trend that is emerging around the United States."
Lots Of Delivery Services, But Few Rules
Driving the trend in California is a growing abundance of medical marijuana and a lack of statewide regulations covering how it can be legally distributed. So it's not surprising that many new delivery services are flourishing in places that have restricted or banned storefront dispensaries, like Los Angeles.
Take Dann Halem and the nonprofit delivery service he founded called Artists' Collective.
Each week, Halem logs hundreds of miles on LA freeways to fill phone and Internet orders. He says he started Artists' Collective because dispensaries were underserving seriously ill patients.
"The people who medical marijuana is truly meant for are not well enough to go into a store to get it," Halem says. "So it's absolutely critical for there to be delivery services in some way, shape or form."
He says most of his patients aren't on death's door — and the reality is that just about any adult in California can get a doctor's recommendation for medical pot or, for that matter, go into the delivery business.
"To start a delivery service, whether your intentions are good or bad, you need a car, a cell phone and marijuana. That's not the way we operate, but I'd say the majority of delivery services at this point are essentially just that. And they really are in a lot of respects glorified drug dealers, because there's no oversight, there's no accreditation, there's nothing," Halem says.
In fact, for some underground dealers, starting medical marijuana delivery services is a way to come out of the shadows.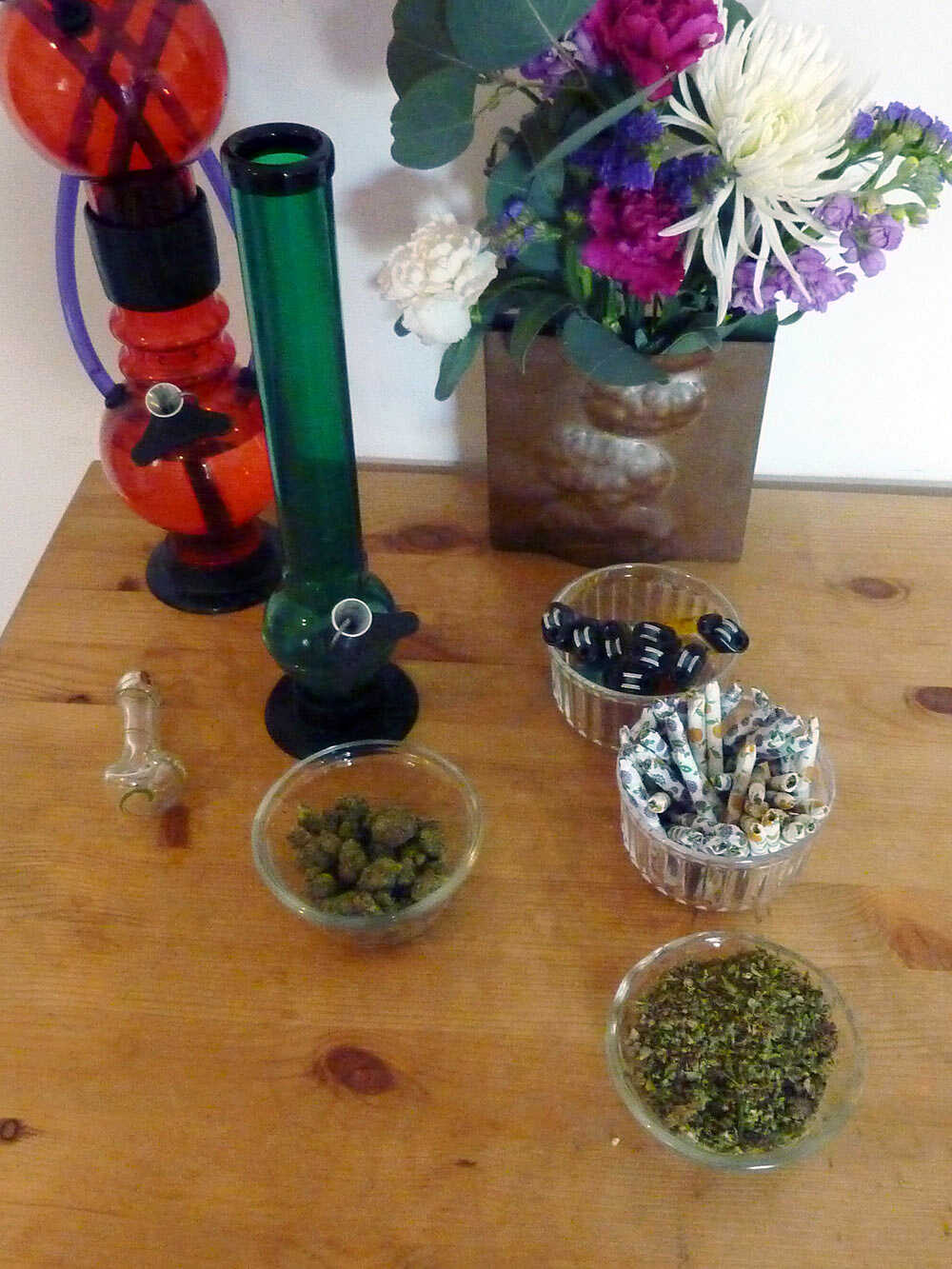 Pot Parties For Patients
On a recent afternoon at one former pot dealer's home in an upscale section of Los Angeles, guests nibbled on a buffet of fruit, bagels and pastries while others crowded into a backyard studio.
"These are bongs, pipes, whatever you want, help yourself," she tells her guests.
The woman agreed to show us her operation provided we not reveal her name or where she works in Los Angeles. To comply with state law, she formed a nonprofit patients' collective last year. She then started throwing parties like this one to transform her former customers into medical-pot patients. She had a physician on hand to evaluate the guests and then sign off on recommendations for medical marijuana — all for $100 each.
Later, the woman made a round of deliveries to these customers turned patients. She met up with a man waiting in his car in a Starbucks parking lot. And she made another delivery in a nearby office building.
How much of this is legal is debatable. Advocates argue that laws enacted after California voters passed the Compassionate Use Act in 1996 cover transportation and distribution of medical pot, though not across state lines. But Joseph Esposito of the Los Angeles District Attorney's Office says state law doesn't sanction large-scale distribution.
"I don't see anything that suggests that when voters passed the Compassionate Use Act, that they envisioned storefronts, delivery services," Esposito says.
Video: Marijuana Delivery From Plant To Pipe
Watch how one delivery service operates. (From California Watch)
Dispensary Owners Worry About Safety
Some longtime medical marijuana advocates worry that a legal free-for-all in delivery services is allowing unsavory elements to enter the trade.
"We've had a lot of problems with, I call it the wing-nut crowd who look at this as a money-making operation," says Lynette Shaw, who runs one of the state's oldest medical marijuana dispensaries in the Marin County town of Fairfax.
That town tightly controls Shaw's operations, but those rules don't cover delivery services based outside the area. She says they're trying to muscle in on her business. So she's asking local authorities to allow her storefront to make home deliveries in order to compete.
"I want to make sure my patients are safe — and when you call someone to your home, that you have someone whose background is researched, that they're licensed and regulated," Shaw says.
That's one reason Halem of the Artists' Collective in Los Angeles wants city officials to regulate the delivery trade. He says he's asked but gotten no response.
"We would welcome oversight because we know that we qualify, and we know that we have nothing to be afraid of," he says.
But at this point, says Los Angeles City Councilman Dennis Zine, the city's new medical marijuana regulations don't address delivery services.
"This was never a factor in our debate," Zine says.
Zine says that the move to restrict dispensaries was driven by complaints from community groups and law enforcement, and that so far there haven't been many complaints about delivery services.
"Who's going to complain? The person who's receiving [the marijuana] is not going to complain. The person who's delivering is not going to complain. The neighbor is not going to complain because they don't know what's going on," Zine says.
That could be changing. This week, at least one Los Angeles City Council member called for an investigation and possible emergency measures against pot-delivery services. Action by the council is pending.
This story was co-reported by Gary Cohn as part of a collaboration between member station KQED and the Center for Investigative Reporting's California Watch.