Instruments Of Good: The Healing Power Of Music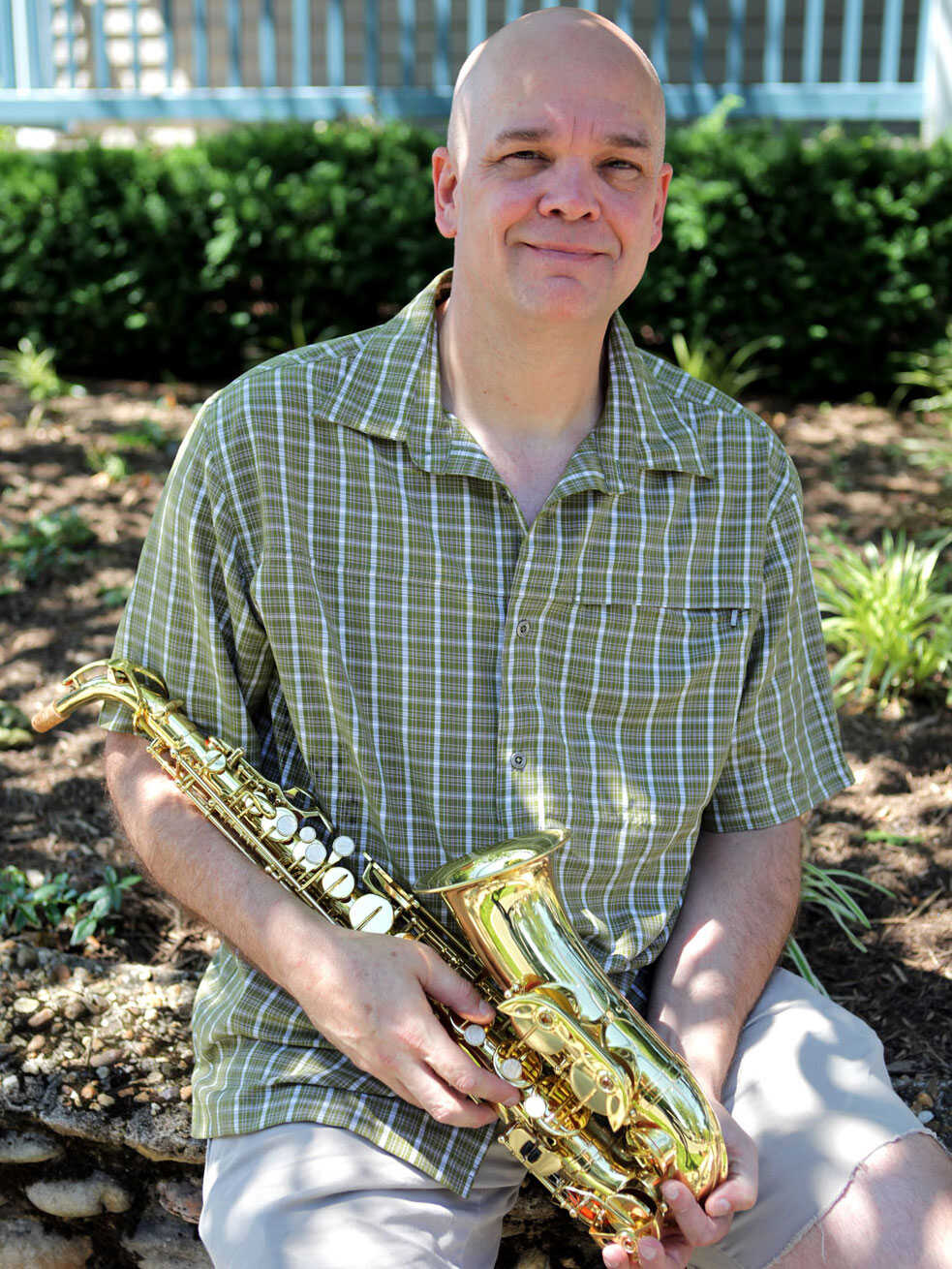 Jeff Campbell explains his eccentricities this way: "I had something happen to me at a young age that caused me not to trust anybody."
When he was just 10 months old, his father was killed in a helicopter crash. As a result, Campbell says, he grew up without much guidance. Along with his mother and five siblings, he experienced a sense of abandonment. The healing process has taken a long time.
And over the course of that process, Campbell developed two deep instincts: a general distrust of people and a genuine love of music.
Nearly 50 years later, Campbell has transformed that love into a life. As founder and director of Hungry for Music, a Washington, D.C.-area nonprofit, Campbell takes in donated musical instruments and gives them to underprivileged young people. He's been doing that for 16 years and has handed out more than 3,500 instruments.
Simple idea, really -- the whole trash/treasure swap. But for Campbell, there is complex harmony in helping others make music. After all, he says, "music helped me through some dark times."
Only The Beginning
The first thing you see when you climb the stairs of the old Takoma Park, Md., house and enter the hallway of the Hungry for Music offices is a travel tuba.
It's for a marching band, so it's smaller and lighter. It's a beat-up old thing resting on its bell. Campbell plans to polish it up, put it in a case and get it to a kid who needs it.
On this morning, Campbell -- who grew up in Shreveport, La. -- is drinking his usual coffee with chicory. There are traces of the South everywhere -- in his gravelly voice and in the trappings all around: Mardi Gras beads, a Randy Newman poster, photos of a crawfish boil, primitive art on the walls.
He is 47, about 6 foot 1 and bald as a maraca. He is wearing a blue pullover shirt, Carhartt khakis and brown Merrell shoes, the color of his eyes. From his upstairs four-room perch, Campbell runs his musical charity. The annual budget is $60,000; he pays himself less than $15,000 a year.
Sitting at a computer, he fires up a two-minute video that Hungry for Music made to compete in the Pepsi Refresh Project, which awards big bucks to worthy nonprofits. A young keyboard player from Maryland named Tyron testifies: "When they did give me the piano, I was so excited because I can finally fulfill my dreams and finally do something great with my life."
Dontae Hamlett, a Washington, D.C., music teacher, says Hungry for Music has given so many instruments to his school that the students were able to form a band. "When giving an instrument to a child or a family who maybe can't afford it," Hamlett says, "it's a seed that's being sown, and to watch that seed grow, you never really know where that instrument can take a child."
In My Room
The decor at Hungry for Music is an eclectic melange of music and baseball memorabilia. Above the foyer door is a line of CD sleeves autographed by Steve Earle and Jimmie Dale Gilmore. On a table, some old music magazines like those you might find in a hippie dentist's office. Photos on the walls include the Blues Brothers, the early Beatles, Fats Domino, Elvis and Ray Charles.
There is also a showcase of serious baseball stuff. Campbell is an unapologetic seamhead; he used to keep stats at pro baseball games to supplement his income. Here and there in the office: signed photos of men in baseball uniforms, trophy balls, baseball-theme neckties, a Nolan Ryan Expressway sign.
And in one spot, the perfect nexus point of music and baseball -- a poster of John Fogerty's baseball song, Centerfield.
There are a couple of rooms with computers in them. The first is the somewhat cluttered work room where Campbell and volunteers keep track of databases. The other is Campbell's idea room, where he often unrolls a futon and falls asleep.
And there is the music room -- a holding area for donations that looks like something between a music store and a pawn shop.
A quick inventory: four acoustic guitars over there, a percussion kit in the corner, a saxophone, an electric guitar, a tambourine, two flutes, a clarinet, a violin and a couple of electronic keyboards. "These are all in good shape," he says, "and they can be donated to children that need them or an after-school program."
People who might want to donate old musical gear to Hungry for Music learn about it in various ways -- via the Internet, instrument drives at schools and performance centers, promotional literature scattered here and there. The national chapter of the Tau Beta Alpha music honor society is sponsoring a countrywide appeal for donations.
Same with people who might need the instruments. In the past few years, Campbell says, he has shipped 20 violins to an orphanage in Mexico, 30 flutes to a girls' school in India and a half-dozen accordions to the Guadalupe Cultural Arts Center in San Antonio, Texas.
More stuff is lined up along the walls. Some of the instruments are too old or broken down to give to schoolchildren. Others, like a pair of acoustic guitars, are too fancy for neophytes and will be put up for sale on eBay. The proceeds will go to buy new musical gear for kids. "We get a new cycle of instruments every couple of weeks," Campbell says.
Occasionally, some very fine instruments roll in that will fetch a pretty penny at auction or online. Campbell reaches for one of the high-priced guitars and strums it. It is a beaut: a Martin D-76. "Pretty decent shape," Campbell says, twirling it gently in his hands. "Little scratched up. We'll find a buyer for it."
He goes on, "We have a guy out in California. He's a collector. And he donates a $1,000 left-handed acoustic guitar, usually a Taylor, every year. We had a '57 Les Paul kind of jazz guitar, an electric guitar, donated once. We got about $2,000 on that."
When asked to play a little something on the Martin, Campbell demurs. "I'm a shy guitar player."
Don't Stop Believin'
"I was kind of a small town kid," he says.
As he grew up, he was surrounded by music. When he was young, he listened to the local country music show, Louisiana Hayride, which brought musicians into Shreveport. As he grew older, he ventured down to New Orleans and heard classic American artists like the Neville Brothers and Irma Thomas.
He dropped out of college, joined the Navy and wound up working in the Pentagon. He stayed in Washington after his military service and went to work for the electrical engineering department at George Washington University.
One day Campbell was walking through the streets of the capital -- sidestepping buskers and beggars -- when the idea struck him: Why not stage a concert by street musicians to raise money for homeless people?
So he did. Through that experience, Campbell began to explore the healing power of music. And then he hit on his next big idea: taking old instruments and giving them to kids and families who can't afford to buy them. Hungry for Music was born in 1994.
For three years he kept his day job; then he gave it up. "So I've been doing Hungry for Music essentially full time since '97," he says, "although I've also done a lot of freelance writing and stats work and postgame reporting at baseball games."
He says, "It's just been hand-to-mouth."
When asked how he lives in a very expensive city on less than $15,000 a year, he says, "I do what I have to do. I am definitely eccentric."
He adds, "It's a good thing -- not being married, not having kids. It's allowed me to kind of work on myself. And work through some stuff I needed to work through."
Listen To The Music
To raise money, Campbell puts on music shows and crab boils and occasionally produces collections of recordings and sells them. He has made about a dozen CDs of baseball music, and the proceeds have gone into the nonprofit's coffers. "We've been able to get some heavy hitters, no pun intended, to contribute songs," he says, "including Bob Dylan, Paul Simon. George Winston has contributed a song to each one of the compilations."
When asked about Hungry for Music, New Agey jazz pianist Winston says, "Jeff Campbell and everyone at Hungry for Music are doing such wonderful work. And Jeff has such deep knowledge and soulfulness for music."
Another fan of Campbell's work is singer/songwriter Peter Case. "When I was a kid," Case says, "my guitar was like a piece of wood off a burning ship: I clung to it with all my strength and it saved me during rough times. Hungry for Music is doing important work, steering kids to instruments, and providing them to those who otherwise couldn't get them. I think lives are being turned around by this, just like mine was."
He adds, "Campbell's doing a great job; my hat's off to him."
Music lovers old and young sing Campbell's praises. Tealang Tention, mother to the young pianist Tyron in the Hungry for Music promotional video, says, "Tyron was introduced to Jeff Campbell and Hungry for Music by his fifth-grade music teacher, Anita Rozenel. Hungry for Music has given Tyron the opportunity to develop his talents in something he truly loves and has a passion for. There are only a very few people who discover what they have a passion to do in life, and Hungry for Music has helped Tyron find exactly that."
So has Campbell found his passion -- a way to address his personal hunger. About Hungry for Music, he says, "I'm very pleased with the way it has grown. Very slowly."
And about himself: "I feel like I am in a good place. I have grown along with it. It's a paradox. I have helped myself by helping other people. I feel like we all should do that. It works."
He says, "We all have our (manure) we have to deal with in this life. I have accepted it. I feel like things happen for a reason. All these experiences I have had because I haven't had a father have made me a stronger person, a better person. If my father would have lived, who knows if I would have been doing Hungry for Music?"
But Campbell still worries that he is not doing enough. He says he juggles a lot of tasks and he doesn't write things down and he's bogged down by administrative chores and he needs to bring in more volunteers to help and there is always so much more and more to do as Hungry for Music continues to grow. "I realize that for the vision I have for Hungry for Music, for that to happen," he says, "I am going to need to let go and really trust."
That, he says, "is what I have been trying to do for my whole life."