Ideal Bread: Josh Sinton On Steve Lacy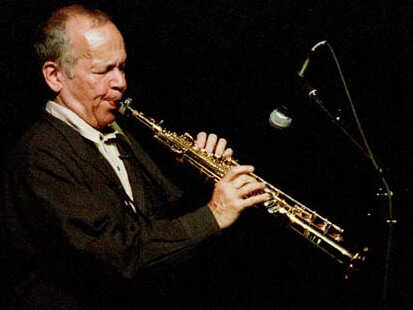 "Like a baker makes his bread, I make music. If I make the same bread tomorrow, that bores me. I have to remake it; I have to do better. I'm always looking for... the ideal bread." --Steve Lacy, April 1976
"I know Steve enjoyed silly puns. I'd like to think he would like a band calling itself Ideal Bread and trying to make that in every conceivable way." --Josh Sinton, May 2010
Hear Ideal Bread
Baritone saxophonist Josh Sinton has a healthy obsession with the music of Steve Lacy, who remains an enduring figure in jazz. Lacy was as adept in traditional New Orleans polyphony as he was playing atonally and improvising freely. Sinton spent two years studying with Lacy at New England Conservatory, until Lacy succumbed to cancer in 2004. Today, Sinton leads Ideal Bread, a quartet that plays Lacy's music.
"I explicitly conceive of us being a repertory ensemble as opposed to a tribute or memorial band," Sinton says. "Words carry meaning. A repertory band is about the art as opposed to the artist or person. I don't have nearly the same amount of questions about Steve Lacy as I do about his work."
For all the talk of Lacy's avant-garde classification, his music and method remain valuable assets for musicians in any camp.
"I like to tell people he was one of the most unified human beings I've ever met," Sinton says. "The way he played was the same way that he walked and talked."
Ideal Bread recently released Transit, a second volume of Lacy originals, on Cuneiform Records. I asked Josh Sinton to select five great Steve Lacy performances and tell me why they're important.
Ideal Bread: Josh Sinton On Steve Lacy
Just One of Those Things
from Gil Evans & Ten
by Gil Evans
Chronologically speaking, it's not only one of Lacy's earliest recordings, but also my earliest exposure to his playing. My father subscribed to the Franklin Mint Jazz Club when I was a kid. Every month for two years, he'd get a box of four records. One was called Saxophone Stylists. This is the one Steve Lacy tune they had on there. I used to make mixtapes for myself, and I would just drop the needle on each side of the record. My litmus test was if in 30 seconds I still wanted to hear more, that went on the mixtape. This one took about 10 seconds. At the time, he could not read music. He did the entire session by ear.
Bye-Ya
from School Days
by Steve Lacy-Roswell Rudd Quartet
This is from 1963. Jimmy Giuffre had one of the first portable reel-to-reel tape recorders, and a friend of Steve's borrowed it for this gig and recorded this group. This band existed for almost three years, but this is one of the only documents that remains. At the time, this was Lacy's only band and only outlet. He had really committed himself to playing soprano saxophone, a very unpopular instrument, and playing only Thelonious Monk's music. Monk was still very much alive, and still thought of as being a very happening but very strange musician. It's one of the most modern-sounding groups ever. I felt like I was hearing the way bands sound now when they play Monk's music. They didn't spend much time talking about the theoretical implications of his music; they played the implications of it. If I had to point to any one thing that was the origin of the band Ideal Bread, it is this band and this record.
The Breath
from Weal & Woe
by Steve Lacy
"The Breath" was later incorporated into the six-movement Tao Suite. It actually is a song that has words from the Tao Te Ching. It took me a long time to figure out when he was soloing on this piece and when he was playing written music. I had to listen to other versions of the same piece to finally put it together. For me, there is no difference between freely improvised music and pre-composed material. That's not a platonic ideal; it's just a matter of how you perceive things. Listen to what he's doing with this tool. The saxophone is a tool, just like a wrench or a screwdriver. The question becomes, "What are your ends?" The saxophone is just a means to facilitate that. Usually, he did it as a march. This is the only version I know as a gentle kind of ballad. It's the version I used for our CD, Transit.
Troubles
This is Steve Lacy singing with his then-girlfriend and future wife, Irene Aebi. It's based on an aphorism that Irene's mother liked to say, "Never trouble trouble. It only troubles you. And if you trouble trouble, it only troubles you." I heard this and thought Steve Lacy sounds like Bob Dylan (especially the "youuuu"). He's the Dylan of avant-garde jazz! He takes the first solo on one of the only tunes where he stretches out on this record. It's incredible. This is the beginning of the mature Steve Lacy. He maintained this sound and this feel with his rhythm section for the next 30 years until his death.
I Do Not Believe
from Vespers
by Steve Lacy Octet
Lacy wrote a lot of art songs. He called it lit-jazz. He was one of the most well-read individuals I have ever met in my life. And it's all of a piece, a unified thing. He would read these poems, and these songs would suggest themselves. They were always written to someone. This one was written to Stan Getz. I can't figure out what the relationship is, and that's one of the more mysterious questions I have about his work. It meets all of my criteria for a great jazz tune: It's singable, it's about something and it has a clear point of view. It isn't overly written. Steve Lacy trusted his musicians to fill in the dots and fill in the spaces. He also wrote very involved compositions and full-fledged chamber works. But then he wrote these beautiful songs where you could just play forever and ever.