Music You're Not Supposed To Hear
Music You're Not Supposed To Hear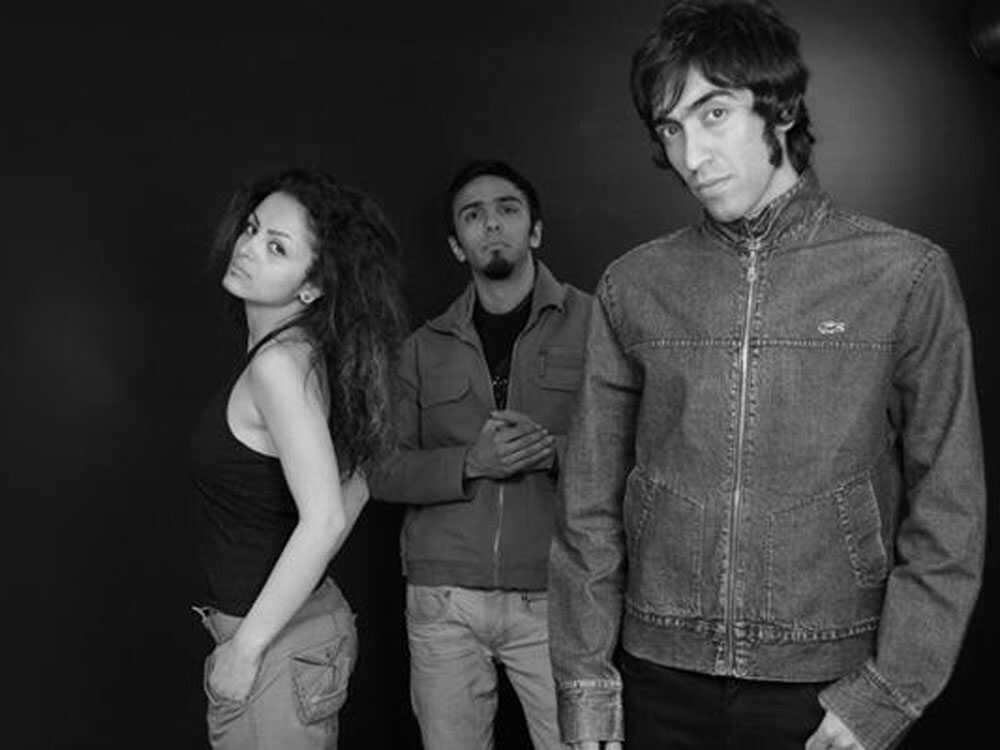 Musicians are often made targets for censorship. Across the globe, when an artist's message or aesthetic is deemed too controversial by a country's government or society, he or she can be shunned, threatened, barred from performing or even imprisoned.
A new concert series in Brooklyn provides an innovative outlet for musicians whose voices are hushed in their home countries. The Impossible Music Sessions have staged performances of banned music at the Littlefield Performance Space in Park Slope, Brooklyn. These concerts are unusual in that the artists are not physically there -- they join the show via an internet video call, and a band or musician they have collaborated with beforehand gives their music a proper performance.
Founder Austin Dacey says the idea for the series came to him as a visual: "I had a mental picture of an empty stage, empty but for the instruments that would be played by the artists who could not be there," Dacey told Christopher Livesay of All Things Considered.
Impossible Music is sponsored by Freemuse, a non-profit NGO that works for freedom of expression as a human right. The concert series brings Freemuse's mission to life in the heart of New York City.
The first session featured an underground electronic rock band from Tehran called The Plastic Wave. The band features a female vocalist, a huge taboo in Iran, and performs "Western" secular music -- music the Islamic Republic considers an abomination. Founders Saeid Nadjafi (Natch) and Maral have been arrested twice for performing their work, under suspicion of "Satanism."
The Brooklyn band called Cruel Black Dove is playing the show for The Plastic Wave. Such is the concept for the Impossible Music Sessions: If your government won't let you play your music, a sympathetic band in the U.S. will step in. Like The Plastic Wave, Cruel Black Dove also features a female lead singer, Anastasia Dimou. Shirley Ho also sings with the band and says what The Plastic Wave is enduring makes her appreciate her own freedom to perform.
"That's why we're so passionate about this project, because we really wanted to bring their music out in order for them to be heard."
True Rock 'N' Roll Spirit
The Plastic Wave could be arrested for trying to sell their music, but the Iranian government has yet to take down their Myspace page or free downloads of songs from their website. Despite constant duress in their home country, The Plastic Wave's appearance in Impossible Music Sessions allowed them to momentarily defeat the Iranian censors.
"It's people like Saeid and Maral doing electronic rock music in Tehran who are really living the spirit of rock and roll -- the spirit of resistance to unjust moral authority," says organizer Austin Dacey.
The next installment of the Impossible Music Series will feature the music of Baloberos Crew, a hip-hop group from Guinea-Bissau. The group calls out specific military leaders in the West African country for murder and corruption, in "Seven Minutes of Truth."
"I rap because of the situation in the country," says NB Show, a member of the Baloberos Crew. "It wouldn't be right to be singing R & B, to be singing about love. We need to be more hardcore. We need to criticize."
Members of the group claim to have practically been kidnapped and put under arrest by Guinea-Bissau's military. As such, they have had to keep this Impossible Music performance low-profile at home. But via web cam and an online phone service they were able to collaborate with New Jersey hip-hop artist Hasan Salaam to ready their rhymes for a live, American performance.
"Yo, they workin' hard! They strugglin'! I respect struggle," says Salaam. "So it's my duty. If I were in their position, I'm pretty sure they'd do the same thing for me."
Salaam has put several weeks of hard work into translating the music of Baloberos Crew into English, but has retained some of the choruses in Portuguese. Tonight, the West African group and Salaam will perform their collaboration in front of a live audience at the Littlefield space -- all with a little help from the internet, a webcam and a video projector.
Related NPR Stories