Lessons From A Corny Childhood
There's nothing like plowing a garden in full view of the neighborhood kids to cast a pall on your preteen quest for popularity. My sister and I viewed our father's garden as one big summertime chore -- weeding mostly, although one ghastly summer he found an old hand tiller and hitched us up to it.
Dad grew up on a farm in northwestern Montana. He left after high school and spent his career as a meteorologist with the National Weather Service, but at heart he remained a farm boy. Spring to fall, he spent his weekends in the garden, planting, growing and harvesting vegetables and fruit. Plump peas, viridian beans, earthy potatoes, luscious tomatoes and even tiny strawberries graced our dinner table during my childhood. By the time I reached adolescence, we'd moved to a house in suburban Salt Lake City, with a huge backyard. Every year, he planted more and more of it with vegetables. Like many children of gardeners, I failed to appreciate the bounty.
If anything made our garden toil worth it, though, it was the corn. Dad staggered his corn planting, starting three or four rounds of a few rows each, several weeks apart, so we had corn all summer long. Picking it was the only part of gardening I actually liked.
Invariably, Mom served Dad's corn still on the cob, boiled in salted water for eight minutes. Why do anything else with corn so fresh it was growing in the afternoon and buttered and salted on our plates by dinnertime?
Native to the New World, corn was a dietary staple for numerous early American cultures, including the Aztecs, Incas and Mayas. The earliest European settlers quickly adopted it as a mainstay as well, although most of it was dried and ground into meal for cakes, breads and porridge (and, of course, fermented into whiskey).
About The Author
Janet A. Zimmerman is an award-winning food writer and cooking instructor based in Atlanta. Her nonfiction was featured in Best Food Writing 2008, and her one and only piece of fiction was printed in the anthology Literary Lunch. She is a senior manager for the eGullet Society for Culinary Arts and Letters. Find out more at her website.
Unlike the varieties grown for popcorn, flour and milled products such as grits or cornmeal, "sweet corn" -- what Americans eat as a vegetable -- is picked and eaten before it matures. This variety stores a higher percentage of sugar than starch; once picked, the sugar starts to convert to starch and the corn tastes less sweet. Although the grocery-store corn you're buying wasn't just harvested, today's varieties are bred with more sugar content to start, so even older ears will still taste sweet.
At the farm stand or the supermarket, you'll often see people tearing back the husk to examine the corn inside, perhaps testing it with a thumbnail to see how tender it is. Such intrusions are bad form. Besides, it's not necessary if you know what to look for. Both the husks and the silk (if attached) should be supple and fresh, neither dried out nor wet and slimy. The ears should be heavy. Wrap your hand around the corn and give it a squeeze -- the kernels inside should be resilient, and fill the husk to the top. If there's a big gap under the silk, chances are the corn is beginning to dry out. I usually boil the ears (5 to 8 minutes in salted water), but they're great roasted or grilled as well.
If you want to eat the corn off the cob, there are several tools available to separate kernel from cob. If you have to strip lots of corn, it's probably worth buying one, but all you really need is a sharp knife and a large shallow bowl. Cut the stem end off so the base is flat. Stand the ear up on the flat end in the bowl and cut down in rows, turning the cob until all the kernels are removed. The bowl will make the last bit of each row a bit difficult, but without the bowl, corn kernels will fly everywhere, and you'll be picking them up from behind the stove or under the refrigerator for months. Trust me on this.
When I left home, the garden and the plowing yoke for the wider world, I discovered two things: First, not all corn was like our corn; and second, you could do more than eat it straight off the cob.
On or off the cob, corn goes well with chilies, tomatoes, shellfish, fresh herbs such as cilantro and basil, and intense spices such as cumin and smoked paprika. I was introduced to creamed corn that was nothing like the goopy stuff in cans. I discovered that corn's sweetness could cool and balance a spicy salsa and that its starch could provide body for a rich, creamy soup. All are excellent ways to use this versatile vegetable, even if it isn't as perfect as the corn of my youth.
Related NPR Stories
Corn And Leek Soup
If you prefer a smooth soup, puree the entire batch and pour through a medium strainer. Adding cream will make the soup richer and smoother, but it's good without as well.
Makes 4 to 6 servings as a first course, or 2 to 3 as a main course
1 large leek or 2 small ones, white and light green parts only, washed and chopped (about 1 1/2 cups)
3 tablespoons unsalted butter
3 cups fresh corn kernels (from 4 to 6 ears)
1/2 teaspoon kosher salt, plus more to taste
2 teaspoons Maryland-style seafood seasoning
2/3 cup dry vermouth
3 cups unsalted chicken stock or water
1/4 cup cream (optional)
Garnish
3 to 4 slices bacon, diced
1 tablespoon all-purpose flour
2 teaspoons seafood seasoning
8 to 12 medium shrimp, peeled and deveined
4 scallions, green part only, diced
Heat a medium-sized, heavy pot over medium heat and melt the butter. When the butter has foamed, add the leeks, corn, salt and seasoning and cook, stirring occasionally, until softened (about 5 minutes). Add vermouth and bring to a simmer. Turn heat down to medium-low and cook, stirring occasionally, for 5 to 7 minutes, until most of the vermouth evaporates. Add the chicken stock and simmer, covered, for an additional 20 to 30 minutes. Remove from heat and let cool slightly.
Pour about half the soup into a blender or food processor and puree until smooth. (If soup is still hot, work in small batches and be careful to hold the lid on firmly.) Pour the pureed soup back into the pot and bring just to a simmer. Add cream if using and stir to combine. Adjust salt, if necessary.
For the garnish, saute the diced bacon in a medium-sized skillet over medium heat until crisp. Remove the bacon to a paper towel to drain. There should be 1/8 to 1/4 inch of bacon fat left in the pan. If there's more, pour it off; if less, add vegetable oil to the pan.
While the bacon is cooking, mix the flour and seasoning in a small flat bowl. Dredge the shrimp in the flour mixture and shake off excess.
Heat the bacon fat over medium high heat. When hot, add the shrimp carefully, in a single layer. Cook for 2 minutes, then flip them to the other side and cook for an additional minute, or until shrimp are pink and opaque. Remove from pan.
Top each serving of soup with 2 or 3 shrimp and sprinkle with bacon and scallion greens.
Corn And Avocado Salsa
This recipe is much more than the sum of its parts -- I've had guests eat it from the bowl with a spoon before it ever made it to the table. It's a great accompaniment for quesadillas, grilled fish or roasted chicken. It's also irresistible with chips. I try to chop the vegetables about the same size as the corn kernels so the mixture is uniform.
Makes about 5 cups of salsa
1 large tomato, seeded and chopped fine
1 large red bell pepper, seeded and chopped fine
1/2 small red onion, chopped fine
2 cups cooked corn (about 4 ears)
1 large avocado, chopped
1 tablespoon cumin
2 teaspoons (or more) dried chili flakes
1 tablespoon olive oil
2 teaspoons lime juice
Salt to taste
Mix together all ingredients and season to taste. If making ahead, do not add the avocado until right before serving.
Chipotle-Cumin Butter
Chipotles are dried, smoked ripe jalapenos. You can find them canned in adobo sauce or dried. They vary somewhat in heat, so you may want to start with the smaller amount and add more if you want the butter spicier. The butter is perfect for grilled or boiled corn on the cob and is also good on grilled steak.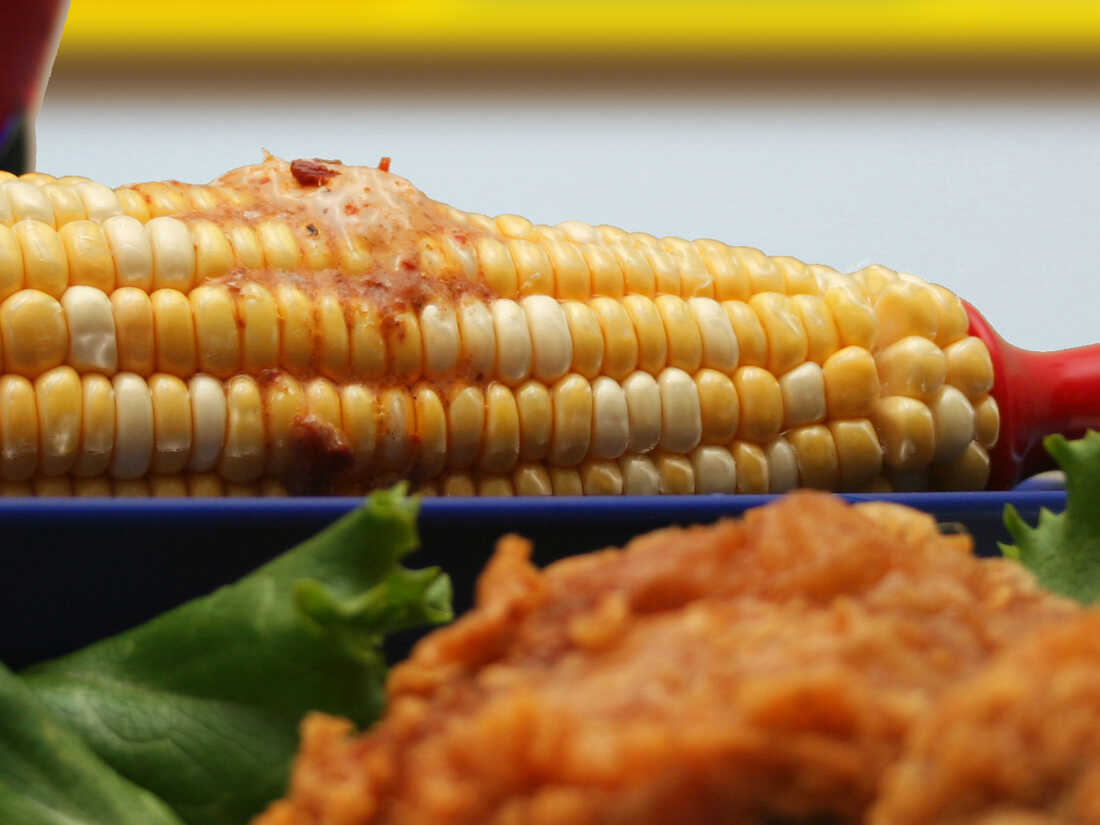 Makes about 8 tablespoons of butter, enough for 6 to 12 ears of corn
4 ounces (8 tablespoons) unsalted butter, softened
2 to 3 teaspoons chipotle puree*
2 teaspoons cumin
1/2 teaspoon kosher salt
2 teaspoons lime juice
Mix all ingredients together thoroughly. Form the butter into a cylinder, wrap tightly in plastic wrap, and refrigerate or freeze until firm. To serve, slice into thin rounds with a sharp knife. Tightly wrapped, this will keep for several weeks in the refrigerator or up to 4 months in the freezer.
* To make chipotle puree, empty the contents of a can of chipotle peppers in adobo sauce into a blender or small food processor. Blend until pureed. This puree will keep in the refrigerator for at least a month. If you want to use dried chipotles instead, reconstitute them in boiling water for 20 minutes, then mince them.
Creamed Corn With Roasted Poblanos
Poblanos are dark green chilies with medium heat and a deep flavor. Ancho chilies are dried poblanos, and they make a complex and rich chili powder. If you can't find ancho powder, substitute another chili powder, but try to avoid commercial powders with lots of added ingredients.
Makes 4 servings as a side dish
1 large or 2 small poblano chilies
3 or 4 ears of corn (about 2 cups)
2 tablespoons unsalted butter
1/3 cup diced onion (about 1/2 small yellow or white onion)
1 teaspoon kosher salt
1/2 teaspoon ancho chili powder
1/2 cup cream
Set oven to broil.
Cut the top off the poblano(s) and remove the seeds and ribs. Cut the chili into 2 or 3 flat strips and place on a sheet pan or cookie sheet. Broil on high for 3 to 4 minutes or until chili strips are mostly blackened and skin looks loose. Place the strips in a small bowl and cover to let steam for 10 minutes, then remove the cover and let cool for 5 minutes. When cool, remove the skin from the strips -- it should peel off easily, but don't worry about a few shreds if you can't remove it all. Dice the poblano and set aside.
Meanwhile, working over a large, shallow bowl, cut the kernels off the ears of corn. Over the bowl, scrape the ears with the side of a spoon or the dull side of a knife blade to remove as much pulp and liquid as possible. You should have about 2 cups of kernels and liquid.
In a medium-sized saute pan, melt the butter over medium heat. When the butter has stopped foaming, add the onion, diced poblano, and corn kernels and liquid. With the heat still at medium, stir and cook for about 5 minutes, until the onion pieces soften and begin to look translucent. Add the salt and chili powder and stir to combine. Add the cream and turn the heat down to medium-low. Cover and cook, stirring occasionally, for 30 minutes, or until corn is tender and cream has thickened slightly. Adjust seasoning.