Tonight's TV: Please Watch The 'Community' Marathon. No, Really, Do It.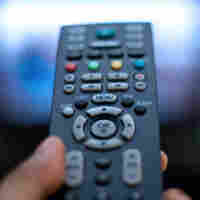 Okay, there is one very important piece of great news for tonight, and that's that there's an entire evening of Community coming right at your face from NBC. Six episodes, starting at 8:00 p.m., and yes, this is an assignment. Seriously, I recently treated a friend who hadn't been watching it to the first few episodes, and I think it's going to take him a while to forgive me for not bringing it to him sooner. It may have been frozen out of the Emmys this year, but it's #1 in my heart.
I regret to inform you that another season of Big Brother (8:00 p.m., CBS) kicks off tonight. Please imagine me reading this news with my hat in my hand, at your doorstep.
On the other hand, why would you watch that when you could watch ... Wipeout (8:00 p.m., ABC)?
The 9:00 p.m. hour is pretty bleak. ABC's got its summer series Rookie Blue. Fox has an elimination episode of So You Think You Can Dance. CBS has a CSI rerun.
At 10:00 p.m., Bravo celebrates its newest franchise on the wedding episode of Bethenny Getting Married?, which will presumably need to be retitled without the question mark if, in fact, she gets married. Which she's going to. (Spoiler from real life.)
And finally, it's the last two episodes of the (short) season for TLC's Mall Cops: Mall Of America (10:00 p.m. and 10:30 p.m.). Thanks for the memories, Mall Cops! Don't take any nonsense from loiterers!