Losing Your Head At 30,000 Feet
Walter Kirn is a writer and editor, and the author of several books, including Up in the Air, which was made into a feature film in 2009. His latest book is the memoir Lost in the Meritocracy: The Undereducation of an Overachiever.
In this Tea Party summer of grass-roots discontent and simmering populist rebellion, Americans may finally have found a hero people of all political persuasions can admire equally. He's Steven Slater, the JetBlue flight attendant who struck a blow for freedom Tuesday by finally doing what millions of airline passengers, trapped inside the dismal, crowded slave ships known as modern commercial aircraft, have dreamed of doing for years. Provoked by one of those trivial annoyances that don't seem trivial at all when you're sealed inside a metal tube, your body completely numb from the hips down, he yanked on one of those clearly labeled handles that mustn't be touched under penalty of law, activated the emergency exit slide, and zoomed down onto the tarmac at JFK airport (while cursing and holding a beer, by some accounts). And though Slater was arrested within the hour, he was also famous within the day.
Some federal crimes are definitely worth it. While Slater's improvised one-man uprising wasn't technically political, it was spiritually political. His act of aeronautic disobedience was a shot heard round the Internet, reminding a weary segment of the populace overburdened by carry-on baggage charges, humiliated by full-body scans, and angered by disingenuous announcements ("The aircraft should be arriving within 10 minutes, and as soon as we get it cleaned we'll start to board"), that power still belongs to we, the people. His uppity gesture proved that even now, in the age of big business, big technology, big bureaucracy and big everything, our fate (or some of our fate) is in our hands.
As long as our hands are prepared to grab that handle.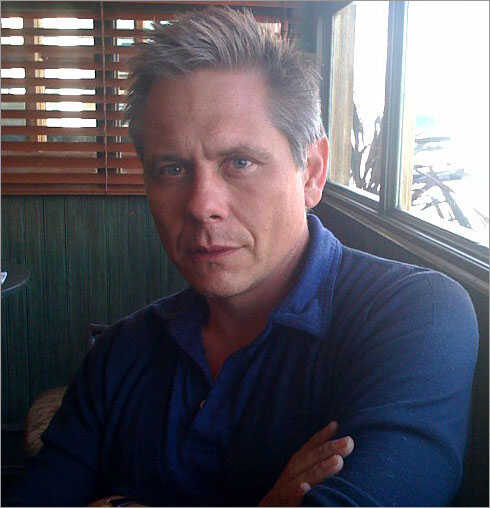 How they beckon, those handles we're not supposed to pull. Using them grows more tempting with every flight, with every skimpy foil pouch of peanuts and every breath of bacterial, stale air. In Slater's case, the inciting incident was a tussle with an unruly passenger who opened the door to an overhead compartment before the plane had come to a full stop. The door banged Slater on the skull, reportedly, prompting him to lose his head. Or maybe, like most of us who fly these days, Slater no longer had a head to lose.
I finally lost my own head a few months back, at a gate in the Minneapolis airport, when the following words came over a hidden speaker: "Will Billings, Montana, passenger Walter Kirn please report to the podium," a voice said. That's what I presume it said. What I actually heard it say was this: "Will Billings, Montana, prisoner Walter Kirn please report to the podium." This chilled me. The "prisoner" part chilled me (travel fatigue combined with dehydration was making me hallucinate), but also the "please report" part, which sounded like something a principal might say. Or a drill sergeant. Or the warden of a Supermax.
Then I reported. To learn I had no seat.
If there had been a forbidden handle handy, I would have yanked it then, I'd like to think. I like to think a lot of things while flying. For example, that I'm still a person. That I still possess free will. I don't, of course -- not once we've pushed back from the gate -- but it comforts me now to think that someone does. Someone I'll look up to from now on, every time I look down from 30,000 feet.
Related NPR Stories