Wilco Takes Over An Art Museum This Weekend
Wilco Takes Over An Art Museum This Weekend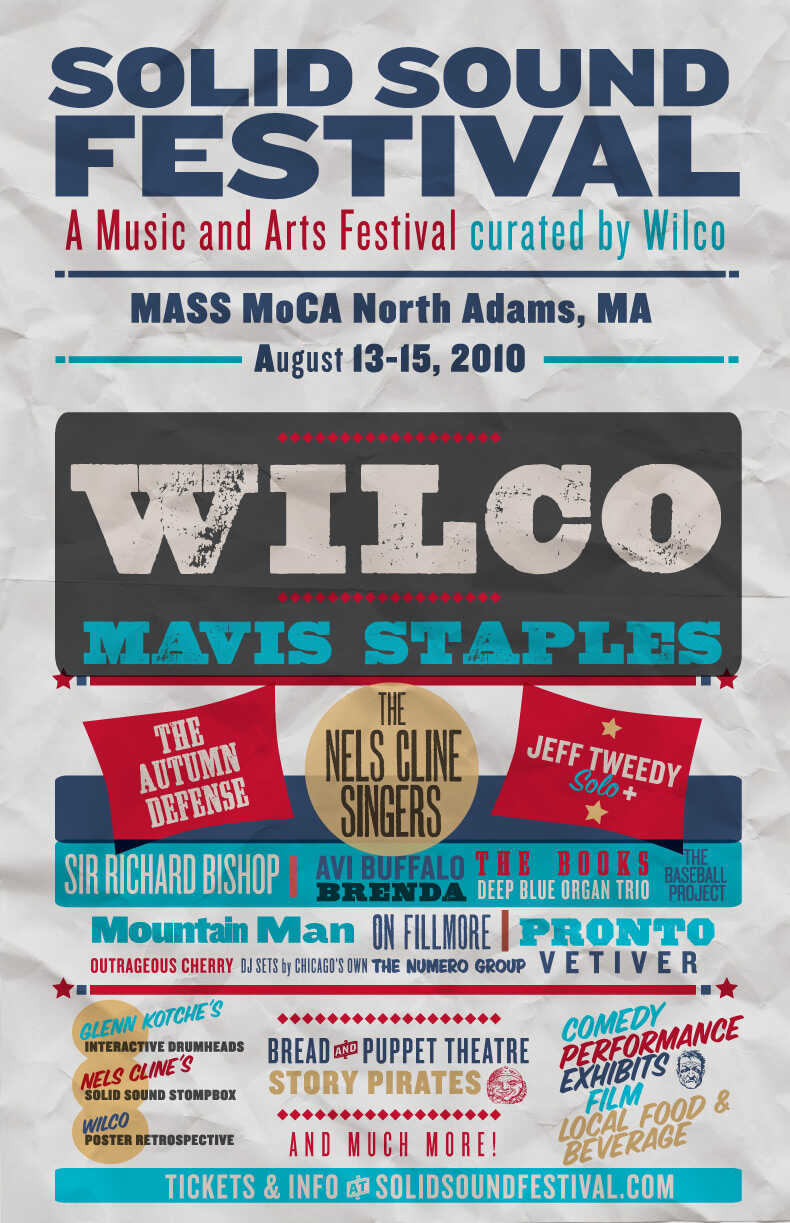 The Massachusetts Museum of Contemporary Art is an internationally respected art museum in North Adams, Mass., a quiet town in the Berkshire Mountains. Wilco is an internationally respected Chicago rock band with rabidly loyal fans -- maybe you're one of them. If so, you might already know that Wilco is hosting its first music festival this weekend at Mass MoCA.
Think about it: A major art museum gives a rock band permission to transform its 200,000-square-foot facility -- and its sprawling 14-acre campus -- into a huge playground for musicians and thousands of fans. According to Wilco frontman Jeff Tweedy, the concept was dreamed up by the band's manager, Tony Margherita, who is a big fan of the Berkshires and Mass MoCA.
"I think Tony saw a similarity in the way they were presenting art to the way Wilco operates," Tweedy says. "We take it very seriously, and at the same time want it to be an enjoyable experience -- and don't make a lot of distinctions between highbrow and lowbrow. [We] try to engage people in a really direct manner."
Mass MoCA has presented everything from dance pieces by Merce Cunningham to wall drawings by conceptual art pioneer Sol LeWitt to a controversial exhibition involving genetically altered food and the photographs of Leonard Nimoy. So why did the museum's director, Joe Thompson, agree to let dozens of musicians, comedians and puppeteers take over his space?
"We see ourselves literally as a platform for all kinds of art and music, and we admire the band and the kind of music that they make," Thompson says. "Secondly, and more selfishly, there are a lot of new people who will show up over this weekend who haven't been here before."
They will be coming mostly to hear Wilco, a band with a reputation for smart, sometimes sensitive, sometimes inscrutable lyrics -- with a pretty but gritty backdrop.
Posters, Polaroids And Stomp Boxes
In between sets, fans can wander through Mass MoCA's galleries. In addition to the museum's current shows, there are exhibitions curated by Wilco. A retrospective of silk-screened concert posters hangs in one gallery, as do Polaroids by Wilco member Patrick Sansone and an interactive drum-head installation by Glenn Kotche. Wilco guitarist Nels Cline devised the Solid Sound Stomp Box Station -- his homage to the foot pedals guitar players use to alter their instruments' sound. Visitors to Mass MoCA can, well, stomp them.
All of this reflects the Wilco aesthetic, Tweedy says.
"All the different artistic creative aspects of the band, and the things surrounding the band, are gonna be on display," Tweedy says. "And I thought that that seems like a pretty rare thing, to be able to find a place that would facilitate all that."
At the same time, though, it's safe to say that there are a lot of people in Mass MoCA's hometown of North Adams who've never heard Wilco's music -- and, frankly, have no idea what Wilco even is.
"Isn't that what they used to say on the radio or something like that, in the second World War, I think? 'Wilco, over and out,' or something like that, yeah," says artist Jarvis Rockwell, son of Norman Rockwell.
Jarvis Rockwell lives just outside town and has a new retrospective of art made from action figures in a space on Main Street. The galleries in North Adams have stayed open late for the festival, as have the restaurants and shops. The city is doing its best to impress visitors without ticking off too many residents in the process.
Boosting North Adams' Economy
Like the rest of us, the people in North Adams are struggling through the recession. But this town has actually been fighting to get back on its fiscal feet for decades. It sank after the Sprague Electric Co. factory closed in 1985. Mass MoCA eventually took over the abandoned factory, transforming it into a massive museum. It helped boost the local economy by attracting tourists and artists to the town. Then the current economic downturn hit. Brian Miksic, head of the business association Develop North Adams, says Wilco's Solid Sound Festival might be the best thing to happen to North Adams since the museum opened 10 years ago.
"This is a town of 14,000 people," Miksic says. "And so my wife's little children's boutique on an average Saturday has 50 people walk through the door. When you have 8,000 people in town, or 6,000 people, there's just no way that there's not going to be a bump."
Even some local musicians are getting a boost, not that The Books need it. The Books are getting a lot of attention for their new album of experimental music, but the duo has always been a favorite of Wilco's. Nick Zammuto, one half of The Books, has a home just across the border in Vermont, but he spent many years living in North Adams. He even recorded parts of one of The Books' seminal albums in the pantry of a rundown, $300-a-month apartment just up the hill from Mass MoCA.
"To kind of see North Adams go from the late '90s, when Mass MoCA didn't exist, 'til now, it's been an unbelievable journey for the town," Zammuto says. "And it's been largely powered by art and music, so to see it come to fruition in this way is a real satisfying thing."
Zammuto says Wilco and Mass MoCA make a good match, because the band and the museum are creative risk-takers but also laid-back and kind of mature. Even so, the town has deployed extra police, and the museum hired extra guards for the galleries just in case. Tweedy says there probably won't be any fistfights at the festival, but given the disposition of Wilco fans ...
"There might be some hurt feelings and some passive-aggressiveness," Tweedy says. "Few tears."
If all goes well, Wilco, Mass MoCA and North Adams want to make the Solid Sound Festival an annual event. Jeff Tweedy encourages visitors this weekend to visit him at the dunking booth.
Web Resources