The Sense And Sensibility Of Goodman's 'Collector'
The Sense And Sensibility Of Goodman's 'Collector'
Book reviews and book jackets can be pretty liberal about comparing authors to Jane Austen. When that happens, they often only succeed at driving committed Jane-ites away, but here's a book that actually lives up to that comparison.
Allegra Goodman's The Cookbook Collector has much of what Jane Austen is most loved for: admirable and lovable heroines, ridiculous and foolish characters, and love stories that must overcome the impediments both society and fortune place in their path. And there's also food.
Goodman tells NPR's Linda Wertheimer that she is flattered to be compared to an artist she loves, but, she says, "I'm my own woman also, and I've had many influences on my work."
Still, there are some undeniable similarities. Much like Austen's Sense and Sensibility, The Cookbook Collector focuses on two sisters who have very different ways of seeing the world.
"The older Emily is definitely seemingly the more rational, pragmatic of the two." Goodman says. "[She's the] CEO of a startup company in dot-com-boom Silicon Valley. And her younger sister … Jess, is seemingly the more whimsical, dreamy of the pair: a graduate student in philosophy at Berkeley and a part-time worker at an antiquarian bookstore."
Goodman follows the sisters' lives from the fall of 1999 to the spring of 2002 because she says she wanted to set their story in a time of economic unrest.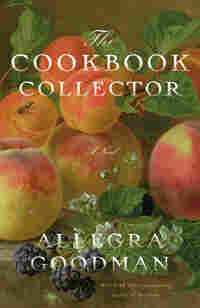 The Cookbook Collector: A Novel
By Allegra Goodman
Hardcover, 416 pages
The Dial Press
List price: $26
Read An Excerpt
"It was such a fraught time and so much happened," Goodman says. "So I was essentially writing a historical novel about the very recent past, and I was interested in the way these events -- especially the booming economy and the bursting of the [dot-com] bubble -- would affect individual people. It's a period that is well-documented by economists and sociologists and historians. But as a novelist, I thought, 'What I can contribute is to write about this from the inside.' "
Goodman uses unexpected devices to explore the importance to her characters of both material and immaterial things. One such device comes in the form a collection of early-modern cookbooks and its curators -- or collectors -- which include Jess's boss, the antiquarian bookseller, who lusts after the cookbooks.
"The book is very much one about collecting and possession," Goodman says. "It's a book about hunger for objects, for money, for fame, for new technology, for knowledge, and also about that hunger for things that are tangible -- for connections with other people, for love. And the cookbook collector, to me, is a symbol of that, a person who's hungry, who's driven."
But the cookbook collector isn't just the person handling the books. Goodman's character Emily is just as career-driven as the collector is collection-driven, and in the end both Emily and the collector run the risk of losing sight of what really matters: virtue or wealth.
"These are the key questions, aren't they?" Goodman says. "Emily and Jess … they're deciding how they're going to live. Part of deciding how you're going to live is deciding who you're going to be with, and part of [that] is deciding what to value in life. Where is value? Is value in your stock in your company, which could fluctuate wildly, where you are a paper millionaire? Do you find value in the natural world, as Jess does, with the redwood trees of northern California? Is what's really valuable and lasting a rare trove of cookbooks, or those companies whose names we can't remember anymore, who came and went? Or is value just to be found in other people, in the people that we love?"
Goodman says that while Jess and Emily do come to a sort of "conclusion" about these questions, the answer can be more elusive. She does offer, however, what she considers to be "a good part of the answer."
"In the end, people really are the most important thing," she says. "Flawed as we are, you know, we have each other."
The Cookbook Collector
Paperback, 405 pages |
purchase
Buy Featured Book
Title

The Cookbook Collector

Author

Allegra Goodman
Your purchase helps support NPR programming. How?
Excerpt: 'The Cookbook Collector'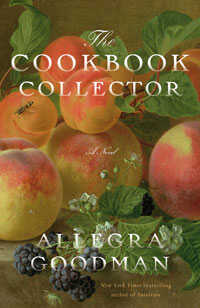 The Cookbook Collector: A Novel
By Allegra Goodman
Hardcover, 416 pages
The Dial Press
List price: $26
Yorick's was not always the kind of adventure George wanted. Good help proved elusive. Graduate students, budding novelists, future screenwriters, manic-depressive book thieves -- he'd seen them all. With a kind of gallows humor he had printed up a questionnaire that he distributed to those seeking employment. When Jess had turned up, inquiring about a part-time job, he showed her the dark crammed store, the thicket of history, philosophy, and literary criticism in the center, fiction all along the walls and trailing into the back room where random stacks cluttered the floor. Then he returned to his desk and handed her his printed list of questions.
"Could I borrow a pen?" Jess asked, after digging in her backpack and turning up a handful of change and a warped chocolate bar. She was young. She had the clear- eyed beauty of a girl who still believed that, as they used to say, she could be anything she wanted to be. Of course she would not consider herself a girl. The word was offensive, but she had a girl's body, delicate shoulders, and fine arms, and like a girl, she had no idea how fresh she looked.
George handed Jess a black ballpoint, and she took the questionnaire and filled it out right on the other side of his desk. He tried not to stare, although she was leaning over. Casting his eyes down, he resisted the impulse to turn up the sleeve covering her writing hand.
When Jess finished, she returned the questionnaire and waited, expecting George to read her answers right away. He ignored her. When she hovered longer he said, "Give me a couple of days and I'll call you."
But he read the completed questionnaire as soon as she left.
1. Full name: Jessamine Elizabeth Bach
2. Are you a convicted felon? No
3. Are you an unconvicted felon? Not to my knowledge
4. Are you currently taking or dealing illegal drugs? No
5. Are you sure? Pretty sure
6. Circle one. A bookstore is: a meeting place, a mating place, a research room, a library, or a STORE, as the name suggests. Store for convicted felons?
7. Circle one. It's acceptable to wear earphones or use cell phones or notebook computers at work: rarely, sometimes, if I am daytrading, NEVER. Own none of the above
8. Circle one. It's acceptable to take money from the register: rarely, sometimes, if I really need to pay my dealer, NEVER. Wow, sounds like you've been burned. Sorry!
9. Short answer: No more than three sentences, please. Why do you want to work here? I want to work here because I really need the money for day-trading (just kidding). I love books and am well qualified to talk about them if you need someone knowledgeable. You have a great philosophy section, and as I mentioned, I am a grad student in philosophy.
10. Why in your opinion is this store named Yorick's? Hmm. I think this is a trick question. You want us to say because of "Alas, poor Yorick" in "Hamlet," but I can tell from looking at you that you are one of those guys who reads "Tristram Shandy" over and over again, so I'm guessing you named the store after Parson Yorick in the novel.
George read this last answer twice. The phrase one of those guys chafed. Was she saying he was simply an esoteric type? He fancied himself original, and he was miffed, or thought maybe he should be, for although he had a sense of humor, he exercised it primarily at others' expense. He found Jess a little flip, but she seemed sane, an unlikely arsonist. She'd do.
Excerpted from The Cookbook Collector by Allegra Goodman. Copyright 2010 by Allegra Goodman. Excerpted by permission of The Dial Press.