Tribal Lands Struggle To Bring Clean Power Online
Tribal Lands Struggle To Bring Clean Power Online
Last of five stories on renewable energy in California
The day the Golden Acorn casino opened in August 2001, Monique LaChappa stood right near the sliding glass doors and watched as members of her tribe came in for their first look.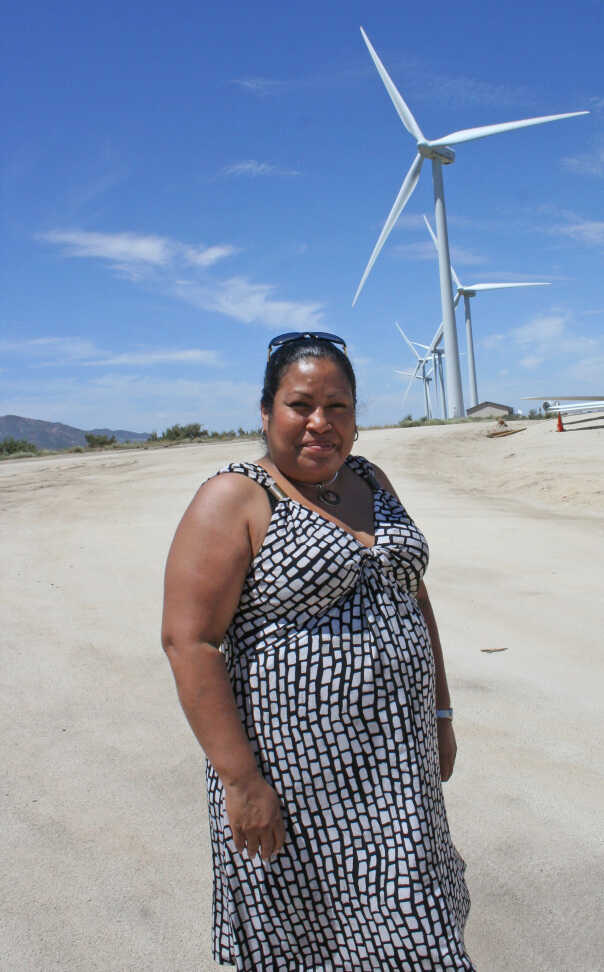 "I just watched everyone come in and I just — just the look on the tribal members' faces that day — it was so exciting," she said.
The casino changed everything for the Campo Kumeyaay Nation, a small tribe in the desert mountains east of San Diego. It bought a fire department, educational programs and jobs. But in a slumped economy, one modest casino isn't enough to sustain the Campo, especially when about half of the 329 tribal members are unemployed.
So the Campo Kuemyaay Nation has turned to a new source of income: generating electricity.
The Campo reservation is home to what locals call Kumeyaay 1. It's a wind farm, the only large-scale renewable energy plant on Indian land in the country. The 25 turbines, which went online in 2005, provide electricity to up to 35,000 homes in San Diego County. LaChappa, who serves as tribal chairwoman, says the wind farm has changed the way tribal members think about their reservation.
"Look where we're located," she says. "We're out here in the middle of nowhere. It makes it difficult for anybody who wants to be able to do more for their family or send their kids to college."
The wind farm is an enormous source of pride for the Campo, but monetarily, it hasn't changed much, in part because the Campo don't own it — they just lease the land.
Now the tribe is in negotiations to build another wind project — three times the size of Kumeyaay 1. This time, they plan to go in as investors, along with a private energy firm and the local utility. While all sides are tight-lipped about the numbers, the electricity produced by that plant would be worth about $24 million a year on today's market. Whatever the tribe's cut, members say it would be considerably more than they make now as leaseholders.
Wind And Solar Potential On Tribal Lands
The maps below show how tribal lands overlap with both wind and solar potential. Darker colors on the maps correspond to higher wind speeds and greater sun exposure.
"This is so important for Indian country," says Campo member and former treasurer Mike Connolly, "because for so long they've been under a neocolonial system that's been geared towards resource extraction — whether it's timber, or oil, coal or whatever — without leaving any real economic benefit to the community behind."
A Tax Conundrum

Connolly says renewable energy — and ownership — could change that for tribes across the country. But one fact gets in the way: taxes.
Because Indian tribes are semi-sovereign nations, they can't collect federal tax credits for renewable energy — tax credits that can cut the price of a big wind or solar project in half. Connolly has taken this issue to Washington, D.C., where, he says, the response is always the same: "People in Congress actually express surprise that taxes even come off reservation lands, because they've been told all their lives, 'Indians don't pay taxes; Indians don't pay taxes.' "
It's true — they don't. But non-Indians operating on Indian land do pay state and local taxes, and that means tribes can't tax them as well, because that would amount to double taxation — a likely deal-breaker for anyone who wanted to do business with a tribe.
More In The Series
NPR and member station KQED are exploring California's ambitious plans to generate one-third of its electricity from renewable sources by 2020.
Connolly says it's the worst of both worlds. Tribes can't access tax credits like a private company would, but they also can't levy taxes, the way a government would. If this keeps up, he fears the whole green economy is going to skip right over communities that really need it.
"There's such a debate in this country over double-digit unemployment," Connolly says. "We have tribes that have gone four or five decades with unemployment that's 60 to 70 percent."
That fact seems not to have been lost on President Obama, who has pledged to ease the path to renewables for tribal people. "We're securing tribal access to financing, and thanks to the recovery act, we've established an energy auditor training program," Obama said at the Tribal Nations conference last November.
Tribes are now eligible for stimulus money, and there has also been an increase in the amount of federal aid that is available to them for energy development, to about $7 million a year.
A new bill, introduced to Congress earlier this month by Sen. Byron Dorgan of North Dakota, would reduce some of the red tape that tribes face when they pursue renewable projects. It's called the Energy Promotion and Parity Act. Earlier versions of the bill took another step, by extending federal tax credits to Indian tribes. That provision was removed from the bill and moved into another piece of proposed legislation — still just in draft form — called the Indian Energy Tax Act.
The question is whether ideas like these will suffer the same fate as other proposed changes to energy policy in this country which, so far, are stalled in Congress.