Facing The East: Indo-Jazz Fusion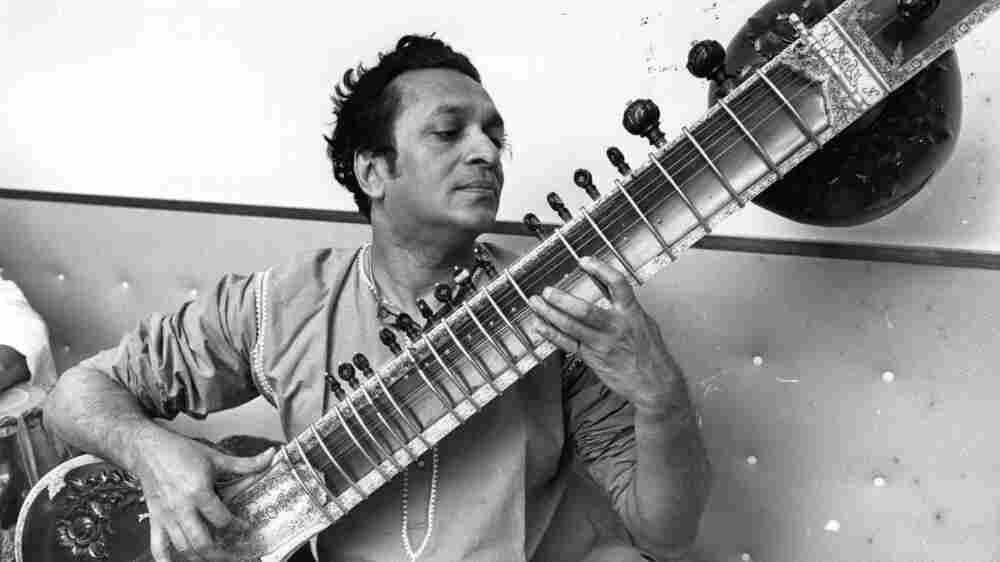 Express Newspapers/Hulton Archive
Much discussion about Indo-jazz fusion rightly focuses on American jazz musicians of Indian heritage. Musicians like Vijay Iyer, Rez Abbasi and Rudresh Mahanthappa have incorporated study of their ancestral music into their own ideas for improvisation. But they represent just the latest development in a more than half-century-long narrative of collaboration between jazz players and Indian classical musicians.
Some combinations have trended toward the loaded terms of "New Age" or "Exotic," while others were genuinely wrought to find commonality among improvising musicians working within their respective forms.
Many well-known recordings find jazz facing east: Buddy Rich and Usted Alla Rakha jamming, Yusef Lateef incorporating the North Indian shennai, late-period John Coltrane, Alice Coltrane's devotional music, and the Mahavishnu/Shakti work of guitarist John McLaughlin. Here are five notable works which feature varying levels of engagement between jazz and Indian classical music.
Facing The East: Indo-Jazz Fusion
Improvisations on the Theme Music from Pather Panchali
Ravi Shankar And Bud Shank
Song: Improvisations on the Theme Music from Pather Panchali
from Improvisations
Ravi Shankar has been a major influence for jazz musicians seeking to incorporate the ragas and talas of Indian classical music into Western improvised music. Shankar was a friend to John Coltrane, and he's largely responsible for the raga rock excursions from The Byrds and The Beatles. Shankar's notable film work in the 1950s includes scoring the Apu Trilogy, a series of internationally acclaimed Bengali movies. The first of these was Pather Panchali, and this World Pacific version from Shankar's Improvisations includes Bud Shank on flute. It ranks among the first important collaborations between jazz and Indian music.
Joe Harriott
Song: Raga Piloo
from Indo Jazz Fusions I & II
In the late 1960s, Jamaican saxophonist Joe Harriott teamed with Calcutta composer and violinist John Mayer for a series of East-meets-West hybrids. Their first effort, Indo-Jazz Suite, was a remarkable and valiant effort to combine cultures. The next two albums, Indo-Jazz Fusions I & II, lend much more space for jazz improvisation. There's a double quintet at work on "Raga Piloo" — classical Indian instruments like the sitar, tamboura and tabla rub against a jazz ensemble that swings on modal scales (ragas). Chris Taylor's flute work seems to negotiate the median.
Tony Scott
Song: Samadhi [Ultimate Bliss]
from Music for Yoga Meditation and Other Joys
Tony Scott made a lot of jazz records, but this isn't one of them, nor is it a record of Indian music. Instead, the clarinetist teamed up with ascendant sitar player Collin Walcott, a student of Ravi Shankar, for a duet recording of ambient music. Scott had gained popular notoriety with 1964's Music for Zen Meditation, and on this follow-up, he moves the focus from Japan to the Indian subcontinent. Try to remove your mind's eye from the New Age hippie connotations and the awful album cover. Buried underneath it all is some very intimate music, and maybe someone's idea of "ultimate bliss."
Codona (Collin Walcott, Don Cherry, Nana Vasconcelos)
Song: New Light
from Codona Trilogy
Trumpeter Don Cherry encountered Indian music in a variety of ways. Some, like Music/Sangam with tabla player Latif Khan, were less diluted. Other albums, notably Hear & Now, included a mere flirtation. A third category is the fully realized world music that Cherry inhabited for the remainder of his life. After Cherry played on Collin Walcott's magisterial Grazing Dreams, the duo teams with Brazilian percussionist Nana Vasconcelos for the trio Codona. "New Light" is a 9/8 Vasconcelos groove superimposed over aerated trumpet and raga mode. Spend some time with Walcott's solo on the santoor (dulcimer), too.
Charlie Mariano With Karnataka
Song: Varshini
from Jyothi
Alto saxophonist Charlie Mariano, who played wonderfully on The Black Saint and the Sinner Lady and other Charles Mingus delights, spent the latter part of his career investigating Carnatic music. He discovered enough to write An Introduction to South Indian Music, wherein he shares compositions for nadaswaram that he played on his saxophone. Mariano is in the company of greatness throughout "Varshini": The soaring vocals and fertile imagination of singer R.A. Ramamani and percussionists from the Karnataka school in Southwest India put this music in the divine space between improvisation and devotion.