Sonny Rollins: The Saxophone Colossus Turns 80
It's hard to overstate Sonny Rollins' contribution to jazz. As the groundbreaking saxophonist celebrates his 80th birthday on Sept. 7, he can look back on a performing and recording career that spans more than 60 years and has influenced generations of jazz players.
And, of course, the good news is that he's still recording, performing and living up to the name of his magnificent 1956 recording, Saxophone Colossus. As a way of wishing Rollins a happy 80th birthday, here are five classic examples of his extraordinary sax work.
Please feel free to leave your own birthday wishes and Rollins recommendations in the comments section below.
Sonny Rollins: The Saxophone Colossus Turns 80
Oleo
from Bags' Groove
by Miles Davis & Modern Jazz Giants
Although Sonny Rollins began recording as a sideman in 1949 and as a bandleader in 1953, he really came into his own in his work with Miles Davis from 1951 to '54. On Davis' 1954 Bags Groove, Rollins contributes three of his own compositions and great bop chops. All three have gone on to become jazz standards: "Airegin," "Doxy" and this song, "Oleo." Along with Sonny and Miles, this band also includes Horace Silver (piano), Percy Heath (bass) and Kenny Clarke (drums).
I'll Remember April
from At Basin Street
by Clifford Brown/Max Roach Quintet
In 1955, in addition to working on his own musical projects, Rollins teamed up with the band led by Clifford Brown and Max Roach. Everyone plays masterfully on these recordings, and the band might have gone on to create a great body of work. But after Brown's death in 1956, Rollins would continue to record almost exclusively as a bandleader, creating his own unparalleled body of work.
St. Thomas
from Saxophone Colossus
by Sonny Rollins
Rollins' 1956 album Saxophone Colossus was perhaps his first classic recording as a leader. It was also the album that provided him with the sobriquet he'd own from then on: "The Saxophone Colossus." His recording of "St. Thomas" is taken from a traditional calypso melody from the Virgin Islands, which his mother sang to him as a boy. With the help of drummer Max Roach, pianist Tommy Flanagan and bassist Doug Watkins, the song has since become yet another Rollins-inspired jazz standard.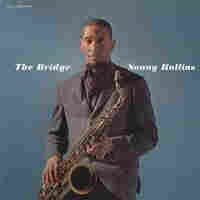 The Bridge
from The Bridge
by Sonny Rollins
Between 1956 and '58, Rollins was on fire creatively: He recorded 16 albums, including Saxophone Colossus, Tenor Madness (with John Coltrane), Way Out West and Freedom Suite. That's why the jazz world was stunned when Rollins decided to take what would turn out to be a three-year sabbatical from performing and recording. During that time, he practiced his playing relentlessly, often playing solo on New York's Williamsburg Bridge, trying to break through what he perceived as his musical limitations. When he returned in 1962, he recorded The Bridge with guitarist Jim Hall, bassist Bob Cranshaw and drummer Ben Riley; it remains one of his best-selling albums.
Why Was I Born?
After 50 years of making excellent recordings, Rollins won his first Grammy in 2001 for This Is What I Do. Later that year, on Sept. 11 -- four days after his 71st birthday -- he had to evacuate his downtown New York apartment, which was just blocks from the World Trade Center. All he took with him was his saxophone. Five days later, he played a concert at the Berklee School of Music in Boston. The recording of that concert was released in 2005, and it earned Rollins his second Grammy for Best Jazz Instrumental Solo, for the song "Why Was I Born?"