Bringing The Bean Out Of Its Shell
My grandfather was in charge of making shell bean soup in my house. My sister, brother and I would sit outside our family camp on Taylor Pond in Maine and shell cranberry beans as the late summer sun dried our bathing suits. Grandpa would grab a gallon of Oakhurst milk, and soon after we'd have sweet corn, shell bean soup and grilled fish for supper.
The soup was quick and simple, but I vividly remember the taste of the peppery, creamy mix 20 years after that summer house changed hands. I realize now the secret was the beans.
Beans are a marvel. They come in all colors and sizes and are high in protein, low in fat, and rich in fiber, folic acid and iron. Beans are most commonly used in the dried or canned form found on grocery shelves. The dried beans must be soaked to spring back to life, and the canned beans rinsed to wash away excess sodium. In late summer/early fall and in spring, though, you can buy legumes at markets across the U.S. while they are still nestled in their protective shells.
Don't be put off by the ugly outward appearance of some shell beans. They're different from their green bean cousins because the seeds are removed from the shells before eating. While fava and lima beans are harvested in the springtime, legumes such as cranberry beans, cannellini beans, purple or scarlet runners and cowpeas -- which are known by many names, but all sport bumpy seedpods -- are inexpensive and ready to star in soups, dips and main dishes in the later summer and fall. Many of them cook the same and are interchangeable in recipes.
About The Author
Jessica Strelitz is a fiercely proud Maine native living in Arlington, Va. A food and spirits freelance writer and news geek, she is obsessed with Virginia wines, where to find the best dumpling, and spreading the gospel of New England lobster across the world. Find updates on her food work and other favorite things on Twitter.
Shelling beans is a communal act because you'll go through several pounds. One pound of unshelled beans yields about two cups of shelled beans, and they aren't all perfect. Some pods are overly dry or have cracked open to reveal hard, shriveled beans, while others are spotted with mildew and need to be discarded. A family or group of friends can fill a bowl with several cups of color-splashed beans in less than 20 minutes, and the compost pile will happily receive the husks left behind. You can twist the pods to pop out the beans, or split them open and run your finger down the back to free them from the shells. A bit of membrane may come with them, but that can easily be wiped away. If you buy beans and don't want to cook them right away, you should still shell them within a day and freeze them for later.
With canned and dried beans easily available, why bother? Flavor, for one thing. Fresh beans have a nuttier, herbier taste that is amplified when they are cooked with sage, thyme and other aromatics, and have a firmer bite than dried or canned options. Visually, fresh legumes come striped, spotted and splashed with color, often with different patterns and hues in the same pod, though that changes during cooking. Beans are often prettier just out of the shell than after cooking.
When I went to re-create Grandpa's shell bean soup, I kept wondering what else he added that made the dish so satisfying. So I called him in Florida, where he now lives year-round, and asked him to confirm the ingredients.
"Toad," he bellowed -- all grandchildren are toads -- "it's shell beans, milk and salt and pepper."
"No butter? No onions? Nothing green?"
"Nope."
"What about bacon?" I ventured.
He paused. "Well, it wouldn't hurt. But as it is, if you eat enough of it, you'll be fat in a hurry."
After the call, I knew. The beans are the magic. Shelled alongside people you love, often grown in your town or your yard, fresh and firm beans are a good way to say goodbye to summer.
Related NPR Stories
Shell Bean Soup
For my lactose-intolerant brethren, this requires at least twice the normal medication for a small but satisfying serving. Whole milk is preferable, and the bacon and green stuff are optional but add richness. Serve with whole-grain bread, salted tomatoes and fresh corn for a light supper.
Makes 6 appetizer servings
4 strips bacon, diced (optional)
1 scallion, diced (optional)
4 cups milk (2 percent is fine)
1 1/2 cups fresh shell beans, any kind
Salt and pepper to taste
If using bacon, fry with most of the onion in medium pot. Set aside and drain. If you don't use bacon but do use onion, cook the onion in a little butter until soft and set aside. Add milk to the same pot and simmer fresh beans for 20 to 30 minutes, being careful not to boil the milk. If it does boil, skim the milk skin from the top and discard.
After 20 minutes, check beans to see if they are cooked. They shouldn't be mushy, but give a little when you bite into them. Add the bacon and onions if you are including them. Liberally salt and pepper. Serve hot with remainder of uncooked onion for garnish.
Pasta E Fagioli With Sausage
There are countless ways to make this cheap, traditional Italian dish, using any kind of bean or pasta. I added chicken-and-apple sausage to bring additional sweetness to the dish, but you can leave it out for a great meatless meal. You can also increase the amount of broth to make it soupier. Choose small pasta so it doesn't overwhelm the beans. I used piccolini, which is mini fusilli.
Makes 4 to 6 servings
2 cups fresh shell beans (canned cannellini, rinsed, are a good substitute)
5 cups water
6 to 8 stems fresh thyme
4 cloves garlic, smashed and roughly chopped
Salt and freshly ground pepper, to taste
2 leaves fresh sage, minced
1/3 cup extra-virgin olive oil
4 medium chicken-apple sausages, or any mild sausage, cut into small pieces
4 fresh Roma tomatoes, seeded and diced, liquid drained
1 pound small pasta, such as shells or corkscrews
1/2 tablespoon balsamic vinegar
Simmer the shell beans in a large pot for 40 minutes with the water, thyme, half the garlic and freshly ground pepper. Check to see if the beans are tender, and if not, cook for up to but not beyond an additional 10 minutes. Add salt to taste.
Cook remaining garlic and sage in olive oil on low for 1 minute in a large skillet. Add sliced sausage, tomatoes and 1/2 cup of the bean liquid, which shouldn't be removed from the bean pot before at least 30 minutes of cooking. Simmer the sausage and tomato mix covered for 15 minutes.
Drain beans and reserve 1 cup of the liquid, removing thyme stems. Add beans to sausage and tomato mixture and simmer 10 minutes.
Cook pasta and drain. This can be done during the bean simmering stage. Add to bean mixture and add additional bean broth, if a souplike consistency is desired. Toss with olive oil, salt, pepper and vinegar and garnish with additional thyme sprigs.
Sage-Cilantro Bean Dip
You could serve this dip as party hors d'oeuvres on top of toasted bread rounds, hearty crackers or thick cucumber slices. It is also good with a flank or rib-eye steak and a green salad for a complete meal.
Makes 2 cups
2 cups any type of fresh shell beans
2 teaspoons chopped fresh sage, plus 1 whole leaf
2 sprigs thyme
2 teaspoons chopped fresh cilantro
1/4 cup extra virgin olive oil
2 tablespoons minced green onion
1 clove garlic, minced
Juice of 1 medium lemon
Salt and black pepper, to taste
1/2 tablespoon balsamic vinegar
Cook beans in saucepan with enough water to cover plus about 1/2 inch. Add whole sage leaf and 2 thyme sprigs and bring to a boil, covered. Reduce heat and simmer uncovered for 30 to 40 minutes or until beans are tender.
Drain the beans, reserving the cooking water. Remove whole herbs.
Coarsely mash drained beans with olive oil and 1/4 cup of reserved water with fork or potato masher. Add chopped sage, cilantro, green onion and garlic and mash until combined. Add lemon juice. Season to taste with salt and pepper.
Spread on crusty baguette, cut into small rounds, rubbed with oil and toasted. Top with vinegar.
Crowder Peas With Cornbread
When I bought crowder peas, also in the shell bean family, from the farmers market near my house in Virginia, the girl who sold them to me said she hated having to deal with them -- even on New Year's (they are very similar to black-eyed peas). When I told her that I was going to spice them up with chili and jalapeno-laced hot pepper jelly, she relented. It's all about the preparation. The salty, cold tomatoes pair well with the creamy, spiced beans and sweet, warm cornbread. Pepper jelly is available at most grocerie stores and farm stands. You could also serve this over rice.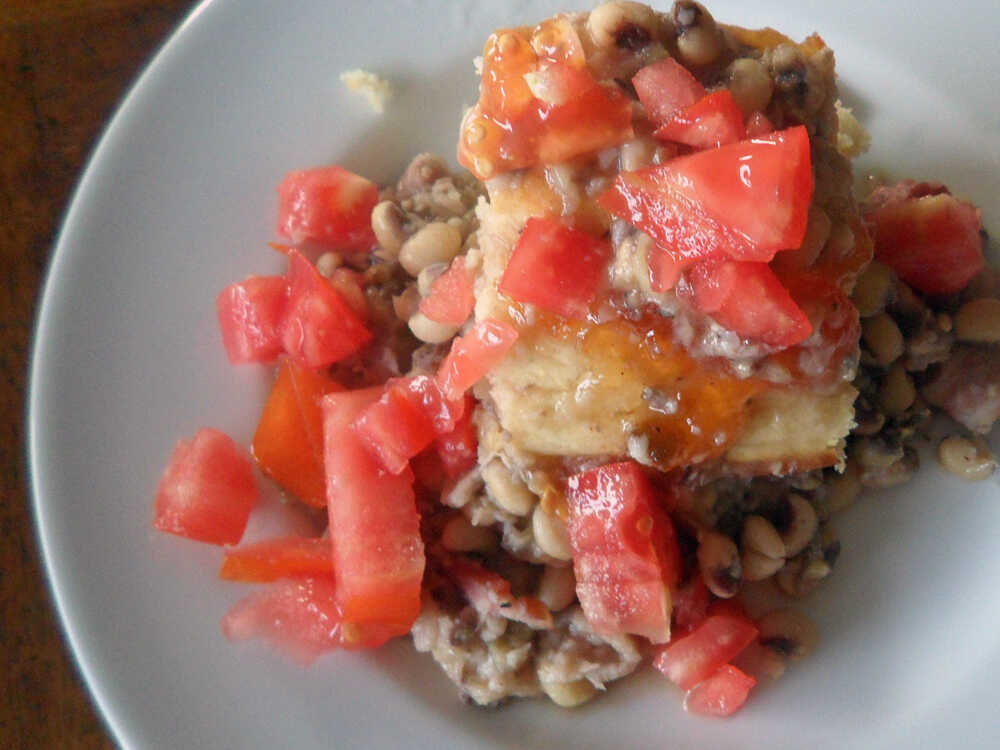 Serves 4 to 6 as a side dish
For The Peas
2 cup fresh crowder peas (also called cowpeas)
2 slices smoked bacon
1 teaspoon chili powder
Salt and pepper, to taste
3 fresh Roma tomatoes, skinned, seeded and diced
Lightly boil shelled peas in large pot in enough water to just cover them for 10 minutes, covered.
Cook bacon until crisp. Drain off grease and set aside for cornbread.
Add bacon, chili powder, salt and pepper to beans and bring back to boil, uncovered, for 10 minutes.
Uncover peas. Mash lightly while still in the pot using a fork or potato masher. Season with additional salt and pepper to taste.
Separately, season the diced tomatoes with salt and set aside.
For The Cornbread
1 1/2 cups all-purpose flour
3/4 cup cornmeal
1/4 cup white sugar
2 teaspoons baking powder
1/2 teaspoon salt
1 cup whole milk
1/4 cup vegetable oil
1 large egg
Bacon grease from pea preparation (optional)
Hot pepper jelly
Preheat oven to 400 degrees.
Grease 8-inch square baking pan with cooking spray or butter.
Combine dry ingredients in medium-sized bowl. Add milk, oil, egg and bacon grease (if using) until mixed through without lumps. Pour into the pan and bake for 25 minutes or until golden brown.
Top cornbread with hot pepper jelly.
To assemble each serving, place a slice of the cornbread with jelly atop a mound of the pea mixture and top with the cold salted tomatoes. Or, if you prefer, pour the beans and diced tomatoes on top of the cornbread.