Jaymay: A Short And Sweet Story
'Long Walk to Never' by Jaymay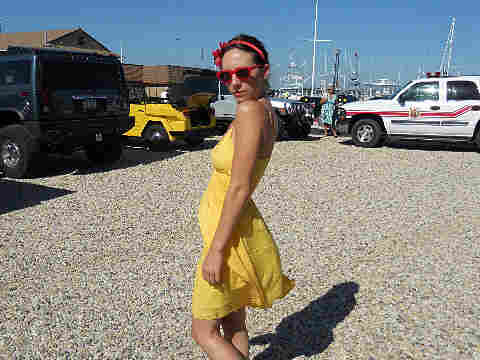 Monday's Pick
Song: "Long Walk To Never"
Artist: Jaymay
CD: Long Walk To Never
Genre: Folk-Pop
It wasn't Jamie Seerman's intention to pursue a career in music, but thanks to a warm reception at a Manhattan open mic seven years ago, she wisely turned her attention toward songwriting. Jaymay, as she's better known, quickly became a fixture on the New York anti-folk scene; she moved to London following a deal with U.K.-based Heavenly Records, which released her 2007 full-length debut, Autumn Fallin'. The album was stacked with lovable songs — simple, charming, acoustic-guitar-backed tunes about lovers and longing for home.
It's now been three years since Jaymay released a full album, but the singer-songwriter hasn't left fans empty-handed. In August, she teased fans with 1 & !, released by her own Jaymay Music label. It clocks in at just short of three minutes and contains three songs. Not to leave listeners wanting, she also released a five-song EP, Long Walk to Never, earlier this month.
The title track sounds like classic Jaymay, with layered vocals and endearing references to London and New York. At less than two minutes, it's a bit of a tease, but that's part of Jaymay's allure. The title "Long Walk to Never" references a short story called "Long Walk to Forever" by Kurt Vonnegut — no surprise from the bookish songwriter. She sings of Vonnegut's two love-struck characters: "Now, if only I was Catharine and you, my love, were Newt / we'd be sitting in the orchard with an apple and a flute and a ring dangling." Unlike Vonnegut's couple, the one in Jaymay's "Long Way to Never" avoids a happy ending. But with the song's brisk tempo and joyful instrumentation, it's hard to tell.
Purchase Featured Music
Web Resources