Ariel Pink's Haunted Graffiti On World Cafe
Ariel Pink's Haunted Graffiti On World Cafe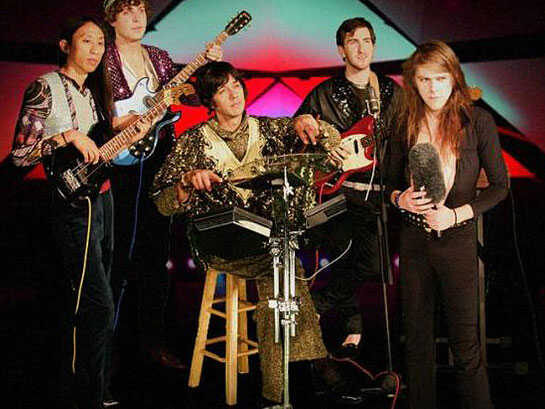 Set List
"Every Night I Die At Miyagi's"
"Bright Lit Blue Skies"
Ariel Rosenberg (stage name Ariel Pink) isn't picky when it comes to his influences -- Michael Jackson, Fleetwood Mac, Steely Dan, and Gothic rock acts such as Christian Death and Bauhaus have all found their way into his hard-to-describe recordings. Starting in 2000, Ariel Pink began to make a name for himself as a pop-surrealist, eccentric and worthy of a cult following. He had something of a lucky break in 2003 when he was introduced to Brooklyn-based Animal Collective, handed them a demo, and was quickly signed as the first artist on their new label, Paw Tracks. Pink slowly cultivated his reputation with reissues on the label, his "Haunted Graffiti" series, and live performances with the Haunted Graffiti band.
Pink's first studio album, Before Today, came out in June, and could be called his mainstream debut. It's already being called a break-out album, not just because it's Pink's biggest venture in hi-fi or his first album with a band. Critics and fans alike are praising it for its nostalgic twists and turns, its mix of genres, and the utter sincerity that comes through the blend. Perhaps reviewer Anthony Carew described Before Today best: "The result, as Ariel Pink's best album yet, takes Rosenberg's many already-familiar quirks and nails them in song form."
Related NPR Stories