Tonight's TV: Duets On 'Glee' And Another Rough Week For 'The Good Wife'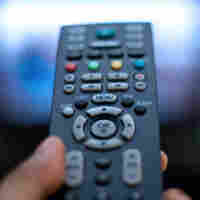 Glee (8:00 p.m., Fox) focuses on duets, and there will hopefully be nothing tonight quite so painful as "Endless Love" was.
I didn't much take to the pilot of ABC's No Ordinary Family (starring Michael Chiklis as the head of a family transformed into superheroes), but tonight's episode apparently sends Jim (Chiklis) and his friend George -- played by the fantastic Romany Malco -- on a caper to recover a ring, and a caper with Romany Malco might get me to tune in.
Someone will be booted from Dancing With The Stars (9:00 p.m., ABC) tonight, and it might be you! (Okay, it won't be you.)
Fox's struggling Running Wilde (9:30 p.m.) features an appearance by Andy Richter. Unfortunately, the way things are going for this show, if you want to give it a try, now's the time -- the ratings are, at the moment, grim.
Things never calm down for The Good Wife (10:00 p.m., CBS) -- this week, Alicia's brother makes "questionable remarks" that "go viral."
If you enjoyed our recent Pop Culture Happy Hour discussions about how the Food Network show The Great Food Truck Race is all about parking, you'll be extra excited about the fourth-season premiere of the A&E show Parking Wars (10:30 p.m.), which is literally all about parking.