From Dinaw Mengestu, A 'How To' With Few Answers
From Dinaw Mengestu, A 'How To' With Few Answers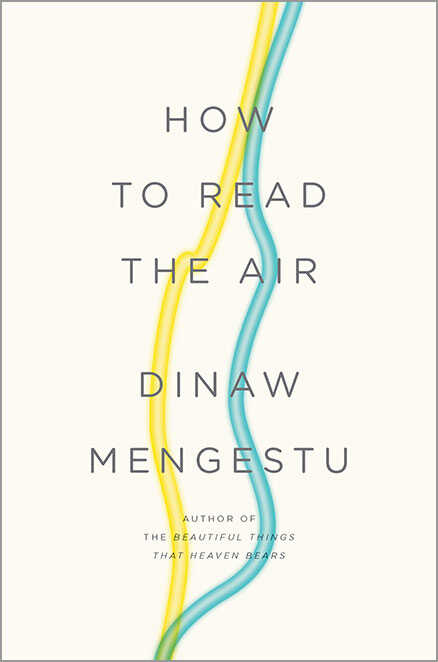 How to Read the Air
By Dinaw Mengestu
Hardcover, 320 pages
Riverhead Hardcover
List Price: $25.95
In his 1988 memoir called, simply, A Life, the controversial director Elia Kazan told a World War II story I've always wanted to believe is true. Kazan wrote that he was present in 1945 on the Pacific island of Biak when his newly released film A Tree Grows in Brooklyn was shown to a battle-scarred audience of American soldiers and nurses. The movie was projected on an outdoor screen in the rain at night, and the audience was rapt despite planes circling overhead and the other noises of war. In the middle of the movie, the film reel broke and Kazan recalled that "a great groan" of disappointment erupted from the audience before the film was fixed and the show continued.
The next morning, rumor went around the base that some Japanese soldiers still at large on the island had climbed to the top of a nearby hill and also had watched the movie. I guess they groaned, too, when the film broke. After all, everybody loves a good tear-jerker about immigrants and promises just out of reach.
Of course they don't make 'em like that anymore. The stories and memoirs written by newer waves of immigrants to America -- writers like Julia Alvarez, Junot Diaz and Gish Jen -- commute back and forth between the old world and the new. And the immigrant "community," unlike the one that populated Kazan's lively Brooklyn streets, is much less sentimentalized and more fragmented and mobile.
Add to this canon of ambivalent new chroniclers of the dream of America Dinaw Mengestu, who was born in Ethiopia, immigrated to the United States as a child, and was educated at Georgetown University (where, somehow, he managed to avoid taking any of my courses). I don't know him, but I do know some of his work. Mengestu has just published his second novel, How to Read the Air; it's a sad stunner of a meditation on the illusory idea of asylum.
Author Interview
Mengestu's main character, Jonas Woldemariam, is not even at home in his own skin, let alone in his adopted home of New York City. A first-generation American, Jonas grew up in the Midwest, the only child of Ethiopian refugees who barely spoke to each other during the decades of their troubled marriage. "What we were was something closer to a jazz trio than a family," Jonas says, "a performance group that got together every now and then to play a few familiar notes before dispersing back to their real, private lives."
Jonas has earned a hard-knocks advanced degree in alienation: He works, first, at an immigrant aid society; later he gets a job teaching composition at a snooty prep school in Manhattan. The hasty marriage that Jonas has embarked on with a lawyer at the aid society is falling apart. As it does, Jonas keeps thinking back on his family legacy of rootlessness: his parents' transplanted lives in Peoria, Ill., and, before that, his father's rough exodus from Ethiopia to Europe, sealed in a box smuggled aboard a cargo ship. The narrative jumps around restlessly among all these time periods, but the description Jonas relates secondhand of his father's odyssey is especially evocative:
In Italy [my father] was given asylum and set free. ... He met dozens ... of men along the way, men who promised him that when they made it to London, the rest of their lives would finally resolve into the picture they imagined. "It's different there," they always said. ...  For most that [place of difference] was London; for a few it was Paris; and for a smaller but bolder few, America. That faith had carried them thus far, and even though it was weakening, and needed constant readjustment ("Rome is not what I thought it would be. France will surely be better."), it persisted out of sheer necessity. By the time my father finally made it to London ... he had begun to think of all the men he met as being ... crippled and deformed by their dreams.
At the three-hankie end of A Tree Grows in Brooklyn, Francie Nolan and her kid brother look out from their tenement rooftop to the skyline of Manhattan: They're certain that a bright American future is theirs, just over the bridge. In Mengestu's beautifully written and wearier update of the coming-to-America story, refugees and their offspring cross a lot of bridges, but none of them ever find the clean well-lighted place of their dreams. It seems that the wanderers in this novel are destined to be a country unto themselves.
How to Read the Air
Hardcover, 305 pages |
purchase
Buy Featured Book
Title

How to Read the Air

Author

Dinaw Mengestu
Your purchase helps support NPR programming. How?
Excerpt: 'How To Read the Air'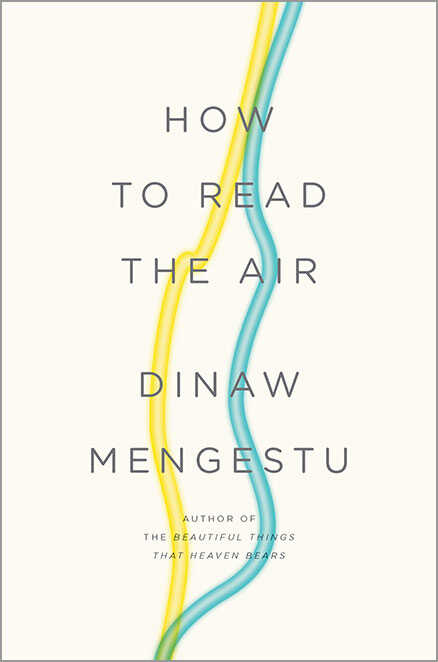 How to Read the Air
By Dinaw Mengestu
Hardcover, 320 pages
Riverhead Hardcover
List Price: $25.95
Part I


It was four hundred eighty-four miles from my parents' home in Peoria, Illinois, to Nashville, Tennessee, a distance that in a seven-year-old red Monte Carlo driving at roughly sixty miles an hour could be crossed in eight to twelve hours, depending on certain variables such as the number of road signs offering side excursions to historical landmarks, and how often my mother, Mariam, would have to go to the bathroom. They called the trip a vacation, but only because neither of them was comfortable with the word "honeymoon," which in its marrying of two completely separate words, each of which they understood on its own, seemed to imply when joined together a lavishness that neither was prepared to accept. They were not newlyweds, but their three years apart had made them strangers. They spoke to each other in whispers, half in Amharic, half in English, as if any one word uttered too loudly could reveal to both of them that, in fact, they had never understood each other; they had never really known who the other person was at all.
Learning a new language was, in the end, not so different from learning to fall in love with your husband again, Mariam thought. While standing in front of the bathroom mirror early in the morning, she often told herself, in what she thought of as nearly flawless diction, "Men can be strange. Wives are different." It was an expression she had heard from one of the women at the Baptist church that she and her husband had begun attending. A group of women were standing in the parking lot after the sermon was over, and one of them had turned to Mariam and said, "Men can be so strange. Wives are just different."
At the time she had simply repeated the words back, almost verbatim, "Yes. That is true. Men can be strange," because that was the only way that she could be certain that what she said was understood by everyone. What she would have liked to say was far more complicated and involved a list of sizable differences that by any other standards would have been considered irreconcilable. Regardless, since arriving in America six months earlier, she had pushed herself to learn new things about her husband, like why, for example, he spoke to himself when no one seemed to be looking, and why some days, after coming home from work, he would sit parked in the driveway for an extra ten or twenty minutes while she watched him from behind the living room curtains. On some nights he would wake up and leave the bedroom, careful not to rouse her but always failing because most nights Mariam hardly slept at all. He would lie down on the couch in the living room naked, and from the bedroom she would eventually hear him let out a small whimper followed by a grunt, and he would return to bed and sleep soundly until the morning. My mother learned these things and filed them into a corner of her brain that she thought of as being specifically reserved for facts about her husband. And in just the same way, she pushed herself to try new words and form new sentences in English, because just as there was a space reserved for her husband, there was another for English, and another one for foreign foods, and another for the names of streets near her house. She learned to say, "It was a pleasure to meet you." And she learned individual words, like "scattered" and "diligent" and "sarcastic." She learned the past tense. For example, I was tired yesterday, instead of: I am tired yesterday, or Yesterday tired I am. She learned that Russell Street led to Garfield Street, which would then take you to Main Street, which you could follow to I-74, which could take you east or west to anywhere you wanted to go. Eventually they would all make sense. Verbs would be placed in the right order, sarcasm would be funny, the town would be familiar: past, present, future, and husband, they could all be under stood if given enough patience.
At this point in their marriage they had spent more time apart than together. She added up the days by rounding up some months, rounding down a few others. For every one day they had spent together, 3.18 had been spent apart. To her, this meant a debt had to be repaid, although who owed the other what remained unclear. Is it the one who gets left behind who suffers more, or is it the one who's sent out alone into the world to forage and create a new life? She had always hated numbers, but since most of the English she heard still escaped her, she now took comfort in them and searched for things to add. At the grocery store she calculated the cost of everything she brought to the register before she got there: a can of peas, seventy-eight cents; a package of salt, forty-nine cents; a bag of onions, forty cents. The smiling faces behind the register always offered a few words out loud before saying the total. All of them were lost on her, but what difference did it make if she didn't know how to take a compliment, banter, or understand what the phrase "two-for-one" meant. She knew the number at the end, and that number, because it didn't need translation, was power, and the fact that she knew it as she went up to the register filled her with a sense of accomplishment and pride unlike anything she had known since coming here. It made her feel, in its own quiet fleeting way, as if she were a woman to be reckoned with, a woman whom others would someday come to envy.
She never knew what her husband had gone through in the three years they had been apart, nor had she ever really tried to imagine. Say America enough times, try to picture it enough times, and you end up with a few skyscrapers stuck in the middle of a cornfield with thousands of cars driving around. The one picture she had received during those three years was of him sitting in the driver's seat of a large car, the door open, his body half in the car, half out. He kept one arm on the steering wheel, the other balanced on his leg. He looked handsome and dignified, his mustache neatly trimmed, his thick curly hair sculpted into a perfect ball that highlighted the almost uncanny resemblance his head had to the globe that her father kept perched on top of his chest of drawers.
When she first saw the picture she didn't believe the car was his. She thought he had found it parked on the side of the road and had seized the opportunity to show himself off, which was indeed almost exactly what he had done. Still, that didn't stop her from showing the picture to her mother, sisters, and girlfriends, or from writing on the back, in English: Yosef Car. She expected other pictures would eventually follow: pictures of him standing in front of a large house with a yard; pictures of him in a suit with a briefcase in hand; and then later, as the days, weeks, and months collided, and two years was quickly approaching three, she began to wait for pictures of him with his arm around another woman, with two young children at his side. She had secretly feared the latter would happen from the day he first left, because who had ever heard of a man waiting for his wife? The world didn't work that way. Men came into your life and stayed only as long as you could convince them to. She even named the children for him: the boy Adam and the girl Sarah, names that she would never have chosen for her own children because they were common and typical, and Mariam's children, when they came, were going to be extraordinary.
When no such pictures arrived, she wanted to write him and tell him to show her a picture of him in the middle of something, a square, a city park, a picture in which he played just one, minor role.
"Show me a picture of you doing something," she had wanted to write, but that wasn't it exactly. What she wanted was to see him somehow fully alive in a picture, breathing, walking, laughing, living his life without her.
On the morning they left for Nashville, my mother packed a small suitcase with two weeks' worth of underwear, three heavy wool sweaters she had bought at a garage sale for two dollars apiece, and pants and shirts suitable for summer, fall, and winter, even though it was the first week of September and so far the days had been nothing but mild, sunny, and occasionally even too warm for the thin cotton tank tops she had seen other women wearing as they walked casually through the aisles of the grocery store, through shopping malls, and down the deserted Main Street. Those women were neither slim nor graceful. They were plain, pale, and average, and to her eyes entirely indistinguishable one from another, which was precisely what she resented and envied the most. The trip was supposed to last from start to finish four nights and five days, but as she stuffed her suitcase to its limits, she decided it was best to always be prepared for the unexpected, for the broken-down car, for the potential wrong turn, for the long walk at night that for one reason or another never ended. She had packed up her entire life once before, and now six months later, if she had learned anything at all about herself, it was that she could do with far less. She could, if she wanted, get away with almost nothing.
Her husband, Yosef, was already waiting for her outside in the red Monte Carlo he had scraped and saved for more than a year to buy and now could hardly afford. It was not the same car as the one in the photo. She couldn't have said how or why, but it was less elegant, smaller perhaps, and even though the picture had been black and white, she thought of the Monte Carlo he was waiting in as being a shabbier shade of red than the one she imagined.
The car horn honked twice for her: two short high-pitched bleeps that could have gone unnoticed but did not because she half expected, half prayed for them. When they came she pictured a bird -- a dove, or something dovelike -- being set free, its rapidly fluttering wings disturbing the air. Had she known more words in English she would have said the sound of the horn pierced through the silence, pierced being the operative word here, with its suggestion that something violent had occurred.
If he honks one more time, my mother said to herself, I will refuse to go. It was a matter of principle and conviction, or at least something that so closely resembled the two that even if it was merely pride or rage in disguise, she was willing to fight and tear down the house to stand by it. She had, after all, waited for him for years -- a virtual widow but without the corpse and sympathy. If she was owed anything now it was time. Time to pack her clothes, fix the straps of her dress, and take account of everything she might have missed and would perhaps potentially later need.
If he honks again, she told herself, I will unpack my suitcase, lock the bedroom door, and wait until he leaves without me.
This was the way most if not all of my parents' fights began. With a minor, almost invisible transgression that each seized upon, as if they were fighting not about being rushed or about too many lights having been left on, but for their very right to exist, to live and breathe God's clean air. As a child I learned quickly that a fight was never far off or long in the making, and imagined it sometimes as a real physical presence lurking in the shadows of whatever space my parents happened to occupy at that given moment -- a grocery store, a car, a restaurant. I pictured the fight sitting down with us on the couch in front of the television, a solemn black figure in executioner's robes, a caricature of death and tragedy clearly stolen from books and movies but no less real as a result. Ghosts are common to the life of any child: mine just happened to come to dinner more often than most.
The last fight they had had before that morning left my mother with a deep black and purple bruise on her right arm, just below her shoulder. The bruise had a rotting plum color and that was how she thought of it, as a rotten plum, one pressed so fast and hard into her skin that it had broken through the surface and flattened itself out underneath. She found it almost beautiful. That the body could turn so many different shades amazed her, made her believe that there was more lurking under the surface of our skin than a mess of blood and tissue.
She waited with one hand on top of the suitcase for the car to honk again. She tried not to think it, but it came to her nonetheless, a selfish, almost impregnable desire to hear even the accidental bleating of a car horn crying out.
Just once more, she thought. Honk just once more.
She held her breath. She closed the lid of the suitcase in complete silence. With her hand pressing down on the top, she zipped it halfway shut. A tiny stitch of blue fabric from a pair of padded hospital socks picked up two weeks earlier peeked out over the edge. She pressed the sock back in with one finger, granted the zipper its closure, and with that, acknowledged that on this occasion her husband had won. He had held out long enough for her to complete the one minor task that stood between her and leaving, and despite her best efforts, that was how she saw it, as a victory won and a loss delivered. She was going. Even if he pressed on the horn now with all his might she would have to go, would have to walk down the stairs and apologize for having taken so long, because he had pressed her just far enough without going too far. Sometimes she suspected that he knew the invisible lines she was constantly drawing. There were dozens of such lines spread out all over their one-bedroom apartment like tripwire that, once crossed, signaled the start of yet another battle. There was the line around how many dishes could be left in the sink, another around shoes worn in the house, and others that had to do with looks and touches, with the way he entered a room, took off his clothes, or kissed her on the cheek. Once, after an especially rough night of sleep, she felt her husband's breath on the back of her neck. It was warm and came in the steady consistent bursts of a man soundly asleep. She didn't know which one she really hated -- the breaths or the man breathing. In the end, she created a wall of pillows behind her, one she would deny having made the next morning.
The four large oak trees that lined the driveway were the last of their kind. The largest and oldest of the group stood just a few feet away from the two-story duplex that my mother and father shared with a frail, hunchbacked older woman with milky-blue eyes who hissed under her breath every time she passed my mother on her way in or out of the house. The oak trees cooled the living room in the summer, allowing the afternoon light to filter through seemingly oversized leaves that Mariam thought of as deliberately keeping the worst parts of the light out, leaving only the softer, quieter shades. Now that it was September and supposedly the harshest of the summer heat had passed, she noticed as she prepared to leave the apartment that the leaves nearest the tops of the trees had begun to turn; a small pile of dead ones had already grown around their bases. So this was fall. A woman at the Baptist church had told her just a few weeks earlier, "Oh, just wait until fall. You'll see. You'll love it." Her name was Agnes and she wore a curly black wig to hide the bald patches in the center of her head. A-G-N-E-S, Mariam wrote on the back of a church pamphlet that went on in great detail about the agony of Christ, which prompted her to write, after their first meeting, A-G-O-N-Y, on the back of the pamphlet, and next to that, Agnes is in agony, which was a simple sentence, with a subject and verb, which formed a declarative statement that Mariam decided was more likely than not absolutely true.
At the time my mother had thought to herself, I could never love anything called "fall." There was fall and Fall. To fall was to sink, to drop. When my mother was nine, her grandfather came out of his bedroom at the back of the house wearing only a robe with the strings untied. He was deaf and half blind and had been for as long as Mariam could remember. He walked into the middle of the living room, and having reached the center, where he was surrounded on all sides by his family, fell, not to his knees, but straight forward, like a tree that had been felled, the side of his head splitting open on the edge of the fireplace mantel, spraying the wall and couch with blood. That was one way to fall.
One could also fall down a flight of stairs, as in, your husband falls down the stairs while leaving for work one morning. She had this thought at least once, sometimes as many as three times a week. She pictured him tripping, stumbling, feet over head, just like the characters in the cartoons she had grown addicted to watching between the hours of one p.m. and four p.m. In those shows the characters all shook the fall off after a few seconds, bending an arm back into place here, twisting an ankle there. The cartoons made her laugh, and when she thought of her husband falling down the steps, his tall, narrow body perfectly suited to roll uninterrupted down the shag-carpeted stairwell, stopping perhaps briefly at the one minor bend that led to the final descent, it was only partly with those cartoon images in mind. When real bodies fell, as Mariam knew well enough, they did not get up. They did not bounce back or spring into shape. They crumpled and needed to be rescued.
Despite my mother's best efforts to resist fall, she found herself taken by the season more and more each day. The sun set earlier, and soon she learned, an entire hour would be shaved off the day, an act that she sometimes wished could be repeated over and over until the day was nothing more than a thumbnail sketch of its former self. The nights were growing marginally but noticeably cooler. Leaves were changing, and children who over the course of the summer had ruled the neighborhood like tyrants were once again neatly arranged in groups of twos and threes each morning, beaten (or so Mariam thought) into submission by the changing rules of the season. There was enough room in the shrinking day to believe that the world was somehow sensitive to grief and longing, and responded to it the same way she did when she felt convinced that time had been arranged incorrectly, making the loss of one extra minute nearly every day a welcome relief.
My mother could never have said she loved fall, but as she walked down the steps with her suitcase in hand toward the red Monte Carlo her husband had been waiting in for nearly an hour, she could have said that she respected its place as a mediator between two extremes. Fall came and went, while winter was endured and summer was revered. Fall was the repose that made both possible and bearable, and now here she was with her husband next to her, heading headlong into an early-fall afternoon with only the vaguest ideas of who they were becoming and what came next.
Excerpted from How to Read the Air by Dinaw Mengestu. Copyright 2010 by Dinaw Mengestu. Reprinted by arrangement with Riverhead Books a division of Penguin Group (USA).