Great Pitching Lifts Giants To World Series Win
San Francisco's 3-1 win over the Texas Rangers on Monday night earned the Giants franchise its first World Series victory in 56 years. Few expected them to make it to the playoffs — let alone the World Series. But great pitching got them there — and put them over the top.
The 1950s had girdles, Ted Mack's Amateur Hour and, in New York, world-champion Giants. Today, there's Spanx, American Idol and the San Francisco Giants. And finally, the same title can be applied to the franchise: world champions.
It was all resting on the narrow shoulders of San Francisco's two-time Cy Young Award-winning pitcher Tim Lincecum. In a celebratory post-game locker room, Giants catcher Buster Posey described his battery mate's attitude before the game.
"It's called being a gamer — walking in the clubhouse today, and the guy's just loose as can be, joking around, just same old Timmy. You would have no idea that he's got an opportunity to go out and win Game 5 of the World Series and win us a World Series championship," Posey said.
Looseness in the clubhouse translated to an array of pitches let loose on the Rangers.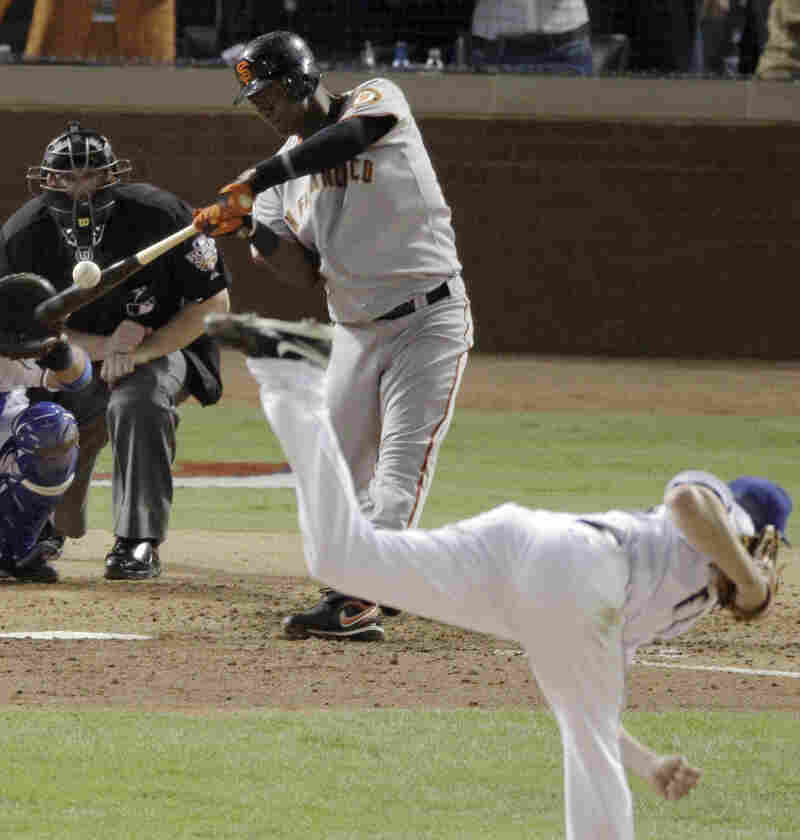 Lincecum has three really good pitches in the strike zone, four tempting ones out of the zone and enough hard stuff to keep a hitter honest. This despite a frame hyperbolically listed as 5 feet 11 inches — or, as Rangers leadoff hitter Elvis Andrus contends, because of his slight stature.
"He's so little and you can't really see the pitches sometimes," Andrus said. "And when he gets that confidence going on like tonight, that makes him pretty hard."
Lincecum's stuff was as confusing as calculus, an improvement on a mediocre Game 1 performance. His opposite number, Cliff Lee, had come into the World Series as statistically the least hittable post-season pitcher ever. His Game 1 start was rough, but he was making amends Monday night in Game 5. Neither team had scored through six, but the Giants had a runner in scoring position in the seventh when Edgar Renteria stepped up to bat.
"Renteria got himself in a 2-0 count, and got a pitch up," Lee said in the clubhouse after the game. Asked whether it was a cutter he'd thrown, Lee said it was.
Renteria added one detail about that cutter: He said he "got lucky" when Lee threw the ball inside — and it didn't cut.
The result was Renteria's three-run homer.
One bad pitch from Lee. One opportunity seized by Renteria. The Rangers added a Nelson Cruz homer in the seventh, but Lincecum's one bad pitch came with no men on. The final score was Giants 3, Rangers 1.
Afterward, Lincecum was sure to nod to history, even history that didn't go as far back as Candlestick Park, Seals Stadium or the Polo Grounds.
"A lot of guys in there have been praying for this day," he said. "They came up short back there in the early 2000s, and we had a motivation. Knowing that we haven't done it in a long time really made us want to nail it down here."
The Giants closer, fur-faced fireballer Brian Wilson, who pitched a perfect ninth, chose to live a little more in the moment: "I feel awesome," he said. "I feel like I want to chug champagne right now and get a little weird."
Get weird? The Giants, who made the playoffs on the last day of the regular season? Whose best offensive player was a castoff wannabe rodeo clown? Who relied on relievers who looked like a collection of woolly willies, and starters who appeared barely old enough to shave? Get weird?
The Giants — the San Francisco Giants — world champions. Pretty wonderfully weird, all told.