Delta Employees To Vote On Unionizing
In her 39 years at Delta Air Lines, flight attendant Candy Bruton has never been part of a union, and she's never been sorry.
"I don't see any reason to have to pay someone to negotiate for me and create an atmosphere that is us against them," she says says.
In fact, Bruton's employer is one of the few major airlines that, for the most part, has never been unionized. Of Delta's 75,000 worldwide employees, only pilots and flight dispatchers are organized.
But an election that concludes Tuesday night could change that.
Delta's 20,000 flight attendants will finish voting on whether to become part of the Association of Flight Attendants (AFA-CWA). Over the next few weeks, baggage workers, stock clerks, and gate and reservations agents will hold similar elections.
Wariness Toward Unions
Headquartered in Atlanta, Delta started out as a crop-dusting operation in the Deep South, and it has long had a kind of southern wariness toward unions. Efforts to organize its employees have repeatedly come up short.
But this year, Delta finalized its merger with Northwest, greatly changing the employee mix at the airline and setting off a kind of struggle for the soul of the airline.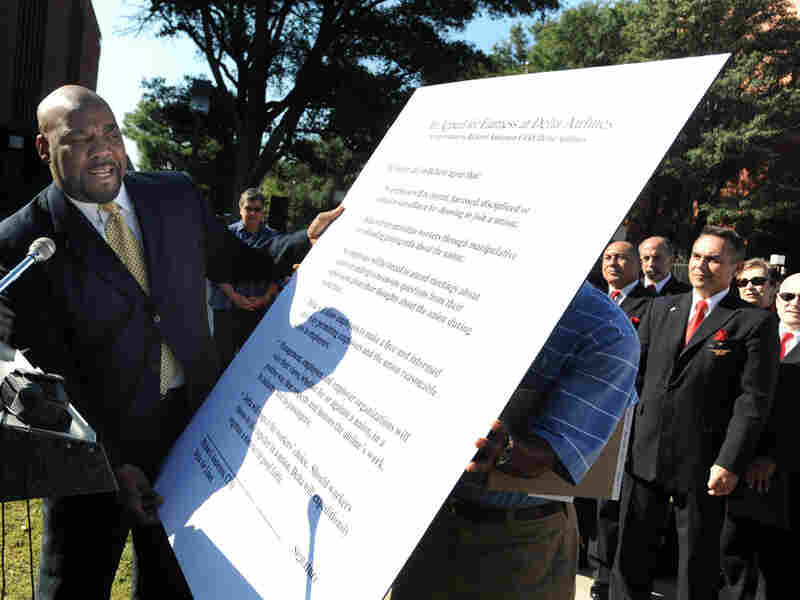 In contrast to Delta, Northwest has a long history of unionization, and relations between management and labor have often been strained, says David L. Gregory, a labor expert at St. John's University School of Law in New York.
"Their labor relations were very, very acrimonious, and so you have one of the most militant union blocs coming into one of the most culturally wary-of-union blocs," Gregory says.
A Game-Changing Regulation
Pro-union forces have one big factor on their side: This year, the National Mediation Board approved a regulation making it much easier for airline and railroad unions to organize, Gregory says.
Until this year, unions trying to organize had to win the votes of a majority of all workers, which could be difficult, because many workers never showed up to vote. But under the new rule, a union needs to win only a majority of those voting — a much lower hurdle — Gregory says.
Despite that, the airline has campaigned hard against unionization. Its opposition isn't about money, insists Delta spokeswoman Gina Laughlin. Instead, unions would threaten the friendly relations that have long existed between management and labor, she says.
"This is about an 80-year history and track record here at this airline of our leaders and our employees working directly together," Laughlin says. "We think that works best and we would hate to lose that for our people and for our company."
A Brutal Economy
The question is how many employees are inclined to give management the benefit of the doubt at a time when economic conditions have been brutal in the airline industry.
To Cecilene Clark, an Atlanta-based reservations agent, becoming part of a union would help provide some of the job security that has been lacking in the industry.
"We would all like to know that we're able to live, maintain and take care of our families," Clark says. "And I'd like to know that I'm guaranteed a job. No one wants to hurt the company. We all would like to know that we have a job to come to, so we can survive."
Correction
Nov. 2, 2010
A previous Web version of this story incorrectly said that Southwest Airlines is non-unionized. In fact, the airline is approximately 83 percent unionized.