Guest DJ Daniel Lanois
Daniel Lanois is one of the most gifted and sought-after producers around. His credits include some of the most acclaimed albums of the past 30 years, including Peter Gabriel's So, U2's The Joshua Tree and Bob Dylan's Time Out Of Mind. He's also an accomplished solo artist who has released more than a half-dozen collections of his own songs. His latest project is called Black Dub, a collaboration with bluesy soul singer Trixie Whitley. You can see Lanois and Whitley perform together as Black Dub in our Tiny Desk Concerts series.
This week on All Songs Considered, Lanois plays DJ and shares some of his favorite funky, guitar-laden tracks from Jimi Hendrix, Charles Wright, Sly and the Family Stone and more. Lanois talks about his earliest musical experiences growing up in Québec, as well as the music that informs his unique and distinct perspective on sound. He also explains a little bit about his process of constructing some of his recordings, including projects he crafted with Brian Eno and Neil Young.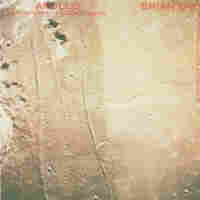 Charles Wright & the Watts 103rd Street Rhythm Band
Song: Express Yourself
from Express Yourself