Dialysis: An Experiment In Universal Health Care
Dialysis: An Experiment In Universal Health Care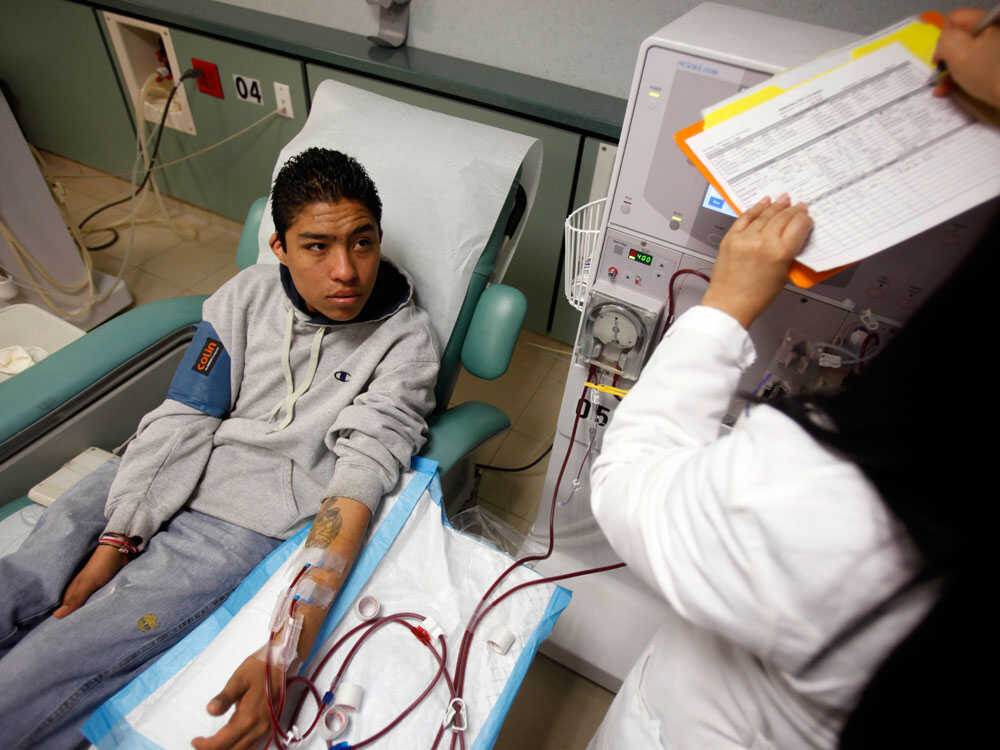 Every year, more than 100,000 Americans start dialysis treatment, a form of chronic care given to people with failing kidneys. And for many, the cost is completely free. Since 1972, when Congress granted comprehensive coverage under Medicare to any patient diagnosed with kidney failure, both dialysis and kidney transplants have been covered for all renal patients.
But a new joint investigation between The Atlantic and ProPublica found many problems with dialysis in the U.S.: The cost of treatment is among the world's highest, while the U.S. mortality rate for dialysis patients is one of the world's worst. One in four patients will die within 12 months of starting treatment.
Investigative reporter Robin Fields, who spent the past year reviewing thousands of documents and interviewing more than 100 patients, doctors, policymakers and experts, found systematic failures in the way dialysis centers are set up in the United States.
More by Robin Fields
"At clinics from coast to coast, patients commonly receive treatment in settings that are unsanitary and prone to perilous lapses in care," she writes in a piece that will be published in the December issue of The Atlantic. "Regulators have few tools and little will to enforce quality standards. Industry consolidation has left patients with fewer choices of provider. [And] the government withholds critical data about clinics' performance from patients, the very people who need it most."
A Growing Industry
The kidney dialysis industry, Fields tells Fresh Air's Terry Gross, is now "hugely larger than anyone could have imagined."
"There are far more patients. There are far more complicated patients. And the expense of this is wildly beyond the expectations of the architects of the program," she says.
More From Today's Fresh Air
The program that initially cost the taxpayers $135 million a year is now a multibillion-dollar industry. The two chains that dominate the dialysis industry, DaVita and Fresenius, make about $2 billion combined in operating costs per year, she explains. And the industry is expected to grow: Every year, the pool of patients increases by 3 percent.
"When the program started, the original estimates thought there could be perhaps 35,000 patients," she says. "Then as that became clear that that wasn't going to be true, they thought maybe 50,000 patients -- then 90,000. But what's really happened is the patient community has continued to grow because of conditions like diabetes and obesity becoming so much more common in the larger health care system."
Six percent of all Medicare money, Fields writes, goes toward treating people with kidney failure. But Medicare doesn't set staffing ratios for dialysis clinics. Fields explains that clinics are required to have a medically licensed physician, but the physician is not always present for all dialysis treatments. Some nurses and licensed technicians juggle far more patients than what standards recommend. And some clinics turn over three to four shifts of patients a day.
"What we found in examining inspection reports as broadly and deeply as we could is that many of the same patterns cropped up time and time again: unsafe and unsanitary conditions; prescription and medical errors; issues in infection control; issues that dealt with the amount of staffing, the training of staff and the supervision of staff," Fields says. "I should emphasize, this isn't all clinics. Some clinics do a great job. But what we found, not only looking at inspections but at interviewing people broadly, was that some clinics are operating in a way that seems to ratchet up risks and that reflected some of the frustrations voiced by patients and doctors and other practitioners alike about one-size-fits-all care that didn't really give patients the best of the medicine that's available or the best of the treatment options available."
Lars Klove via ProPublica
Transitioning To Private Care
Today more than 80 percent of the 5,000 dialysis centers operating in the United States are private, a major change from the mainly hospital-based care patients received in the 1970s and 1980s. Fields says the transition happened because the payment policies for dialysis treatment helped create financial incentives that allowed corporations to enter the market.
"The payment policies at the beginning were said to be quite generous and to draw providers in to create the desperately needed access that the [dialysis] program was based on," she says. "And the people who float in to create that access were mostly for-profit providers. ... Ultimately, as the payment policies evolved to somewhat suppress the price of each treatment, what you found happening was that that sort of favored providers who had economies of scale and could have purchasing power that lowered their cost. And the product of that has been a vast changeover in who provides the care."
She says that some reforms are in the works to improve patient care, including Medicare's plan to offer a set payment for patients' combined treatments and drugs, instead of paying for each separately. The combined payment, says Fields, removes the incentive for clinics to overuse drugs to generate profits.
"I think that mostly people in the dialysis world view these things as incremental improvements and not the things that could vault us forward in a major way," she says. "And they're hoping for further changes that lead to ... different definitions of quality and performance."
Robin Fields is a senior editor at ProPublica. She has received a National Journalism Award for her investigative reporting, as well as the Associated Press Managing Editors Public Service Award.