Kidnapping, Tribal Reprisal Upend Iraqi Woman's Life
Kidnapping, Tribal Reprisal Upend Iraqi Woman's Life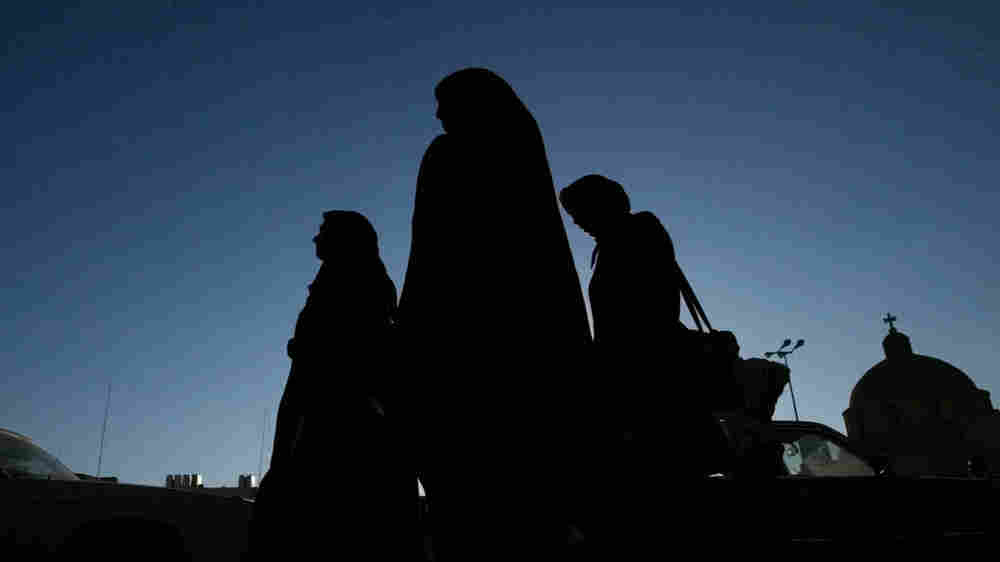 Oleg Nikishin/Getty Images
Some of what you're about to read might not actually be true. The reasons for this will become clear as the story unfolds.

It starts with a young woman named Uhud, who is 19 years old, barely literate, and the daughter of a proud and ancient tribe in Diyala, a province northeast of Baghdad.

One day back in August, Uhud went shopping in the center of town. Recalling her ordeal during an interview with NPR, she told us she walked out of a store that day and was about to cross the street.

"A car stopped — four men," she said. "They threatened me with a pistol and then grabbed me, wrapped me in my abaya and put me in the car."
Kidnapped And Beaten

The men took her to a house and beat her across the feet so badly she eventually lost her toenails. She said they blindfolded her and locked her in a room.

"They threatened me that if I escaped, they would go kill my father or my brother," she said.

They held her for 10 days, then drove her north to a house in Irbil, a city in the semi-autonomous region of Kurdistan.

"They put me with four girls who were as young as I am," she said. "Some of them were kidnapped like me."

One girl told Uhud, "If you want to work as a prostitute, join us. If you want a more decent job you can work in a cafe." Uhud chose the cafe.

Human rights groups say this is how girls are often trafficked: with the promise of jobs, money or even love. The U.N. High Commissioner for Refugees says tens of thousands of Iraqi women are being held in "sexual servitude."
Many of them end up in other Arab cities, like Damascus or Dubai. Sometimes they remain in their own country.

Saved By A Soccer Player?

After we met Uhud, we went to the cafe in Irbil. It's situated in a largely Christian neighborhood that's known for selling alcohol. The cafe is dark and smoky, but sells only juice. Dozens of magazine clippings of Angelina Jolie paper the walls.

The owner confirmed that Uhud worked at the cafe, but said he didn't know anything about a kidnapping.

During our interview, Uhud had tried to describe the customers at the cafe — businessmen, usually, coming in for a smoke of a water pipe. But then she broke down.

When we asked her what was wrong, she said, "Nothing."

Here's where the story gets complicated.

Uhud said the owner of the cafe felt sorry for her and let her live upstairs, so she wouldn't have to return to the house with the prostitutes. When the women came looking for Uhud, the owner hid her and said she was gone.

Then about a month after she was kidnapped, she said, a well-known soccer player came to the cafe with his wife. Uhud told the couple her story.

Uhud said they took pity on her and promised to help her get back to her family. She said she stayed with the couple for a month.
'We Thought Of Killing Her'

Uhud said she started making secret phone calls to her father. When she felt like it was safe for her to go home, her father came to pick her up.

Her father's brother-in-law, Ahmed, described to us what happened next.

"When she first came, the whole family had one thing in mind. We assumed she had been raped," he said. "So we thought of killing her. She has a brother who would kill her as easy as drinking a glass of water. But then, we calmed things down."
This is the way it works in tribal families. If a woman has spent time with strange men, it's assumed she was raped. And if she was raped, she has brought shame to the family.

The only way to erase this shame is to kill the woman — or to find someone else to blame.

Pursuing Legal Options
It was lucky for Uhud that her family was willing to consider the second option. At first they tried to use the legal system to do it.

The plan started when they received a tip from a friend that a woman in Kurdistan had been arrested for trafficking.

We traveled with Uhud, her father and Ahmed to the jail and waited while they went inside. Even though there was an order to arrest the woman, she managed to evade detention.

Uhud's father and uncle left the jail shaking their heads. They said seven years of war have left Iraq with a broken legal system.

"We tried the good way and failed," Ahmed said. "Now, we will take the bad way."

The bad way means the tribal way. It's not good news for Uhud.
Was She Raped?

To her family and to us, Uhud insists that she wasn't raped. But then, why would she tell anyone she was raped when her life could be at stake?

Hana'a Adwar heads a network of women's rights groups in Iraq. She said what usually happens is a girl is lured by a man who pretends he wants to have a romantic relationship.

"Then [he] promises her for marriage, and then [he takes] her to a house, and then [has] sex with her," she explains. "And then he brings her his friend. And then, it will widen the circle for her ... after that she is with prostitution."

Whether this is what happened to Uhud — or was about to happen to Uhud — her situation is still precarious. Because her family has yet to find someone to take the blame for what happened, the blame still rests on her.

After months of trying, we finally convinced Uhud's father to let us visit her at the family home.
A rickety generator hums outside. The front room is sparsely decorated with carpets and pillows on the floor, in the traditional Arab style. The floors are poured concrete.

As she makes us tea, we realize it's the first time we've ever seen Uhud smile. At first we think it's because she's back with her family. But then we wonder if it's just because she has visitors.
Looking For Someone To Blame

Later, Uhud says her father, who makes his living delivering groceries, has let her out of the house only once in the 3 1/2 months since she's been home.

She says her father and his brother are still trying to contact the soccer player and force some kind resolution between his tribe and theirs. In that way, Uhud's tribe could save face, and the case would be closed.

Uhud says they instead should be looking for the kidnappers. She says her father, who usually takes her side, recently got frustrated with her and beat her. Her uncle now spits in her face when he sees her.

"He always tells me that 'Listen, if we find out anything — if we find out that you are responsible for anything, I will myself slit your throat.' And that's why I'm afraid of him."

Even if her name is eventually cleared, the best option for Uhud is to get married.

"But how can I do that, if they never let me leave the house?" she says.

Before we go, Uhud takes us up to the roof to show us the pigeons she and her little brothers keep. The birds live in a cage made of wood scraps and old food cans.

We ask her where the birds go when they leave their cages.

"They'll fly in the sky for a while," Uhud says. "Then they come back home."
Editor's note: The Iraqi government says about 90 women are killed by their own tribes each year. And those are only the cases that are reported. As of this writing, Uhud is still alive. NPR maintains phone contact with her and has notified a group that has experience in convincing tribesmen not to kill their daughters.