Asia Trip, G-20 Summit Reveal Limits Of U.S. Power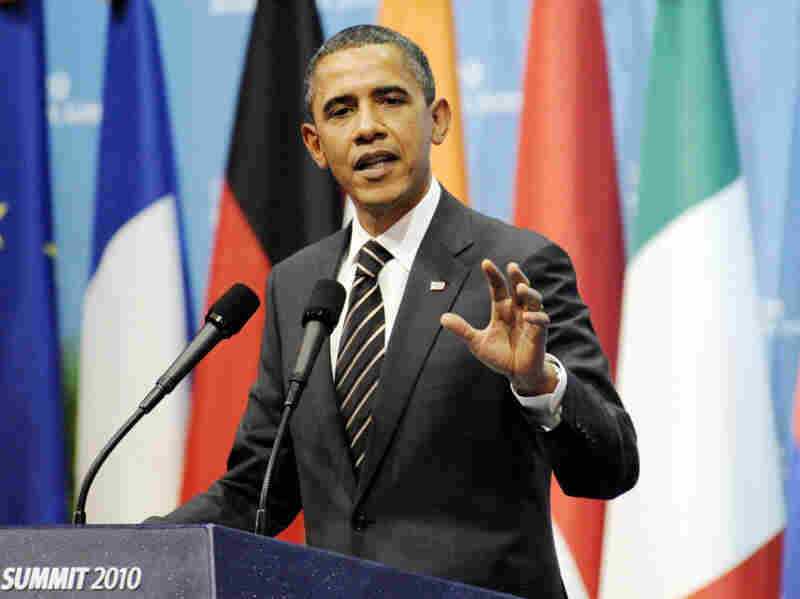 President Obama arrived in Japan on Friday after three difficult days in South Korea. He and other Group of 20 leaders meeting in Seoul to discuss the global economy managed to endorse a communique after bitter fighting.
Before leaving Seoul, Obama denied that results of the U.S. midterm elections weakened him internationally.
But the outcome of his visit to one of America's closest Asian allies and the summit with 19 other world leaders underlines a seismic power shift.
During Obama's visit, the U.S. was the target of scathing criticism for its plans to pump $600 billion into its own economy to stimulate growth.
And until the wee morning hours Friday, G-20 negotiators, known as "sherpas," scaled mountains of disagreement, hammering away at a communique.
They reached a document all could agree on. But the mood was one more of relief than celebration. At a press conference, Obama sensed the anti-climax, admitting the work they had done might not seem dramatic or world-changing.
"Instead of hitting home runs, sometimes we're going to hit singles," he said. "But they're really important singles."
One achievement was an agreement to set "indicative guidelines" to track trade imbalances. But there were no details, apart from a pledge to revisit the issue within six months. A proposal by the U.S. to set numerical targets on current account surpluses and deficits had been abandoned, amid criticism.
China Outmaneuvers U.S. On Currency
On the contentious issue of whether China keeps its currency, the renminbi, artificially low, Obama was outspoken.
Related NPR Stories
"The issue of the [renminbi] is one that is an irritant, not just to the United States, but is an irritant to a lot of China's trading partners and those who are competing with China to sell goods around the world. It is undervalued," he said.
But such strong language wasn't reflected in the communique.
The document is "relatively weak," said Thomas Kalinowski of Seoul's Ewha University, who researches global financial governance.
The language that refers to currency — and obliquely, the disagreement over the renminbi — is even more telling.
"To avoid competitive devaluation and also to move toward a market-determined exchange rate system — these are the terms used, and I think they are very weak," he said.
Kalinowski says China got its way on the issue. "It's definitely not what U.S. President Obama would have wanted, right?" he said.
Jia Qingguo, associate dean of the School of International Studies at Peking University, says nowadays it is very difficult to develop alliances against China.
"Those countries have a lot of common interests and stakes with China. The U.S. will not take over China's role to provide them with those economic and other benefits," Jia said.
Fault Lines Deepening, Power Shifting
Even South Korea, a trusted U.S. ally, resisted compromise — despite a presidential visit to American soldiers stationed in Seoul, reminding South Koreans of the U.S. commitment to their security.
But even that failed to buy Obama the free-trade agreement he'd been hoping for. He now says he hopes the deal will be done within weeks.
Jong Bum Kim from Yonsei University in Seoul, who helped draft the agreement, admits this issue is damaging.
"Obviously President Obama made a political investment on getting the deal done on this trip. If he eventually does not succeed in agreeing on this deal, then he'll be the political loser for this," Kim says.
And given the U.S. isolation at the summit, some joked the G-20 was looking more like the G-19 plus one.
"I think that's the reality of the new world, that the U.S. is relatively losing clout in the world and in the international organizations," Kalinowski said. "Americans and the U.S. government have to get used to that."
This trip was designed to reward America's natural allies in Asia; it's served to highlight the limits of American power.
Obama participates in another summit on Saturday, the two-day Asia-Pacific Economic Cooperation Forum in Yokohama, Japan. The group of 21 economies will discuss a regional free-trade agreement.