Las Vegas Mayor A Good-Time Guy For Bad Times
A former mob lawyer, Oscar B. Goodman has been mayor of Las Vegas since 1999. He's famous for his love of gin and even gives out poker chips to guests. Host Liane Hansen speaks with Goodman about the city's past, present and future as it struggles through the economic downturn.
Mayor OSCAR GOODMAN (Las Vegas, Nevada): Hi, folks. How are you?
LIANE HANSEN, host:
Good, Mayor Goodman.
Unidentified Man: This is Liane Hansen.
Mr. GOODMAN: Hi, Liane. How are you? Nice seeing you.
HANSEN: Nevada Job Connect may be a depressing place these days, but the office of Mayor Oscar B. Goodman is quite the opposite. It is cheery and colorful, filled with playful knick-knacks and photos of the mayor posing with celebrities. There are a few bottles of booze unabashedly on display - Goodman is famous for his love of gin. He even had an endorsement deal with Bombay Sapphire and gave the proceeds to charity.
His Honor deals out poker chips to guests. There's a cartoon drawing of him on one side standing in front of a flag-draped podium holding a martini. A phrase emblazoned around the circumference of the chip reads: The Happiest Mayor of the Greatest City in the World.
A former mob lawyer, Goodman has been mayor since 1999 and his term ends next year. When we sat down to chat, he said that construction cranes may be idle on the Strip but downtown is a different story. He also reminded us of something that many don't know about the area.
The famous glitzy stretch of casinos that includes the famed Bellagio and Caesar's Palace and the MGM Grand is not officially part of Las Vegas. It's actually outside the city limits in Clark County.
Mr. GOODMAN: I don't tell anybody, but I'm the mayor of Las Vegas, and the Strip is in the unincorporated area. They think I'm their mayor and all the bartenders think I'm their mayor, and the taxicab drivers think I'm their mayor. So I don't do anything to dissuade them from that thought, but the truth of the matter is we are a city of 650,000 people in an incorporated area and we're independent from the county in which the city is located. But we are our own government here.
And you'll see the cranes here. We have a new City Hall. They're building the new City Hall. It's going to be a beautiful building. They built the new Rush Tower over at the Golden Nugget. The cranes over the performing arts center are banned. In the city of Las Vegas, we are, I think we're thriving as far as creating a future for ourselves. So, I'm not complaining.
HANSEN: But what about the lack of development now? I mean, that big boomtown in that part of Las Vegas...
Mr. GOODMAN: Well...
HANSEN: ...that is the Strip and now it's not.
Mr. GOODMAN: ...basically, unfortunately, a couple of the projects that were on the Strip either ceased or were put on hold. But this is the history of Las Vegas. We have, I think, over 50,000 hotel rooms.
HANSEN: But are they full?
Mr. GOODMAN: They're full on the weekend, I'll tell you, and the restaurants that are in them are sure full 'cause even the mayor has to use a little juice to get in.
HANSEN: On the weekends, but during the week?
Mr. GOODMAN: Well, during the week, we're the envy of the whole tourist world. Let's say, we're 70 percent full during the week. What other city could claim that?
HANSEN: Mayor Goodman, you are known as a cheerleader...
Mr. GOODMAN: I am a cheerleader.
HANSEN: ...for this city, a perpetual optimist, eternal...
Mr. GOODMAN: Well, I have to be. I come from a background of representing reputed gangsters. If I went in and didn't think I was going to win, they'd all be in the electric chair.
HANSEN: How would you assess the state of Las Vegas economy right now?
Mr. GOODMAN: Well, the state of Nevada's economy is rocky, but our infrastructure's in place. We have the very, very best to attract tourists. There is some suffering that's taking place now with foreclosures, with unemployment, but we're going to come back as soon as the world gets confidence in their monetary situation.
HANSEN: Was it necessary to try and diversify the economy of Las Vegas, given that gaming and tourism bring in money but if people don't have money to spend, that can drop off?
Mr. GOODMAN: Well, I think I became a believer in diversification after 9/11, because the day after 9/11, for whatever reason, whether it was the casinos wanted to hit a bottom line that they could live with or they wanted to lay off people or the economy justified it, whatever reason, it showed me that the be-all and end-all cannot be one industry.
And it's treated us very well. Gaming has really given us a quality of life second to none, basically on their back. But that's another time, another day. I think we really have to branch out and have new businesses here.
That's why I love this idea of medical tourism, because it will bring smart people into our community. They will insist in making sure there's no mediocrity here. They will get behind the community projects like a world-class performing arts center, like world-class medicine. I think that's where our future's going to be.
Unidentified Woman: You want a blanket?
Unidentified Woman #2: No, I'm all right, dear.
HANSEN: The idea of medical tourism, attracting patients to Las Vegas for treatment, may be away to boost the area economy. It's one of the goals at the Nevada Cancer Institute, a modern complex on the outskirts of town, away from the hustle and bustle of the Strip. The Spring Mountains form a backdrop in the distance.
The mayor's son, Dr. Oscar B. Goodman, is a physician and researcher there.
Dr. OSCAR GOODMAN (Physician, Researcher, Nevada Cancer Institute): Being ill can be a consuming process in and of itself. Patients just love to come up here because they can get away from it. You know, they don't have to think about their illness. It de-stresses the body, it makes you tolerate the treatment better. I think it's great. I think it actually gives us a niche here.
HANSEN: Next week, we'll examine the ways Las Vegas is diversifying its economy through health care and alternative energy, and you'll hear how a new generation is trying to revitalize the old downtown.
NPR transcripts are created on a rush deadline by Verb8tm, Inc., an NPR contractor, and produced using a proprietary transcription process developed with NPR. This text may not be in its final form and may be updated or revised in the future. Accuracy and availability may vary. The authoritative record of NPR's programming is the audio record.
Vegas Mayor Optimistic; Vegas Cop A Hard-Hitting Dance Man
Las Vegas Mayor Oscar Goodman sure seems to be a tireless pitchman for his town. He's fired back when it's been suggested (by President Obama, no less) that corporations shouldn't spent money to send executives to Vegas. He's gone on The Colbert Report to trade one-liners with Stephen (and get in some more plugs for Sin City; "the greatest city in the universe .. an adult playground," Goodman said).
Weekend Edition Sunday this week will be taking a long look at Las Vegas, including the serious economic problems it's been having in recent years. Goodman makes the case to host Liane Hansen that while gambling has been very, very good to Vegas, the key to its future will be diversification — particularly into industries such as "medical tourism," which focuses on bringing state-of-the-art health care facilities to the city in the hope that folks will want to travel there to take advantage of them.
Here's a bit of their conversation:
Liane Hansen talks with Las Vegas Mayor Oscar Goodman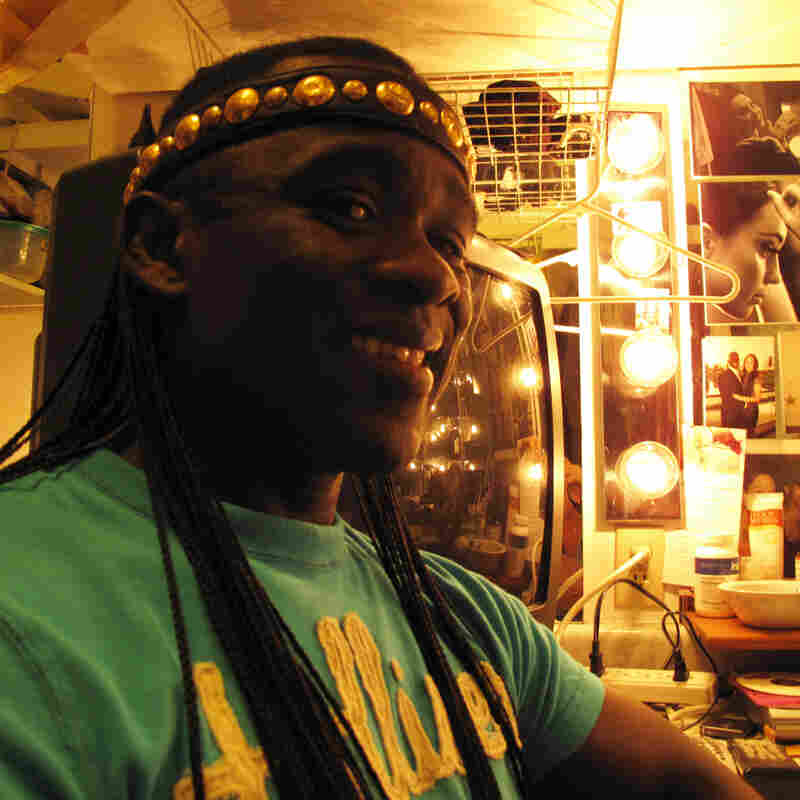 Also on the show, there will be a piece about "Hitman" Anthony Brown. By day, he's a Las Vegas police officer who frequently trains others on "defensive tactics." By night, he's the principal male dancer in the Jubilee! show at Bally's Las Vegas. The show's been going 30 years, making it one of the longest-running showgirl productions on the Strip.
Hitman says "it's just natural to me" to live his seemingly split life. Here's some of his conversation with Liane, followed by the sound of what it's like when he's training other officers:
Liane Hansen talks with "Hitman" Anthony Brown