START Stalled: GOP Delaying Vote On Arms Treaty
It's been almost a year since the end of a nuclear arms reduction treaty between the United States and Russia -- the two countries with 90 percent of the world's nuclear arsenal -- that was known as the Strategic Arms Reduction Treaty, or START.
In April, President Obama signed an updated arms-control treaty with Russia called New START. He told Russian President Dmitry Medvedev last weekend that he believed the Senate would ratify that treaty before it adjourns this year.
But Senate Republicans think otherwise.
Obama had hoped that after holding 18 hearings, the Senate would be more than ready to ratify New START during its last-gasp lame-duck session.
Interactive: A New START With Russia
Learn more about the treaty and examine how the U.S. and Russian stockpiles stack up.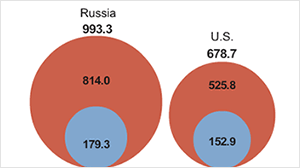 To assuage Republican concerns about funds to modernize the U.S. nuclear arsenal, the White House added another $4 billion this week to the $80 billion it had already budgeted for the next decade.
So it came as a sharp jolt when Senate Minority Whip Jon Kyl, who had been talking with the White House about moving ahead on the treaty, announced Tuesday that he would oppose its consideration during the lame-duck session.
"This is a very complicated process," Kyl said. "It cannot be done overnight. And I really do appreciate the sort of last-minute efforts of the administration to brief us on what their current thinking is. But we don't even have a plan in writing yet, so it'd be a little premature to talk about bringing it up in the lame-duck session, I think."
Most Senate Republicans follow Kyl's lead when it comes to nuclear matters, so the kibosh he put on taking up the treaty seemed to doom any prospect of getting the two-thirds majority it needs for ratification this year.
START At A Glance
START I: Signed 1991; active 1994 to 2009. Limited U.S. and USSR (later Russia) to 6,000 deployed nuclear warheads and a total of 1,600 land-based intercontinental ballistic missiles (ICBMs) and submarine-launched ballistic missiles (SLBMs). Established inspection and verification regimes that were the foundation for subsequent arms-reduction agreements.
START II: Signed 1993; active 1996 to present. Banned MIRVs (multiple independently targetable re-entry vehicles), which allow each ballistic missile to carry many warheads.
START III: Never signed; would have limited U.S. and Russia to 2,000-2,500 warheads (Moscow proposed deeper reduction, to as few as 1,000 warheads). U.S. withdrawal from the Anti-Ballistic Missile Treaty in 2002 effectively killed these negotiations.
New START: Signed in April; must be ratified by U.S. Senate and Russia's Duma. Limits both sides to 1,550 warheads and a total of 800 ICBMs, SLBMs and heavy bombers, such as the U.S. B-52 and Russia's Tu-22 "Backfire."
But the Obama administration is not giving up.
Secretary of State Hillary Clinton was at the Capitol on Wednesday trying to rally support for moving ahead on New START.
"Some have suggested we should hit the pause button, that it is too difficult to do this treaty in a lame-duck session," she said. "I strongly disagree."
Standing alongside Clinton was the chairman of the Senate Foreign Relations Committee, John Kerry.
The voters, he argued, just delivered a strong message. "They asked the United States Congress to do its business," Kerry said. "They asked the Congress to get rid of the politics. They asked us to protect American interests. And it is this Congress that has done the work on this treaty. It is these senators, elected, here and now, who have a constitutional responsibility now to deal with this treaty."
The top Republican on the Foreign Relations Committee was also there. Indiana's Richard Lugar is the only senator from his party urging the treaty be taken up now; he warned of peril in leaving it for the next Senate.
"We're talking about thousands of warheads that are still there -- an existential problem for our country," he said. "To temporize at this point, I think, is inexcusable."
Clinton, a former U.S. senator, wrapped things up with a bold prediction: "This is not an issue that can afford to be postponed. So we think once we take that message, with the urgency that you've heard from the three of us, we will get the votes and we will pass this treaty."
Later, Kyl told reporters he is still talking about the treaty in good faith. But he showed no signs of relenting.
"I put out a statement, I think it was yesterday, and that's where I think we are," he said.
Which likely means New START could only be ratified by the new Senate convening in January -- with six more Republicans.