Even In Calm Corner Of Afghanistan, Future Is Murky
Even In Calm Corner Of Afghanistan, Future Is Murky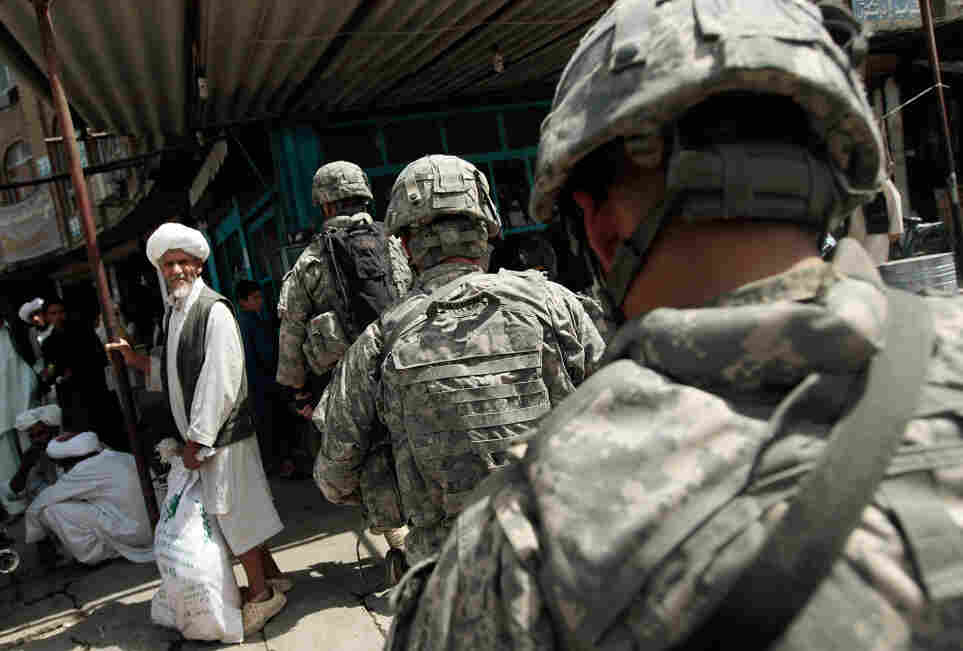 Daoud Sadeq is visibly upset. Standing in the middle of a courtyard in northwest Afghanistan's Herat province, the Afghan archaeologist is watching as laborers use wooden rollers to move ancient marble gravestones inside the city's citadel. It's outright blasphemous, he says.
"This is not a graveyard. It is not good. We are not happy," he says.
The ornately carved stones are used to mark the graves of ancient Muslim holy men. But because of increased violence in the area, the local government ordered the stones to be removed from the grave sites they mark and taken to the ancient citadel -- the recently restored castle that sits in the middle of the city.
Chris Hondros/Getty Images AsiaPac
And that's where they'll stay for safe keeping.
Sadeq says the government is to blame for letting the security situation get this bad.
"This is shameful for them. Why they are not securing the area?" he says.
Herat -- especially the capital city -- isn't used to having to deal with the threats of looting and vandalism, let alone suicide attacks and roadside bombs. This part of Afghanistan, near the Iranian border, has been relatively calm.
But in the past year, things have changed. Insurgent attacks and crime have spiked. Last month, suicide bombers attacked the U.N. compound just outside the city, which triggered a battle between local Taliban and Afghan national security forces.
Local leaders say the new violence is partly the result of U.S.-led operations in neighboring provinces. As U.S. troops go after the Taliban in Kandahar and Helmand, the insurgents travel north.
At a NATO summit opening Friday in Lisbon, Portugal, member countries will hammer out a plan to start transitioning some provinces to Afghan control by early next year. And Herat may be on the list, despite the recent uptick in violence.
Not Ready Yet
At a checkpoint along the main highway connecting the southern provinces to Herat, Afghan security forces conduct random vehicle searches, looking for guns or makeshift bombs.
The soldiers say local insurgents aren't waging spectacular assaults. For the most part, they are carrying out smaller operations with improvised explosive devices, or IEDs, and suicide bombs.
Dawood Saba, the new governor of Herat, says it's the most secure province in Afghanistan.
"But things can happen," he says. "We are in the middle of a war, a war with enemies of Afghanistan who cannot see us stand on our feet, that cannot see us having  a democratic election."
The governor, who holds a doctorate in geology, has spent a lot of time in Canada and the U.S., and speaks English fluently.
He grew up in Herat province, and now he has a big job ahead of him: reforming a struggling provincial government, getting his army and police to stand on their own and getting a handle on the violence.
More In The Series
Is Herat prepared for that transition?
"Potentially, yes, we have that potential. But really, right now, I'm not ready. Herat is not ready. And how long it takes? I don't know," Saba says.
NATO leaders are trying to define the criteria for handing control over to the Afghans -- things like the security situation, the capability of the Afghan security forces in the particular province and the effectiveness of the government.
Ambassador Mark Sedwill, NATO's senior civilian representative in Afghanistan, says naming provinces that are ready to govern themselves could be dangerous.
Courtesy of U.S. Navy Lt. Fernando Rivero
"We shouldn't be announcing districts or even towns as transitioning as it starts, because you immediately paint a bull's eye on it and encourage the Taliban to try to come in and try to assassinate the key Afghan officials involved and try to knock it backwards," Sedwill says.
Fragile Security, Timetable
NATO officials acknowledge that this transition will depend on conditions on the ground -- and will take time.
"The only two dates we have really got is 2011 as a starting point, if you wish, and 2014 as the end," says German Brig. Gen. Josef Blotz, spokesman for NATO forces in Afghanistan.
That's the window that the Obama administration has identified in order to hand over power to the Afghan government and draw down combat troops.
But even 2014 isn't really the end.
"Beyond 2014, there will most probably still be military provided by the international community in this country, but less in a fighting, in a combat role, but more of a mentoring and training nature," Blotz says.
The bottom line, he says, is this: "We will not be all back home by the end of 2014."
Afghans Question Their Future
Courtesy of U.S. Navy Lt. Fernando Rivero
But that's another four years from now, and the war is already almost a decade old. Some Afghans are losing patience.
Ahmad Qureshi, who runs an Afghan journalists association in Herat, says he doesn't want the Taliban back in power, but he longs for strong, consistent leadership.
"Taliban may be wrong in some policies, but these wrong policies they follow until the end," he says.
In other words, according to Qureshi, it's better to be wrong but consistent than to make empty promises based on good intentions. And that, he says, is how some Afghans look at the international community and the Afghan government.
"I know many people in the city, and they are spending their money today and telling that I don't believe in tomorrow -- tomorrow maybe there is many bad things happen," he says. "They are not optimists about the situation, that things should be stable. When there is no stability, there is nothing."
That explains why Sadeq, the archaeologist in Herat, is fighting back tears as he watches gravestones rolled into Herat's citadel for safe keeping.
He throws his arms up in the air, despondent. A city's life comes from its history, he says, so what does it mean for Afghanistan's future when not even the graves of its ancestors are safe?