Internet Commenters: This Is You
Internet Commenters: This Is You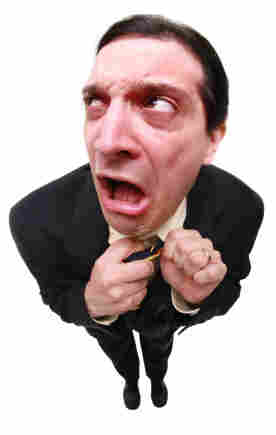 Online, there are two groups of people: those who comment and everybody else.
While comment threads across the Web can sometimes spur lively debate by offering a forum for the free exchange of opinions, they're just as often a bulletin board for the neurotic, profane and frenetic rantings of anonymous strangers.
But for writer Kevin Collier, even the most rambling of online comments -- when assembled in aggregate -- contain a small element of literature.
Finding Keepers
Collier writes an ongoing feature for the popular indie publishing house McSweeney's called "Getting to Know an Internet Commenter." He started with the same kernel of curiosity we've all felt reading rambling Web comments, namely, "Who is this person?"
"I've long read the mindless comments that follow an awful lot of websites," Collier tells NPR's Guy Raz. "It's kind of like how some people like watching trashy TV."
One day Collier took his curiosity a little further and began to compile a list of comments from a particularly prolific member on IMDB.com (the Internet Movie Database).
He realized, viewed as a whole, the comments created something close to a profile or character sketch of the person writing them.
Collier took the concept to McSweeney's founder Dave Eggers, who liked the idea. Collier has featured 10 commenters since March.
"The good ones reveal themselves -- after a lot of looking -- to be kind of characters," Collier says.  "They're not an exact representation of who this person is, but they are real characters."
They're Not All Trolls
Why can't some people resist the urge to hit that "comment" button? What separates them from the people who can?
"Some people just need to be heard," Collier says. "A lot of people just have an urge to talk."
And sure, there are plenty of rude and downright offensive commenters out there. It's easy to throw your hands up in despair and assume they reflect an eroding American discourse, he says.
But, Collier points out, the positive feedback sometimes outshines the bad. Take the comments that his own feature collects, for example.
"A few people will write me, and they just say, 'Hey, this is funny -- I like this,'" he says. "Just kind of a random act of kindness."
---
Meet Cesar Z.
Cesar Z. is one of Kevin Collier's favorites so far. Meet more commenters at his column, Getting to Know an Internet Commenter. You can also follow him on Twitter, @kevincollier.
Name: cesar z.
Site: yelp.com
Nickname: "yelp uses us."
Size, According to His Review of Balboa Pier: 6'3, 250 pounds
Location: Anaheim, CA
Total reviews: 343
Review of the City of Wenatchee, Washington
"we drove thru the city of wenatchee while on tour. a beautiful peaceful city. i was able to take a pic thru our crusty windshield."
Review of Louie's Trophy House Grill, Kalamazoo, MI
"In the back of this locals only bar there is a mountain lion stalking a porcupine. it is filled with stuffed animals of all sorts. it is also filled with locals. when i was there, there were 2 little kids and their father, all were wearing neck braces. i also saw a drunk driver drive off of the curb and not bother to fix the rear view mirror that fell off. amazing stuff."
Review of BCD Tofu House, Irvina, CA
"The food is just like the other BCD's I have been to. This is located in the Diamond Jamboree center that just opened. This place is huge, and full of asians. It is the biggest concentration of asians i have ever seen in south county, besides UCI campus. The food was good and filling. We were not rushed to leave, we sat and chatted, drank beer, had a great time."
Review of Stars Gelato, Irvina, CA
"The beautiful young lady that helped me made a mistake. I asked her if they sold italian ice, she said that gelato is italian ice. sorry love, but it aint. those are two totally different beasts... The gelato was fine. I had lime, company had mixed berry and caramel. All were fine... I felt sorry for the beautiful young lady that helped us. There was literally dozens of patrons that kept coming in, asking for about 8 or 10 samples, then left. I hate it when people take advantage like that. I left her a huge tip."
Review of The Lazy Dog Cafe, Orange, CA
"i phoned in an order the other night. when i went to pick up my order it took about 10 minutes for someone to come to the pick up order area and assist me. when someone finally did come to help me, they said that they just plum forget to start my order. so, i had to wait another 15 minutes for my order. they didnt even offer to give me a discount or give me a free drink, nothing. and the topper, the food poisoned me. i was literally throwing up in the movie theatre an hour after i ate. i hate diarreha and was vomiting all night. thanks lazy dog. i will never be giving you my business ever again. i will also be calling the the board of health."
Review of Adler Weiner Research, Irvine, CA
"I get called up for a paid focus group maybe once every year or so. It is usually about 2 hours of work for about $150 in pay. You cant beat that. I have done a focus group on video games, paper supplies, frozen foods, beer. Yeah, thats right. I got paid $250 to drink beer for two hours. How great is that! Also, right now, at the Irvine office there is the most beautiful gal working the desk. She has brown hair, or maybe it is kinda of red? I couldnt really tell cause it was up in a tight bun. But she was wearing a tiny leather skirt and she was cutting and sewing together fabric while working the front desk. How amazingly sexy is that?"
Review of Taqueria Guadalajara, Anaheim, CA
"Forget this place. The staff are rude and racist as all hell here. I went a few years back with the girl i was dating at the time, an asian broad. The girl that worked the register ignored us and refused to help us. I had to yell at her in spanish for her to take our order. When we got our order the gave my date flautas instead of the torta she ordered. I mean, how can you get the two confused. While i was complaining about the order mix up the same girl working the register took out some cleaning spray and sprayed all of our food that was still on the counter. I lost it and was just about to climb over the counter when security came and threw us out. As we left the girl at the counter told me in spanish that i should date my own kind. Forget this place and forget the people that work here."
Review of Rockin Taco Cantalina (now closed)
"i got 86ed from this bar for beating up a bouncer and starting a mini riot. the bouncer was a racists and called my cousin a "n*#ger lover". i am glad this place is closed."
Review of Cal State Fullerton Library, Fullerton, CA
"the employees here never want to help you. and when they do, they dont know what they are doing. never go up to the 4th 5th or 5th floor on the south side. its is like rape central up there, plus, its haunted."
Review of Haskett Branch Library, Anaheim, CA
"a small library. small compared to the main branch, but bigger then the sunkist branch. this library has a community room you can use, lots of manga and anime books to check out. wi fi access. its is also next to a public park. but the best reason to go here is the beautiful girl that works here that i feel in love with, her name was hazel, but she got fired. now i never go."