Que Bueno! Latin Music For Everybody
Que Bueno! Latin Music For Everybody
This past summer, NPR Music launched a new program called Alt Latino.  Each week, hosts Jasmine Garsd and Felix Contreras offer a surprising mix of Latin Alternative music and rock in Spanish.  Imagine salsa or merengue mixed with electronica, or cumbia crossed with hip-hop.
The sounds and rhythms of Latin America inform much of the music we often feature on All Songs Considered, though we don't normally feature a lot from that part of the world.  So on this week's program, Jasmine and Felix chat with All Songs host Bob Boilen and share music from Argentina, Mexico, the Dominican Republic and more. They also tell us how the driving sounds and infectious rhythms often come with important political messages that come through even if you don't speak Spanish.
Que Bueno! Latin Music For All Listeners
Pintar El Sol (Chancha Via Circuito remix)
Chancha Via Circuito
Song: Pintar El Sol (Chancha Via Circuito remix)
from Río Arriba
Buy Featured Music
Song

Rio Arriba

Album

Rio Arriba

Artist

Chancha Via Circuito

Released

2010
Your purchase helps support NPR programming. How?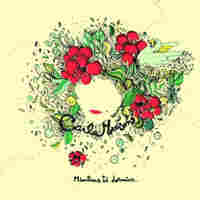 Carla Morrison
Song: Compartir
from Mientras Tú Dormías
For more information on this album, visit the artist's website.
While My Guitar Gently Weeps
Girl In A Coma
Song: While My Guitar Gently Weeps
from Adventures In Coverland