Songs We Love: Going Postal
This Thanksgiving, Morning Edition and All Things Considered are examining the import and impact of the U.S. Postal Service and its recent cutbacks. In honor of the occasion, NPR Music partner station KUT in Austin, Texas, curated a list of its staff's favorite songs involving the Postal Service.
Many of these songs revolve around writing or receiving letters, those 20th-century artifacts of communication. In fact, the fading popularity of the handwritten note ranks among the reasons the USPS is in so much financial trouble.
So appreciate these classic songs about the Postal Service -- and then e-mail your friends about them.
Songs We Love: Going Postal
Please Mr. Postman
from 20th Century Masters - The Millennium Collection: The Best of the Marvelettes
by The Marvelettes
Quick: Think of a song that has to do with waiting for the mail. This tune is bound to be among the first to pop into your head. Maybe you recall another version by The Beatles or The Carpenters. But this is the icon: the first No. 1 single for Motown in 1961. Listen closely for Marvin Gaye on the drums.

Box Full of Letters
Remember letters? No? Then check this out: Wilco's very first single in 1995, before the band became legendary. Let's be happy this song came out when it did, because "Got an in-box full of e-mails" couldn't possibly capture the romance of communication the way this one did.
The Letters
from Dear Heather
by Leonard Cohen
When this song was released in 2004, practically everybody was wrestling with rapidly expanding e-mail accounts and a growing detachment from ideas etched onto paper. Here, Leonard Cohen reminds us of a little something we've lost in an age of more ephemeral instant communication.

Strawberry Letter #23
from Greatest Hits
by The Brothers Johnson
The great funk singer-songwriter Shuggie Otis was so moved by a girlfriend's strawberry-scented paper that he wrote this sublime homage. It would become a monster hit for the Brothers Johnson in 1977. Decades later, it would become one of the most frequently sampled songs in modern hip-hop, as well as a magnet for every Quentin Tarantino wannabe in search of soundtrack music.
Care of Cell 44
from Odessey and Oracle [30th Anniversary Edition]
by The Zombies
While many songs about the mail focus on "the waiting," some of the best are about the process of writing. With this little psychedelic pop gem, we get inside the head of a guy writing to a lover in prison.  What she did to get there, we can only dream of. But we've finally solved the riddle of the title of the album from whence this comes: Odessey and Oracle was not an intentional misspelling, as the band claimed, but an expensive error by the album-cover artist. Years later, someone would invent Photoshop.
I'm Gonna Sit Right Down and Write Myself a Letter
from Legendary Performer
by Fats Waller
Everyone from Nat King Cole to Barry Manilow has tried this one on for size, but no version works as well as the original, recorded by Fats Waller. These days, the 1935 Ahlert-Young standard is considered part of the Great American Songbook. But we can't help but think the weekly "Letters" segment on Marketplace helped put it there.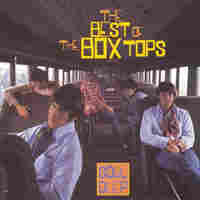 The Letter
from The Best of The Boxtops: Soul Deep
by The Boxtops
Before Alex Chilton was immortalized as a co-founder of Memphis' answer to The Beatles (Big Star), he was in a band called The Box Tops and sang lead on this, the group's biggest hit.  Even in a world of instant communication, "The Letter" continues to be covered by bands frequently, and ranks among Rolling Stone's "500 Greatest Songs of All Time."

Take a Letter, Maria
from R.B. Greaves
by R.B. Greaves
Technically, this here's a cheatin' song. But it's also a sepia-toned, politically incorrect snapshot of a world where letters sent in the mail were about more than what was written on the  page.  Given the right circumstances, letters offered a kind of useful, temporal distance from the unpleasant inconveniences of modern life. You'd need more than a weekend away from your Blackberry to pull off something like this today. Don't try it.
Return to Sender
from Essential Elvis Presley
by Elvis Presley
In 1962, before spam filters, people bounced unwanted messages the old fashioned way, and the Postal Service would (usually) play along. Thirty-one years later, on the date the USPS issued the Elvis stamp, many folks sent letters to bogus addresses in hopes of scoring a keepsake with a cool cancellation mark. From what we've heard, the postman wasn't playing along.
You Did (Bomp Shooby Dooby Bomp)
from Age of Miracles
by Chuck Prophet
If there were any justice, Chuck Prophet would be as much of a name as, well, many of the famous folks with whom he's collaborated: from Warren Zevon and Jonathan Richman to Aimee Mann and Lucinda Williams, among others. It's not just the content of his lyrics, but also the way he insinuates them into his melodies. Here, Prophet's refrain ("I got a letter this morning...") packs a silly doo-dah of a song with more emotional punch than it might otherwise deserve.