'Easy' Thanksgiving With The Barefoot Contessa
'Easy' Thanksgiving With The Barefoot Contessa
Ina Garten, known as the "Barefoot Contessa," is an accomplished cook and entertainer — but she's also known for helping novices in the kitchen.
Her mantra — "How easy is that?" — is also the title of her new cookbook, a collection of classic recipes that feature low-stress ingredients and techniques.
Garten's make-it-simple strategy can help smooth out your Thanksgiving celebration. Take, for example, appetizers — which Garten is simply not planning to cook.
"I'm going to take a big white platter and go to a specialty store," she tells NPR's Neal Conan, "and buy little thin slices of salamis, and caperberries, and different kinds of cheeses." These "special tastes of things" require no cooking, and when served with champagne, she says, "you've got a fabulous appetizer."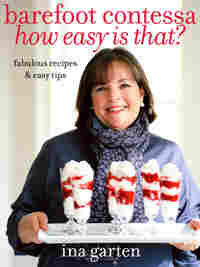 Barefoot Contessa How Easy Is That?
By Ina Garten
Hardcover, 256 pages
Clarkson Potter
List price: $35
And for the holiday's pivotal dish, the turkey, Garten suggests you think small. "If you think about a Thanksgiving dinner, it's really like making a large chicken."
Her recipe for turkey is about as simple as it gets, and comes from a trusted source: A friend of Garten's who worked at the Butterball hotline told her about the turkey that won their annual contest "year, after year, after year."
Garten explains, "you salt and pepper the inside, you put butter on the outside, you throw it in an oven and you roast it without opening the door." Garten deviates from that easy, tested method with only one embellishment: "I put a little truffle butter under the skin to give it a little extra flavor," she says.
Organize and make some things in advance, she advises, and "you can really make Thanksgiving fun for the cook, as well."
Of course, tradition sometimes requires a special dish be prepared — Grandma's creamed onions, for example, made just the way she always makes them. But Garten's even got a way to simplify that stress. "I think it's an even more fun party if everybody contributes to it," she reasons. "So how about having Grandma bring her famous dish? And then it's exactly the way Grandma made it!"
More Thanksgiving Ideas:
Inviting guests to bring dishes not only makes life easier for the cook, but makes everyone feel invested in the event.
Doing things simply and being organized, says Garten, is the key to easy food. "It doesn't necessarily mean it's three ingredients thrown together — it means that there are processes that are easy to do, with ingredients that you can find at a grocery store."
Barefoot Contessa How Easy Is That?
Fabulous Recipes & Easy Tips
Hardcover, 256 pages |
purchase
Buy Featured Book
Title

Barefoot Contessa How Easy Is That?

Subtitle

Fabulous Recipes & Easy Tips

Author

Ina Garten and Quentin Bacon
Your purchase helps support NPR programming. How?
Recipe: 'Herb-Roasted Turkey Breast'
Serves 6 to 8
Why do we only serve turkey on Thanksgiving? A whole turkey breast roasted with fresh rosemary, sage, and thyme is a great weeknight dinner and the leftovers make delicious sandwiches the next day. Roasting the turkey at 325 degrees and allowing it to rest for fifteen minutes ensures that it will be very moist.
1 whole bone-in turkey breast (6 1/2 to 7 pounds)
2 tablespoons good olive oil
1 tablespoon minced garlic (3 cloves)
2 teaspoons freshly squeezed lemon juice
2 teaspoons dry mustard
1 tablespoon chopped fresh rosemary leaves
1 tablespoon chopped fresh sage leaves
1 teaspoon chopped fresh thyme leaves
1 1/2 teaspoons kosher salt
1/2 teaspoon freshly ground black pepper
3/4 cup dry white wine
Preheat the oven to 325 degrees. Place the turkey breast on a rack in a roasting pan, skin side up.
In a small bowl, combine the olive oil, garlic, lemon juice, mustard, rosemary, sage, thyme, salt, and pepper. Rub the mixture evenly all over the skin of the turkey breast. (You can also loosen the skin and smear half of the paste underneath, directly on the meat.) Pour the wine into the bottom of the roasting pan.
Roast the turkey for 1 1/2 to 1 3/4 hours, until the skin is golden brown and an instant-read meat thermometer registers 165 degrees when inserted into the thickest and meatiest area of the breast. Check the breast after an hour or so; if the skin is overbrowning, cover it loosely with aluminum foil.
When the turkey is done, remove from the oven, cover the pan with aluminum foil, and allow the turkey to rest at room temperature for 15 minutes. Slice and serve warm with the pan juices.
Excerpted from Barefoot Contessa How Easy Is That by Ina Garten. Published by Clarkson Potter. All Rights Reserved.
Recipe: 'Rich Celery Root Puree'
Serves 6 to 8
This is the essence of simplicity, celery root enriched with chicken stock and cream so that all you taste is that fresh celery root flavor. I serve this with a simple roast pork and a bottle of full-bodied Chardonnay; I'm in heaven. You can easily make this a day in advance and reheat it before dinner.
5 pounds celery root (2 large)
2 tablespoons unsalted butter
1 1/2 cups chicken stock, preferably homemade
1 1/2 cups heavy cream
4 teaspoons kosher salt
1 teaspoon freshly ground black pepper
Peel the celery roots with a large chef's knife and cut each one in half. With the cut side down, cut it in 1/2-inch dice, removing any brown spots. Be careful — keep your fingers out of the way of the knife!
Melt the butter in a large heavy-bottomed pot over medium-high heat. Add the celery root and saute for 3 minutes, stirring to coat with the butter. Reduce the heat to medium-low, cover the pan, and cook for 10 minutes. Add the chicken stock, cream, salt, and pepper and bring to a boil. Lower the heat, cover, and simmer for 15 to 20 minutes, stirring once, until the celery root is very tender.
In batches, transfer the mixture to a food processor fitted with the steel blade and puree until smooth. Return the puree to the pot and reheat gently over low heat. Check the seasonings — it should be very highly seasoned — and serve hot.
Excerpted from Barefoot Contessa How Easy Is That by Ina Garten. Published by Clarkson Potter. All Rights Reserved.
Recipe: 'Easy Cranberry & Apple Cake'
Serves 6 to 8
This recipe is inspired by a cranberry pie from Sarah Chase's book Cold Weather Cooking. My friend Barbara Liberman calls it "easy cake" — I call it delicious. It's even better served warm with vanilla ice cream.
12 ounces fresh cranberries, rinsed and picked over for stems
1 Granny Smith apple, peeled, cored, and diced
1/2 cup light brown sugar, lightly packed
1 tablespoon grated orange zest (2 oranges)
1/4 cup freshly squeezed orange juice
1 1⁄8 teaspoons ground cinnamon, divided
2 extra-large eggs, at room temperature
1 cup plus 1 tablespoon granulated sugar
1/4 pound (1 stick) unsalted butter, melted and slightly cooled
1 teaspoon pure vanilla extract
1/4 cup sour cream
1 cup all-purpose flour
1/4 teaspoon kosher salt
Preheat the oven to 325 degrees.
Combine the cranberries, apple, brown sugar, orange zest, orange juice, and 1 teaspoon of the cinnamon in a medium bowl. Set aside.
In the bowl of an electric mixer fitted with the paddle attachment, beat the eggs on medium-high speed for 2 minutes. With the mixer on medium, add 1 cup of the granulated sugar, the butter, vanilla, and sour cream and beat just until combined. On low speed, slowly add the flour and salt.
Pour the fruit mixture evenly into a 10-inch glass pie plate. Pour the batter over the fruit, covering it completely. Combine the remaining 1 tablespoon of granulated sugar and 1⁄8 teaspoon of cinnamon and sprinkle it over the batter. Bake for 55 to 60 minutes, until a toothpick inserted in the middle of the cake comes out clean and the fruit is bubbling around the edges. Serve warm or at room temperature.
Excerpted from Barefoot Contessa How Easy Is That by Ina Garten. Published by Clarkson Potter. All Rights Reserved.