Will He? Won't He? Egypt's Voters Focus On Mubarak
Will He? Won't He? Egypt's Voters Focus On Mubarak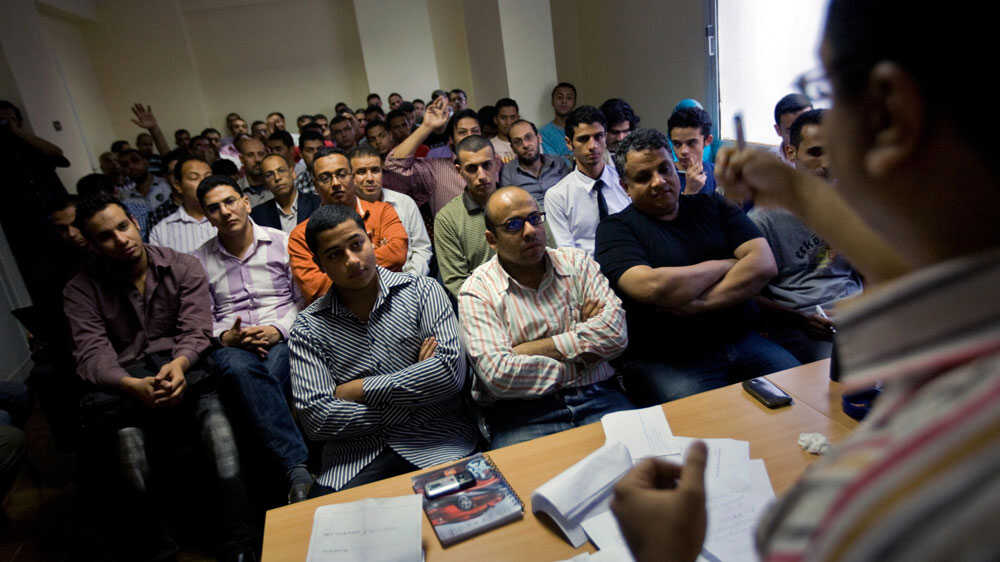 Egypt is holding parliamentary elections on Sunday and President Hosni Mubarak's ruling party is widely expected to win most of the seats.
However, after nearly 30 years in office, whether Mubarak will run again in presidential elections next year is far less clear.
The 82-year-old is one of the world's oldest leaders and has served longer than any Egyptian ruler since the mid-19th century. Growing rumors about his declining health have many questioning whether he can handle another term.
That prospect of a change in leadership has both the ruling National Democratic Party and its opponents jockeying for control, and already has led to violence in this parliamentary election season.
On Nov. 19, security forces clashed with participants at campaign rallies around Egypt sponsored by the Muslim Brotherhood. The group is a banned political movement, but through influence with independent lawmakers like Sobhy Saleh, the Muslim Brotherhood controls one in five seats in parliament.
Saleh witnessed a two-hour long clash between Brotherhood supporters and police in his home district in Alexandria that erupted after a speeding armored car drove into the crowd, injuring 17 people.
The lower-middle class neighborhood he represents is called El Raml. It is teeming with apartment buildings and residents rush out to greet Saleh whenever he is on the streets.
But in this staunchly pro-Muslim Brotherhood district, all of the campaign banners and posters are for Saleh's opponent from the ruling party.
Residents and shopkeepers say they support Saleh, but that police pressured them to display the ruling party ads.
Saleh is worried the government won't stop there.
"I trust the voters," he said. "But I don't trust the authorities not to throw this election. They don't respect the law, the constitution or even court orders."
Saleh has cause to be worried. His seat is one of the many opposition seats the government has decided to go after in the 518-member parliament.
Experts say a compliant parliament with no meaningful opposition will make it easier for the ruling party to hand-pick a successor to Mubarak should one be needed.
The government appears to be leaving nothing to chance. It virtually eliminated judicial oversight of Sunday's polling and is limiting the voting period to one day instead of three. Critics complain the steps make it more difficult to independently monitor the polls, meaning the vote will be more vulnerable to fraud.
In Cairo, some activists are training to be informal poll watchers in hope of spotting fraud. They are part of a group garnering signatures across Egypt for a petition that seeks to amend the constitution and end the ruling party's stranglehold over elections.
The petition drive -- organizers say it has gathered 900,000 signatures thus far -- was inspired by Mohammed ElBaradei, the former head of the International Atomic Energy Agency. Many reform-minded Egyptians would like to see ElBaradei run for president.
Petition organizer Abdul Rahman Yusuf says a key goal is to convince Egyptians that meaningful political reforms can happen safely and peacefully.
But he and others say such reforms won't come in time for next year's presidential elections, even if Mubarak steps down.
If Mubarak decides to retire, many Egyptians think the president might give the nod to his younger son, Gamal, to succeed him. The younger Mubarak is an investment banker and powerbroker in the ruling National Democratic Party (NDP). But he lacks military experience and is said to be at odds with some of the old guard.
Nevertheless, his supporters plastered what appeared to be Gamal Mubarak campaign posters on public buildings and along several streets in central Alexandria last week. That is illegal, although the dozens of police officers in the area did nothing to remove them
"Yes we support you," the posters say in Arabic. They also propose a "revolution of love, and intifada (uprising) of the people."
Gamal Mubarak has some advantages over other ruling party prospects, says Hala Mustafa, a member of the NDP policy secretariat and editor of Democracy Review magazine, published by the state-funded al Ahram Foundation.
"He's the youngest, so it means that he could be more flexible in dealing with the causes and the issues of the future," she said.
Egypt At A Glance
Egypt is the most populous country in the Arab world. While Mubarak has slowly introduced political and economic reforms, the government has struggled to meet the demands of its people.
Population: 80 million
Median age: 24
Religions: Muslim 90%, Coptic Christian 9%
Literacy: 58%
Per capita GDP: $5,650
Political System: Elected president, parliament; creation of parties subject to government approval
U.S. Military Aid: $1.3 billion annually
U.S. Economic Aid: More than $28 billion since 1975
Source: U.S. State Department
Mustafa adds that the impact of his work can already be seen in some of the country's economic reforms and that he has the business community in his corner.
But ruling party spokesman Ali El Dean Hillal says it is too soon to be talking about who will be president after Hosni Mubarak.
He refused to confirm or deny news reports that quoted him announcing Mubarak will run again. But he vehemently denied other reports claiming a power struggle over succession is underway within the National Democratic Party.
"What I can tell you, and I sit on all the high councils of the NDP, … there's not much discussion about that because we don't feel the need for doing it," he said.
Hillal adds that is because Mubarak is still a very active leader with a keen mind.
Nabil Fahmy, a former Egyptian ambassador to the United States and dean of the School of Global Affairs and Public Policy at American University in Cairo, says it is clear that Egypt's next president, even if it isn't Mubarak, will belong to the NDP.
He said he hopes the NDP has a more realistic margin of victory -- such as 60 percent rather than 80 percent. (The ruling party won 70 percent of the seats in parliament in the last elections in 2005.)
"The competition is what makes you feel like you are accountable," Fahmy said. To him, that would be a meaningful sign that Egypt's democracy is evolving.
But many critics of the government say accountability won't come unless there are constitutional reforms. They want limits on how much power one party can wield and how long one man can rule Egypt.