'Soul Mates': Shoe Entrepreneur Finds Love In Giving
'Soul Mates': Shoe Entrepreneur Finds Love In Giving
Blake Mycoskie travels a lot. He's an evangelist in service to his mission: To provide children, mostly in Third World countries, with a new pair of shoes that will allow them to move safely and securely through their daily lives.
Mycoskie's shoe company, Toms, is the darling of college students and hipsters, people who love efficient design and philanthropic businessmen. He speaks several times a week about how and why he started the company, and he chuckles that it never fails: "People always come up and look around and say, 'Um, where's Tom?' "
But Tom is a concept, not a person. It stands for shoes for tomorrow, because as the 34-year-old Texas native recalls, "We said for every pair of our shoes that's purchased today, we'll give away a pair tomorrow. It's the tomorrow's shoes project."
It was a great idea with one hitch: "Tomorrow's shoes" was never going to fit on the tag on the canvas slip-on that is recognized as the Toms shoe. So the name was shortened to Toms. Mycoskie shares the story frequently, and he always ends with this: "I like to say we're all Tom, the people here and everywhere else that makes this happen. We're all Tom."
The Chief Shoe Giver
Mycoskie works out of a big, windowless warehouse on the outskirts of Santa Monica, Calif., that houses most of the company staff. The foyer is decorated with snapshots of trips to donate shoes -- the company calls them "shoe drops" -- in places like Argentina, Ethiopia, South Africa and Latin America. Smiling children's faces brighten the dim space. Inside, bare plywood and boxes of irregular shoes block off spaces for individual cubicles. A big sculpture made of discarded shoes forms the word "give" on a cement wall. Mycoskie, who likes to refer to himself as Chief Shoe Giver, sits square in the middle of everything: No corner office, no door. He's surrounded by just a few pictures of family and friends, who happen to include businessman philanthropist Ted Turner and Bill Clinton.
Clinton calls Mycoskie "the most interesting young entrepreneur I've ever met. He is not your conventional business guy."
True enough. He certainly doesn't look like your typical businessman: He looks like a guy who spends a lot of time surfing the globe. And he has a deep tan and lots of amulets and charms around his wrists and neck to prove it.
An Entrepreneur At Heart
Mycoskie became an entrepreneur at age 19, when he and two friends started a student laundry service while they were all at Southern Methodist University. The business soon became popular on surrounding campuses and got so big, he dropped out of school and later went on to found four other companies. He took a break in 2002 to take part in the second season of the CBS reality series The Amazing Race. He and his partner -- his sister Paige -- ended up a respectable third, and they both vowed to return to Argentina one day, because they didn't really see anything, Mycoskie says -- they just ran through on the way to the next challenge.
His chance came a few years later when, exhausted from the long hours he'd spent running an online driver's education company, he took off to Argentina for a month.
"I learned to play polo, took tango lessons, and I got to travel through the country and really see it," Mycoskie recalls.
He ended up in a remote indigenous village near the Brazilian border and noticed that most of the children there had no shoes. Not only were they cutting and bruising their feet when they walked long distances to fetch water for their households, many were home from school because they're not allowed to attend barefoot.
"In one family, there was one pair of shoes," he recalled, "so the children shared them back and forth, and whoever had shoes went to school that day."
That's where the idea for Toms was born. Mycoskie got a local supplier to make an adaptation of the alpargata -- the rope-soled cloth slip-on that many Argentines, rich and poor, wear. He sold them with the promise that for every pair bought, another pair would be donated, thereby making the customer a philanthropist.
"I wanted to create a business model that would sustain the giving," Mycoskie says. "Initially, I just wanted to give 250 pairs of shoes." But it worked so well, Toms celebrated the donation of 1 million pairs in October.
'They Want To Give, They Want To Help'
The company that started with Mycoskie and a couple of interns now has a staff of just over 100. They began out of Mycoskie's Venice, Calif., living room -- the space was stuffed with shoe samples, buzzing phones and myriad interns sitting cross-legged on the floor while working on their laptops. Liza de la Torre was one of them, and she says in the beginning, she intended to work for the summer to get cash for graduate school.
"But it was so interesting," she remembers. "I mean, I'd worked before, in nice, downtown offices with beautiful desks and views of the city -- but this was different. It was exciting. It was young people running a company. So I decided to stay a little longer." Five years later, she's one of the key members of Toms.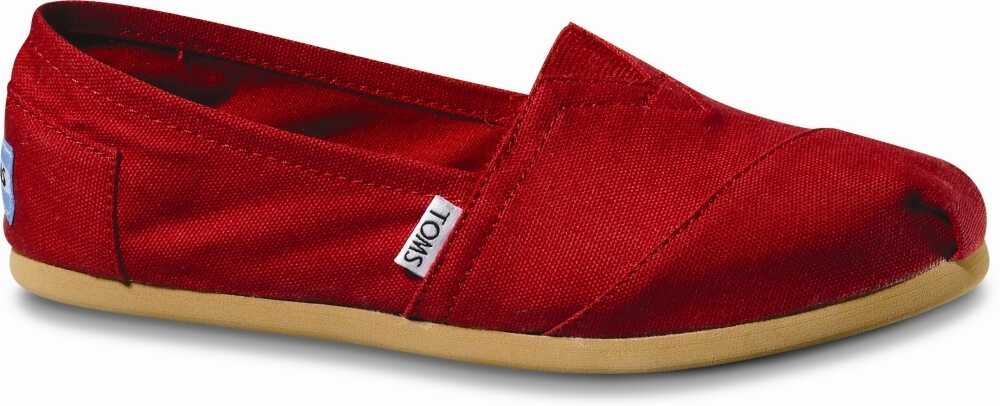 "I don't think I realized how huge this is," de la Torre admits. "This is really changing the way people spend money, because they want to give, they want to help."
The company has helped children on the Gulf Coast after Hurricane Katrina. It's aiming to eradicate a disfiguring disease in Ethiopia that occurs when bare feet absorb silica from the soil, resulting in grossly enlarged feet and legs. It's trying to get well-fed, well-shod Americans to go barefoot one day of the year (this year it was in April) to emphasize how hard it can be to do even mundane tasks in unprotected feet. And it's hoping to change the world, one pair of shoes at a time.
At 34, Mycoskie is still very much the eligible bachelor.
"I love what I do, but it is hard to have a personal relationship when you're never home," he says. He's planning to cut down on his travel next year, and maybe rectify that.
But it's going to be a rare person who can compete with his other passion. "You know, you hear people talk about soul mates? That one person that you see, and that's it for you? Well, Toms is the business equivalent of a soul mate for me. It combines all the things I love to do most — travel, hands-on helping and creative entrepreneurism. So I think I'm going to be doing this for a long, long time."