U.S. Seeks China's Help On Korean Tensions
China resisted U.S. pressure to condemn North Korea on Wednesday, a day after Pyongyang shelled a South Korea-held island, killing four people and ratcheting tensions on the peninsula to new highs.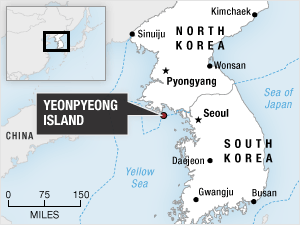 Late Wednesday, China issued its first official statement, which was notable for its failure to condemn or even criticize North Korea. Instead, a foreign ministry spokesman urged both Koreas to show calm and restraint, and to engage in talks.
"We have always maintained that the relevant parties should, through dialogue and consultation, resolve disputes by peaceful means," Foreign Ministry spokesman Hong Lei said in the statement.
The remarks came after U.S. State Department spokesman P.J. Crowley called the North's shelling of the island "premeditated" and said Beijing's influence was "pivotal" in reducing tensions. He said U.S. diplomats had delivered the message to Chinese officials in Washington and Beijing.
President Obama spoke to his South Korean counterpart, Lee Myung-bak, on Tuesday and reaffirmed Washington's pledge to "stand shoulder to shoulder" with Seoul. He also called upon China to restrain Pyongyang.
Heard On 'All Things Considered'
Asia
NPR's Louisa Lim Reports On Possible Motives For The Attack
Analysts Puzzle Over Pyongyang's Motives For Shelling
Asia
NPR's Doualy Xaykaothao Reports On Reaction From Ordinary Koreans
Life As Usual For Ordinary Citizens In Seoul
But Beijing is driven by its own strategic imperatives in dealing with its old ally, said Cai Jian of Fudan University in Shanghai.
"China does not want to see North Korea descend into chaos and disorder during the power transition," Cai said, referring to the succession of Kim Jong-il's 27-year-old son, Kim Jong-un, who was unveiled to the world less than two months ago in a massive military parade. "China remains wary of criticism toward North Korea dealing with international and other incidents."
The death toll from the North's attack on the tiny island of Yeonpyeong rose to four Wednesday after the bodies of two men were discovered buried under rubble at a construction site -- the first civilian casualties reported. Two South Korean marines also died, and dozens of people were injured.
A memorial in Seoul has been set up to honor the two marines, and a funeral was planned for this weekend.
Meanwhile, the U.S. is sending aircraft carrier George Washington to Korean waters to meet up with U.S. and South Korean vessels for four days of military exercises beginning Sunday. The carrier left Japan on Wednesday bound for the Yellow Sea, between the Korean peninsula and the Chinese coast.
Pentagon officials say the exercises were planned well before the North rained artillery on the island near the disputed border Tuesday, and officials say they are "defensive in nature."
Timing Of Attack Points To Brinkmanship, Experts Say
North Korea claimed that troops from the South, which was holding military drills at the time, were the first to fire. The communist country also threatened more attacks if provoked by South Korea.
But Daniel Sneider, a Korea expert at Stanford University's Shorenstein Asia-Pacific Research Center, said the attack appeared to be "unprovoked."
Related NPR Stories
Asia
South Koreans Are Anxious After North's Attack
South Koreans Are Anxious After North's Attack
"The North Korean artillery fire ... may be timed to the exercise in order to give them the cover of claiming that they were responding in some way to South Korean actions," he said.
Widening the two countries' maritime dispute also could explain North Korean behavior, according to the president of the Sejong Institute, Song Dae-sung.
"The North Koreans want to make the Yellow Sea a disputed area. They don't want South Korean military drills there, with or without the U.S.," Song said. "It's a very sensitive issue to China as well, and maybe China is implicitly encouraging them."
Pyongyang also could be trying to influence South Korean domestic politics, according to Choi Jin-wook of the Korea Institute for National Unification in Seoul. He pointed out that the North has not benefited from the hawkish stance of South Korea's conservative leader, Lee.
Choi believes Pyongyang could already be looking ahead to the next government, and that the provocations may be intended to create a sense of panic among South Koreans.
"Now, South Korean people are very angry at it," he said. "But if they keep doing this, South Korean people might think, 'We are tired of all this tension, we want peace, why don't we give them some aid, and so let them be quiet.'"
Other observers had different theories about what precipitated the North Korean attack.
Kim Tae-joon of the National Defense University's department of military strategy in Seoul, said the attack — just days after North Korea unveiled a stunning new uranium plant — had specific political and strategic aims: mainly securing talks with the U.S.
"After unveiling uranium facilities, South Korea and the U.S. maintained their hard-line position, rather than paying attention to the change in circumstances," Kim said. "Relations are deadlocked, so by creating tension it's demanding attention and it wants to get an upper hand in negotiations. It's a kind of brinkmanship."
South Korea vowed retaliation and said Wednesday that it would strengthen military forces in the disputed western waters near Yeonpyeong and halt aid to the communist North. Lee also ordered the government to consider revising its rules of engagement.
South Korea sent two ships carrying 2,000 boxes of relief supplies to the island Wednesday. Coast guard official Kim Dong-jin said about 340 residents who escaped the shelling were to arrive at the port city of Incheon aboard a coast guard ship around midafternoon.
On the streets of Seoul, there was no sense of panic, but rather an undercurrent of anxiety.
"I was very frightened, and it reminded me to treasure my life, which can end so suddenly," said 20-year-old student Jeon Seo-yeon.
Obama Highlights 'Serious And Ongoing Threat'
Images from Yeonpyeong released by the local government and obtained through YTN television showed people huddled in emergency shelters, children wrapped in blankets, rows of destroyed houses with collapsed walls, blown-out windows and charred roofs. A man with a shovel walked through the rubble.
The skirmish began at around 2:30 p.m. local time Tuesday when Pyongyang's forces rained artillery shells on Yeonpyeong. The North fired about 200 rounds, and the South returned fire with about 80 rounds of artillery and scrambled fighter jets in an exchange that reportedly lasted an hour.
The U.S. government called the North's barrages an outrageous, unprovoked attack but sought to avoid any escalation and did not reposition any of its 29,000 troops stationed in the South.
"South Korea is our ally. It has been since the Korean War," Obama told ABC News in an interview. "And we strongly affirm our commitment to defend South Korea as part of that alliance."
But he would not speculate when asked about military options.
Yeonpyeong: Caught Between Two Koreas
So why did Yeonpyeong island become a target for North Korean artillery shells? A large part of it is location, location, location.

The tiny Yellow Sea island, controlled by South Korea and fortified by a garrison of South Korean marines, lies 75 miles off South Korea's coast. But it's just 8 miles from North Korea, which also claims possession of Yeonpyeong. And if you extend the demilitarized zone dividing the two Koreas into the sea, Yeonpyeong is only 2 miles south of that border line.

Just a year ago, South Korean military experts cited in The New York Times pointed to the island as a likely spot for a limited battle if North Korea sought to provoke one.

Fewer than 2,000 civilians live on the island, which is essentially a large fishing village. Many are from families who fled the North during and after the Korean War in the 1950s. Most are considered anti-communist, much in the way Cubans living in Miami have long rejected the Castro regime.
"We strongly condemn the attack and we are rallying the international community to put pressure on North Korea," Obama said in the interview, specifically citing the need for China's help. Every nation in the region, he said, must know "this is a serious and ongoing threat."
South Korean Defense Minister Kim Tae-young told lawmakers Wednesday that the military would send reinforcements to five islands near the disputed sea border, but provided no details.
South Korea also said it would continue another previously scheduled military drill set for a different part of the Yellow Sea, about 70 miles south of the disputed waters near Yeonpyeong. The Joint Chiefs of Staff said the military drill by the South Korean army, navy, air force and marines would continue until Nov. 30 as previously scheduled.
Separately, South Korea said it was suspending promised aid shipments to North Korea of cement and medicine worth $506,000. The government also ordered eight civic groups to stop delivering aid worth $2.3 million to the North.
U.N. Secretary-General Ban Ki-moon called the attack one of the "gravest incidents" since the end of the Korean War. The bombardment marks the first time the North has attacked civilian soil in the South since the 1953 cease-fire.
In a statement Wednesday, the top U.S. military officer in South Korea, Gen. Walter Sharp, called on Pyongyang to abide by the 1953 armistice. North Korea does not recognize the western maritime border drawn unilaterally by the U.N. at the close of the Korean conflict.
Korean Peninsula On Edge
Tensions between the two nations have been high since North Korea revealed the enrichment facility to a visiting American scientist, and after the sinking of a South Korean warship in March that killed 46 sailors. Seoul blamed a North Korean torpedo, while Pyongyang has denied any responsibility.
Tuesday's skirmish also comes just six weeks after North Korean leader Kim Jong Il unveiled his youngest son, Kim Jong Un, as his heir apparent.
"From the moment that he was decided as the power successor, here in South Korea, security experts like me expected more tension between the two Koreas, and also North Korea will have more reasons to stick to the nuclear weapons," said Kim Tae-woo at the Korea Institute for Defense Analysis.
North and South Korea have fought three bloody skirmishes near the maritime border in recent years, most recently in November 2009. That battle left one North Korean officer dead and three others wounded, according to South Korean officials.
Two deadly clashes have previously erupted around Yeonpyeong. In a gun battle in June 2002, one South Korean warship sank, killing six sailors. The North said it also suffered casualties, but didn't confirm how many. In a 1999 clash, South Korea said several sailors were wounded and up to 30 North Koreans died.
With reporting from Michael Rhee and NPR's Louisa Lim in Seoul, Mike Shuster and Scott Neuman. This story contains material from The Associated Press.