Fearing More Clashes, South Koreans Take Refuge
Fearing More Clashes, South Koreans Take Refuge
Doualy Xaykaothao/For NPR
Fearing another attack, South Koreans living on Yeonpyeong island, the target of a North Korean artillery barrage Tuesday, have taken refuge at a spa on the mainland.
Inspa World is a five-floor water park in Incheon. It offers a swimming pool, saunas, a gym and a restaurant -- but few people are taking advantage of the facilities.
Instead, they're crowded in the spa's main hall, sleeping on thin mats, still wearing the clothes they wore when they fled the island five days ago.
It's warm, but people want the comfort of their winter coats, so they wear them, lying down. The people cover just about every inch of the floor. Many are visibly ragged from lack of sleep, and most are irritated that journalists want to ask about what comes next.
Children play video games. Some run wild, unattended by parents. Adults watch Korean dramas on TV. Some watch a news special about the funeral of the two marines killed in Tuesday's attack.
YTN state television broadcasts images of a relative mourning one of the two civilians killed by North Korea's artillery shells. But you don't have to watch television to see the tears; they're right here in this hall.
"Tomorrow the Korea-U.S. military exercise will begin," says the wife of a military officer still stationed on Yeongpyeong island. She asks that her name not be used. "I talked to my husband today on the phone, and he told me I should be attentive to news and prepare for possibilities of another attack. I felt like today's call was a last call."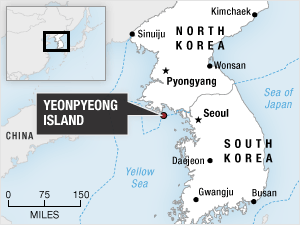 The North had called the drills that started Sunday a provocation that put the peninsula on the brink of war.
Near the kids' area, 12-year-old Shin Eung-ho is eating pizza inside a togulbang, a small capsule-like room lit in red. He says that late at night he and the other children talked about how scary the incident was.
"It was the first time that we ever experienced that kind of incident, so we were thinking that it was like a dream," he says through an interpreter.
Asked what he needs or wants right now, he says, "I don't want anything. I just want go back home."
But the director of Inspa World says that may not happen right away, because of the joint military training.
"North Korea [is] warning, 'If you train again, we bomb again,' " he says, adding that he's very worried.
The training is scheduled to last four days. The North warns that if the South and the U.S. violate its sovereignty, it will turn the South into a sea of fire.