Girl Talk: Cataloging Samples 'All Day'
Two years ago when his album Feed the Animals burst onto the mainstream music scene, Gregg Gillis was a biomedical engineer. By day, he studied human tissue. By night, he was breaking his favorite music down on the cellular level as a mash-up artist called Girl Talk.
In "This Is the Remix," half a dozen samples are crammed into the first five seconds -- everyone from jazz icon Herbie Hancock to '80s pop hit-maker Bananarama and Miami rapper Rick Ross. The track comes from his free, downloadable album All Day.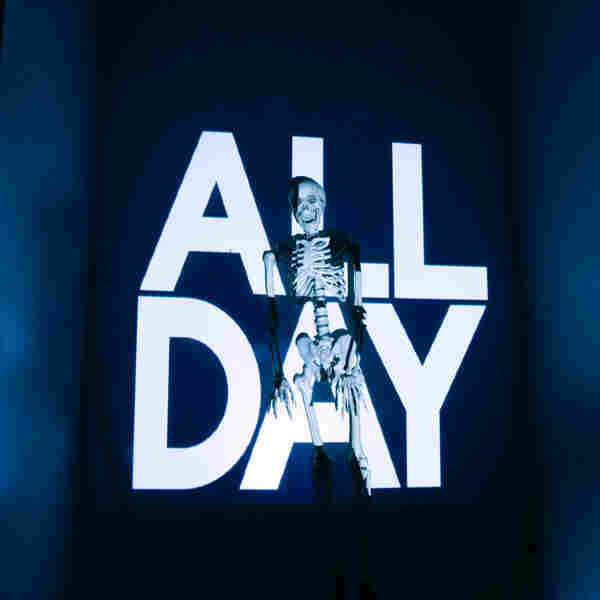 Gillis says he was one of those kids who always had a boombox on his shoulder.
"I was really into a lot of hip-hop, so I would record the local rap station and [hold] the boombox up to the TV for the music videos, and also for In Living Color, [which] always had the new hot hip-hop act out at the time," Gillis says in an interview with NPR's Audie Cornish. "I used to have these cassettes that would cut in and out halfway through songs. You would hear the buzz of the TV, but you would get to know them. They would have their own character in a certain way."
Throughout high school, Gillis played in many experimental electronic groups. He says that much of it was a "bratty take on a lot of that music." For him, it was about "smashing TVs and trying to drive the audience out."
Quitting The Day Job
At some point, Gillis says his double life became too much.
"There's never any motivation behind this project to really make money or make a living off of it," Gillis says. "I think when things really started to bubble up for me around 2006, I kind of got into a habit of going to work Monday through Friday. And then Friday, running to the airport, jumping on a plane, doing shows Friday and Saturday, then coming back home. One of those weekends, I flew to London on Friday and opened up for Beck on Saturday, flew back home, and went back to work on Monday. It was just getting a little bit insane."
He started to make enough money from shows to quit his day job as a biomedical engineer.
Cataloging The Sound
So how does Gillis put together this music? He says he has his own cataloging system.
"I have many folders detailing the music, whether it's a melody or a beat or percussion. I kind of have a running list of things where they fit in by tempo, so if I have that bit of Drake or that bit of Willow Smith vocals, and it's at a particular tempo, I can go into this text document and look at it and say, 'Oh, here's the list of melodies that go well here.' On the album, I like to keep it as diverse as possible, so if there was an '80s pop song before this piece, something like The Rolling Stones would be nice now."
It's a process of trial and error. Gillis will play some of the combinations only play once at a show, because they either didn't work the way he wanted them to or the mash-up doesn't connect with the audience.
Deciphering The Samples
The audience does love guessing everything Gillis packs into a track. The day a new Girl Talk album hits, people start entering the samples in Wikipedia right away. In fact, someone's even gone so far as display the All Day samples in real time.
Gillis doesn't clear any of the samples he uses, and he gives much of his music away for free.
"In United States copyright law, there's a doctrine called fair use," Gillis says. "It allows you to sample audio, visual -- all sorts of media -- to make something new out of it without asking permission from the source material if the new work is transformative; if it doesn't create competition for the potential sales of the artist you're sampling. I truly believe that at this point, no one's going to download my music or buy a CD instead of someone else's. I feel like there are a lot of people being turned on to the music that I'm sampling."
Some of the artists Girl Talk has sampled say they're excited to be included, like Big Boi and the '90s alternative rock band Toadies.
It might be easy to label Girl Talk as a novelty, but Gillis says that in a weird way, he takes that as a compliment.
"With a lot of music, it's about creating a new way to look at it," Gillis says. "Like Night Ripper, from 2006, which got a lot of people paying attention to what I was doing, I do think it was a novel approach to that style of music. But I think when new genres come out, when new styles of music come out, when hip-hop comes around, when punk rock comes out -- all of those, I think at those times, people are saying, 'Oh, it's a novelty. It will never last. It will be over with.' ... If this is a novelty, then it's a novelty that I've spent 10 years really developing. Like, Weird Al [Yankovic] is a novelty, but it doesn't mean he's not a genius."