Kia Motors' Hires Boost Economy, Spirits In Georgia
Kia Motors' Hires Boost Economy, Spirits In Georgia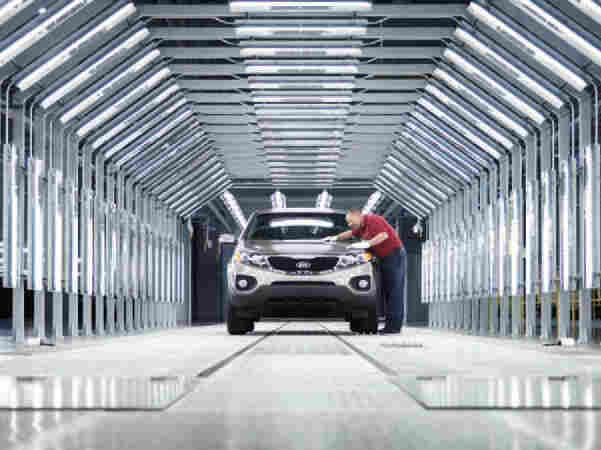 Kia Motors' decision to add 1,000 new jobs at its auto manufacturing plant in West Point, Ga., is having a direct impact on the nearby town of LaGrange.
The 30,000 residents are proud of the community's small-town feel and its picturesque courthouse square, adorned with Christmas decorations. But there's at least one thing they can't celebrate: The unemployment rate for Troup County was nearly 11 percent in October -- higher than the national average.
Kia, the South Korean automaker, started producing the Kia Sorento about a year ago. This October, the Hyundai Santa Fe was added to the production line.
Car Production Replaces Textiles
Jeff Lukken, the mayor of LaGrange, says the town has a lot to be happy about since Kia moved to the county. The area was once the hub of textile manufacturing, but in recent years industries began to close. Then the recession hit.
"In 2009, we lost four textile plants," Lukken says. "In 2010, we lost another textile facility and two more manufacturing plants here. So, I can't imagine what LaGrange would look like had it not been for Kia coming to locate here along with the Korean suppliers."
The city has attracted other large industries, including Caterpillar, Duracell and a Wal-Mart distribution center but the unemployment rate still remains high.
Lukken says that's in part because many people moved into the area when Kia was building its plant. In a previous round of hiring earlier this year, more than 44,000 people applied for just 1,000 jobs.
"As soon as I heard about Kia's hiring, e-mails went out and people were notified right away," says Kay Durand, the executive director of Troup County's Center for Strategic Planning. She's in charge of a workforce development program to give those who live in the county an advantage in getting jobs.
"Things are much better for us," Durand says. "Whenever I look around and hear some of the other stories when there are companies going out of business and there's no replacement there. But here we've got a lot more options. There's a lot more hope for people."
In Search Of A Steady Paycheck
Recel Peters, who moved to the county seven years ago from Atlanta, is among those applying for the new jobs.
"There [are] a lot of people that don't even have jobs," he says. "They're hard to come by down here."
Peters has worked in manufacturing and most recently made $22 an hour in construction. But that industry is so slow that he works only a couple of days a week now. So, he's hoping the Kia job comes through.
Kia's Hiring Trends, 2009-2010
— November 2009: Production begins at the plant in West Point, Ga. The first production vehicle is the Kia Sorento.
— May 2010: Kia receives almost 45,000 additional job applications for 1,000 new job openings.
— September 2010: Kia Motors Manufacturing Georgia produces its 100,000th vehicle at the plant.
— October 2010: Troup County, Ga., where the plant is located, has an unemployment rate of nearly 11 percent. Kia adds the Hyundai Santa Fe to the production line in Georgia.
— November 2010: Kia announces it will hire an additional 1,000 workers for a third shift at the Georgia plant.
"You know, with us contracting, they might owe us $4,000 one week, but it might be a month before you get your money," Peters says. "And you know with this, it'll be a constant paycheck I know will be there every week, and that's what I need."
A Boost For Georgia's Economy
Peters says he can barely wait two more weeks until he gets his first interview at Kia. The company had record sales in November, up 48 percent over last year and that's in large part due to the popularity of the Kia Sorento.
Other southern states also lured foreign automakers, in part, with huge tax incentives and because of a large nonunion workforce. Alabama has Hyundai and Mercedes-Benz plants, South Carolina has a BMW facility, and Tennessee has a Nissan plant and a Volkswagen factory under construction.
But Georgia landed Kia.
As residents of LaGrange gather on a crisp evening for a Christmas tree lighting ceremony, most say they are grateful for the Kia jobs that are helping schools and local businesses.
Officials in LaGrange say they're seeing the payback they had hoped for.